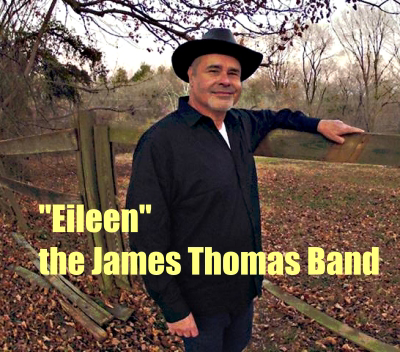 Review Fix that's with The James Thomas Band's Jerry Thomas, who lets us know all about their creative process and goals for the rest of 2019 and 2020.
 
Review Fix:
 
How did you get involved in music?
Jerry Thomas:
 
When I was young I was switched from being left handed and made to become right handed by my parents.
This process caused me to develop a horrible stutter in my speech. I had an uncle that encouraged me to sing out my words.
When I did sing my stutter was gone. I did talk very little because of my stutter. So singing became an avenue that I used
to communicate to the world around me.
Review Fix:
 
What makes you unique?
Thomas:
 
Well I think everyone on this earth is unique. There are those who can sense people's emotions and thoughts then transpose those feelings and thoughts into words and music. I have studied people my whole life.
It's all about communication. And if I can tell a great story in the process then I have been successful.
Review Fix:
 
What are your goals in music?
Thomas:
 
I would love to bring people back to communicating on a more personal level.
With the abundance of social media we seem to be just talking at each other.
Instead of bringing people together, we are building barriers to isolate ourselves.
I can remember a time when people used to sit down and talked to one another.
My greatest goal is to show people thru my music, that we are all alike and we all have the same hopes, dreams  and fears.
Review Fix:
 
How would you describe your sound to someone who has never heard you?
Thomas:
 
Well being born in the South I have had multiple musical influences.
We as a band bring modern jazz, Memphis blues, Country Rock,
Motown, R&B, Country ballads, Southern Gospel, Southern Rock and as a songwriter I was deeply influenced by the storytelling of my first musical hero,
 
Hank Williams
.
My greatest regret is that I wasn't around during
 
Hank Williams
' career. I would have like to see him perform in person. But as a songwriter, I can appreciate his process of telling solid stories in his unconventional music style.
I believe it was a great injustice that Hank was not appreciated for the innovation he brought to country music. Hank's rockabilly outlaw music paved the way for not only
 
Elvis Presley
 
but transformed modern country music from it's hillbilly roots.
Review Fix:
 
What makes the soul music special?
Thomas:
 
If you are referring to my Northern Soul or blue-eyed soul style of singing, I would say I was influenced by Northern Soul singers
 
Robert Plant
 
and
 
Steve Winwood
. I loved their progressive rock,  rhythm and blues, blues rock, pop rock, and jazz styles with the upbeat tempo. I have taken the formal English blues song and brought it back to America in it's fullest expression.
Review Fix:
 
Who will enjoy this album the most?
Thomas:
 
I think the younger generation of music lovers today are seeking authentic unmanufactured music. They are looking for honesty and an emotional connection.
What really amazes me is that they are looking for quality over quantity. Kids now days can tell who is bullshitting at making music and expressing themselves. They want real experiences and honest communication.
Review Fix:
 
What makes this album special?
Thomas:
 
Our album, "The Loves Of My Life" doesn't have a B track on it. Every song can stand on it's on feet, so to speak. Every song was crafted to be the best song on the album.
I think it's the attention to detail that we put in every bar and note with its effect on the lyrics and melody line, that makes this album stand special.
Review Fix:
 
What's the standout track? How was it written?
Thomas:
 
I believe most people will say that "Eileen" is the stand out track.
With it being first track released of this album it will be naturally regarded
as the most remembered.
"Eileen" has a broad appeal in many genres. I think Country Music radio stations will like to play it because like a great
 
Hank Williams song
, it tells a story.
And what is amazing, it's a true story.
"Eileen" was one of the first songs that I wrote. I was in high school when I read in our local newspaper about a Duke University co-ed, whose first name was Eileen.
She was in downtown Durham, North Carolina where she got distracted, stepped off the curb and did not notice a garbage truck running a red light.
The garbage truck hit her and killed her instantly. Every day that week, the local newspaper featured Eileen's short life with her academic accomplishments and her career goals if she would have graduated.
I was seventeen at the time and very impressionable. I was a singer in the school choir as well as in various local bands.
The last article about Eileen, was about the fact she had the voice of an angel.
That broke my heart and the only way for me to get over it was to write this song about Eileen.
Review Fix:
 
What's next?
Thomas:
 
We are assembling fellow studio musicians to perform these new songs in front of audiences here in the south. There are three core musicians and myself involved in recording this album.
To bring these songs to a live audience we will need about five more very talented
musicians to perform these songs to their premium level.