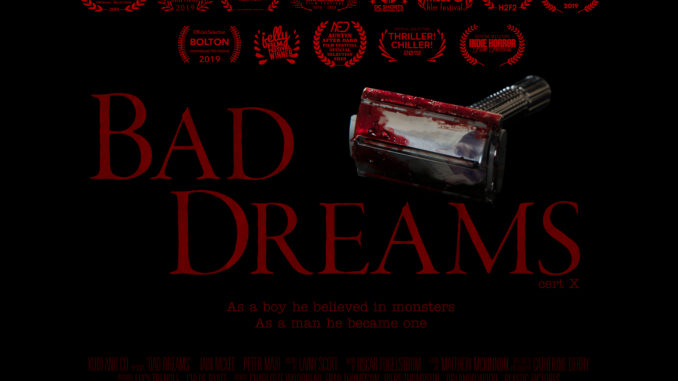 Review Fix chats with Charlotte Woodhead and Stuart Fryer, who break down the creative process, origins, goals and hopes for their film, "Bad Dreams."
Review Fix: What inspired this film?
CW:  In the UK, there has been much press and concern regarding abuse in the welfare and religious sectors of British and Irish life.  With the horrific accounts of child abuse found at Catholic boarding schools and football training academies hitting the news, I felt, although Bad Dreams is in the thriller / horror genre, the script had worth whilst also reflecting the society we live in.
SF:  I agree with Charlotte. The script had intelligence to tell a 'horror' tale but with substance.  Originally the script had references to the Catholic Church but I took these out as I did not want to just be attaching one form of religion, as I believe abuse of minors is widespread amongst all institutions.  There are theories about abuse rings in high-level government, in the armed forces, as well as religious sectors.  We concentrated on the hell the abuser must go through. The unanswered questions I hope loom over the film as a heavy subtext.  The film is no joyride.  I hope it packs a punch.
Review Fix: How difficult was this film to put together?
CW:  As Executive Producer on the project, I raised funding through private investment for not only production and post production but also for the growing field of film festivals. This factor is often missing from many film budgets, especially shorts.  Alongside this, I manage all decisions regarding the hiring of the talent on both sides of the camera.  It is my wealth of knowledge that gave the film a fantastic crew. I have creative input to marry the correct DOP, stylist, etc. to the correct film project.  I'm fully involved in the creative flow of the piece, I see every board, set proposal, costume concepts, special effects creation and casting. I am there as a tool for the director to elevate their ideas and have as a creative sounding board. I consider it my skillset to help create the perfect bespoke cast and crew – something I've developed through producing commercials and music videos. I work alongside the director finding all heads of department. 
Knowing the subject matter and who would be best suited for this story this is the biggest creative decision making in the film process, and as Executive Producer, this is both the most rewarding and sometimes difficult process.
Shorts always struggle in both raising funding and making money but we have managed an anthology movie deal for Bad Dreams. It will be great to see the film hit theatres on a limited run followed by a huge VOD service available to stream the film. I am glad this is in place as it gives a life to the short after the film festival run.
My biggest piece of advice for Executive Producers on shorts is to have a plan for when the film is completed. Know your festivals, know how to take it further, and above all, know that you have an audience. If you know you have an audience and even better – a chance to recoup your money – study and find it. It is out there, believe me, we have done it.
SF: Producers make films. Directors get to play. I know wholeheartedly that I would be talking about the film and not having made the film without Charlotte's production skills. It is her experience, her knowledge, and her contacts over years of experience shooting with all levels of production that enabled the film to happen.
It is all about the producer on a short. Getting 25 people to give up their weekend, to stand in the freezing cold February weekend from 6 in the morning… it is no skill of mine to create this, this is the work of the producer.
I am also delighted that Charlotte brought a 50/50 mix to the sexes on the shoot. We had an equal amount of men and women, which I believe brings a lovely harmony to the set.
Review Fix: What films have inspired it the most?
CW: Horror is not usually my genre, but it breaks down language and cultural barriers. What is scary to a Hungarian is also scary to a Brazilian or the Chinese. We are all scared of the shadows. What inspires me? Good solid drama, stories with worth, stories questioning our world. I loved the imagination and originality of The Favourite and the honesty and originality of both Ladybird and Moonlight. I studied Drama, and my inspiration started with the theatre.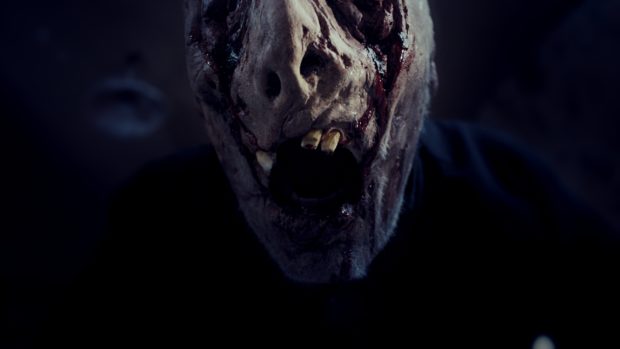 Films that inspire me include the films from Almodovar to Kubrick and from Bigelow to Gerwig. And with Bad Dreams, we researched the British Anthology Horrors of the 1970s such as Tales From The Crypt which Stuart is far more enthusiastic to talk about than myself.
SF: Don't get me started! Taxi Driver, The Shining, Dawn Of The Dead to name a few. Yes, all the cliches but for Bad Dreams, I showed the main actor the 'parlour' scene from Hitchcock's Psycho. There really is no better film to show the distorted mind of a killer in a subtle yet terrifying way. The scene really is perfection and always remember: "A boy's best friend is his mother."
The film I showed to my DOP was Richard Fleischer's 10 Rillington Place which tells the story of John Christie, the last person in the UK to be executed. It is the film's look, that 1960s / 70s post war gloom: the grey skies, the grey buildings with bombed out rubble still seen in the streets of London after the Blitz of WW2. It was this cold bleak feel that I was looking for. I hope (bar the computer screens in The Office), this film could be set anytime in the last 40 years. I wanted that grey bleakness to our film, which is also seen in the anthology films made by British studios, Hammer and Amicus, in the 70s. I wanted the look to be the same. Basically gloomy post war grey!
Review Fix: What have you learned about yourself through this entire process?
CW: I produce for high end commercials for brands as diverse as DIOR and Playstation. It was interesting to make a film that is pure narrative, purely story with no product. I love the privilege of making the big end films for the world's top brands, but the freedom one gets on a narrative film is very enticing and I will pursue more drama work in the future.
SF: What have I learnt? Firstly: Nothing happens without a great producer. Secondly, I have learnt that films and storytelling are subjective. Let me explain; the reason the film was made was to get into festivals, to get it to agents, to managers and to get more things made.
The film has been accepted into over 15 festivals so far, winning best short at various including Horror Hound and Austin After Dark. Hurrah! I hear you say, but it has failed to be selected in others. So, I have learnt to accept the fact that some people will love it, some will hate it. I have learnt to enjoy the positives and accept the negatives, and within these parameters to above all, keep the faith and build confidence within myself.
Review Fix: What was the feeling like on set?
CW: By the time we are on set, my work should be easy, but I am there for a variety of reasons including to protect the director so she or he can just concentrate on the monitor.
In the UK, producers are very rounded: we give script notes, work on the scheduling and re-scheduling of the shoot whilst trouble-shooting the problems that come up either creatively or with production. On a short, this is always amplified as it is easy to solve a problem when you have a budget but when you are on a short and are down to pennies, your solves need to be more creative.
SF: I was so protected by my producer and my 1st AD that I had a joyful experience with my HODs, my DOP, my 1st and my actors. I thought we all had a great time and I must say that I will forever be in the debt of my producer who dragged these fantastic people to a cold room in a gloomy English February.
Review Fix: Why is the topic of this film important today to you?
CW: Thankfully, I have never witnessed child abuse, but the amount of revelations in recent years certainly gave the film gravitas and meaning. And what would you do? If horrifically, you were abused as a child, the abuser locked up, what would you do if you knew he had been set free, would you wait and take your revenge or would you simply leave him alone? This is the core question behind the film. What would you do? What should we do with these abusers? This is what interested me about the film.
SF: I think Charlotte nails the answer here. The topic will always be important. Will it ever end? Will child abuse become a thing of the past? I think not, with the advent of the internet, with the world getting smaller, with human trafficking becoming huge illegal trades. I think we are only touching the surface of this vile activity. It is more widespread than we fear to know.
Review Fix: What's next?
CW: Having relocated to Los Angeles from London, I am meeting people in what is still far and away the capital of the moving image. I still love the big commercials working alongside some of the best directors working today, but I'm looking to meet as many people as possible to open my net as wide as I can in this vast network of people here in not only LA but also New York.
SF: I hope to find a manger first, as I have a feature script on the boil and yes, in my opinion, I think it is covering a very hot topic again. I need to get this script in front of people. I need to network. I need to work as hard as I can. There is no such thing as luck; there is being in the right place at the right time. That means getting out there and shaking hands.
If you have any interest in seeing our short and if you would like to hear our pitch, please contact us.