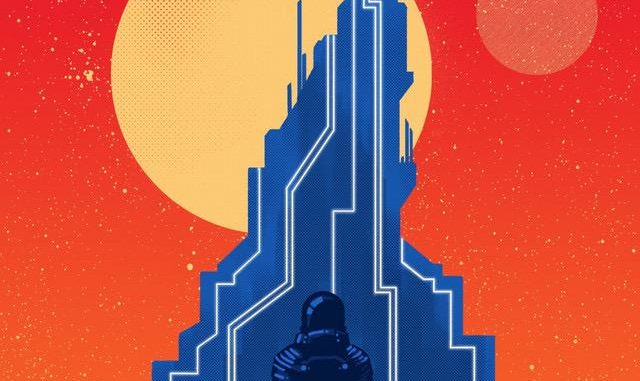 Review Fix chats with Mars Motel's bassist, Justin Lieberthal,on their last project, Passenger X, what was like working on their album, and what are their personal favorite songs.
Review Fix: Though inevitable, you had previously released several singles, what lead to you finally release a full-length debut album?
Justin Lieberthal: In the music world today, releasing singles is just the most viable way forward for bands like us in most cases. It makes economic sense and it allows you to create a runway of continual content to keep prospective fans engaged as you try to build yourself up. One single enables you to plan imagery, PR, hype, a release show, and other things like social media campaigns. All that is important to use as a springboard and draw out your engagement over time. We took those original five singles and they lasted us almost a year and a half through a release schedule, which was immensely helpful in getting us started (culminating in a sold-out show at Mercury Lounge for the Living In The Moment single release). 
All that said, we love albums. We all consume music in album format and an album is so much more than the sum of its parts. It's a crated vibe and world, and that is very important to us and the overall Mars Motel vision.
Review Fix: What were some of your inspirations to create this album?
Lieberthal: Musically speaking, we all come from pretty different backgrounds and influences, so this will vary a bit depending on whom you ask. Still, I think it's safe to say there are some elements of bands like Radiohead, Arctic Monkeys, Pink Floyd and The War On Drugs. Outside of that, the themes of the psychedelic and otherworldly were guiding themes.
Review Fix: What was it like working on the album?
Lieberthal: Overall, I think I can summarize it as a burst of creation. We actually set out to create an EP, but the content just kept pouring out and before we knew it, we had an album's worth of demos and just ran with it. The first 75% of the album came out with ease. The last 25% of it was fine-tuning, tone shaping, production, granular attention, etc., which took a lot longer. Certain songs came together just days before going into the studio! Wild Sin was a completely different song about two weeks before going into recording and In Bloom came together the night before our first studio day! So sometimes it was stressful and sometimes we just had to have faith in our ability as a cohesive band to bring it together when it counted. But it worked out – when we heard the final masters, we all agreed that it was the album we always wanted to be a part of.
The writing phase of the album is also when our chemistry as a band started to shine and grow. We all became closer and that shows through our music. The entire album is recorded as a live band – it was really important for us to showcase that in our recordings.
Review Fix: What are some of your favorite songs of the album and what was like working on them?
Lieberthal: Speaking solely for myself here – but the title track Passenger X is up there for me. It's the most experimental and it was pretty much completely improvised in the studio. I brought the bass line to practice one day and we jammed on it a few times, even tried it out live once or twice as a live experiment. We knew we wanted to put it on the album; however, we had no idea how it would turn out when we got to the studio. The guitars, effects, drums, and song length were all undefined when the red light went on and after the take, we all just kind of had this feeling of "Holy shit, that just happened."
Also, I am a big fan of Wild Sin – it's a beautiful album opener and really sets the tone for things going forward, blending elements of dark atmospheric psych and intense driving rhythmic rock.
Review Fix: Passenger X has a sci-fi, indie-pop atmosphere to it, where there are a few songs that are fast-paced and energetic, while others are slow and have a dark feel to it. What would you say is the overall feel to the album?
Lieberthal: It is dark, ethereal and driving
Review Fix: What is the next project Mars Motel is working on?
Lieberthal: We've got a whole drive full of demos for the next album or two ;) We'll keep it at that for now.
Review Fix: Anything else you would like to add?
Lieberthal: A thank you to anyone who took the time to read.