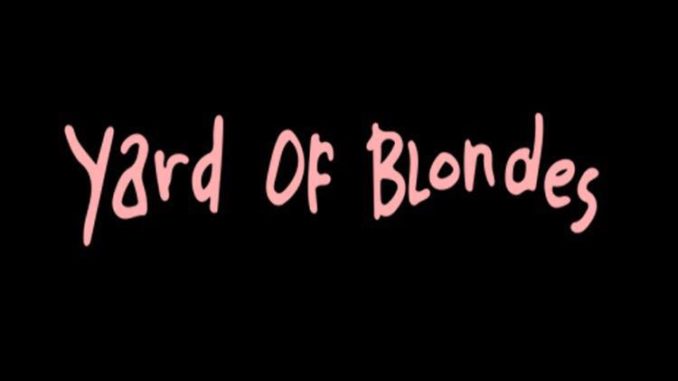 Review Fix chats with Yard of Blondes' vocalist and guitarist Vincent Jacob, who discusses his origin in music, the band's new work and more.
Review Fix: How did you get involved in music?
Vincent Jacob: Back in 2010, I moved out from France to L.A. with the idea to form a new band. That's when I got introduced to Fanny who just landed from France too. We met in Venice and started as an acoustic duet. We both had a background in music and started at a young age. I was 11 when I got my first guitar but Fanny was already European champion of organ at age 12 years old. I guess she started around age 6.
Review Fix: What's your creative process like?
Jacob: I usually sit down with my acoustic guitar and start finding the root chords and the vocal melody and I craft the lyrics at the same time. Once I'm done with the basic structure and lyrics, I record a home demo on my computer and start arranging the song. But for this new single, it was a little different approach. I remember very well when I started writing this song. I had previously written about 4 or 5 songs but something was bugging me. It all felt a little bit calculated. It was past midnight someday in July when I finally came to realise I wasn't being honest with our new songs so I decided to really let go any commercial expectation and I came up with this song. The music came first which is not usual and then I came up with the vocal melody and words. After the demo was done we started working with Billy Graziadei (Biohazard). He helped us rearrange the song and produced the whole record.
Review Fix: What inspires you?
Jacob: My inspirations are diverse. Our songs are sometimes autobiographical and sometimes they are more stories we wanna tell. But most of the time they deal with complicated and strong feelings or situations. They're like little therapies for different kinds of struggles. There's one song, for example, that has been inspired by a movie and that deals with violence on women, there's also one song that was inspired by a symphony from Malher and deals with destructive obsessive ideas. Another one was inspired by the traditional XIXth century's « murder ballads ». There's a song inspired by the shooting of Michael Brown, another one is also more political that tackles the « Alt right » and several are just plain love songs. Other songs are dealing with anxiety issues. There are also two very nostalgic songs, one about losing someone close and one about my teenage dreams and how I relate to them today.
Review Fix: How would you describe your sound to someone who has never heard you?
Jacob: I'd say it's a cross over between Black Sabbath and The Beatles. Heavy, yet very melodic.
Review Fix: How are your live shows different from your studio work?
Jacob: I guess our live shows are more « Punkish » in a way. We have the tendency to play loud and faster than on the record.
Review Fix: What inspired your latest single?
Jacob: Regarding You and I & I, I tried to express the complexity of anxiety. Anxiety is like having a second personality. You might have a good will, you might want to achieve things but anxieties can lead someone to prevent himself from doing things he would love to. Fear will stop you from doing a lot of things. I can say I have suffered with a severe form of agoraphobia during the last 15 years or so and it has prevented me to do a lot of things I wish I did. Fortunately, music has helped me a lot with it and it made me able to move to the US and form a band, meet people, go to shows, etc… It's not always easy and it's something people won't understand easily because it's something people usually can't see or can't even envision as a handicap. But anyway, regarding the song, the set up is quite simple. My voice represents the positive side of me, who wants to do things, Fanny's voice represents the inner voice that puts you down and scares you to death. In the song, Fanny wins.
Review Fix: What are your goals for the rest of 2019?
Jacob: We will release another single from the upcoming debut album and we hard trying to make plans to go on the road in 2020.
Review Fix: What's next?
Jacob: Get the most exposure we can to be able to tour the upcoming album everywhere.