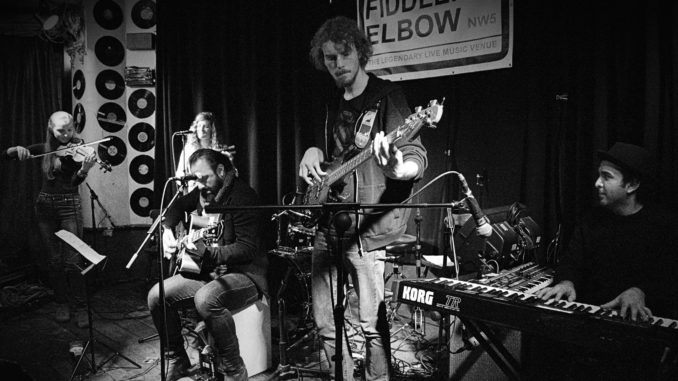 Review Fix chats with Seven Red Lions' frontman David Lion to find out how the band got together and what their goals for 2020 are.
Review Fix: How did you get involved in music?
David Lion: We all showed a great interest in music from a young age, I started to play drums when he was 15; Sara Priegue always liked to sing in the school and the church; and Chris Coronel big fan of MTV music decided to learn guitar. Later we all decided to increase our musical knowledge and went to study music, we meet a few years after and in 2015 we started this project
Review Fix: What's your creative process like?
Lion: When there's an idea we build a structure of the song. When the song is done (lyrics, melodies, solos, etc) we record a demo, after we experiment to play it live and when we feel that's ready we go to the studio to record.
Review Fix: What inspires you?
Lion: The city, our personal experiences, arts, but especially the music from our favorite artist like: The Cure, Nirvana, Khuranbin, Tal Wilkenfeld, Fito Paez y Chet Baker
Review Fix: How would you describe your sound to someone who has never heard you?
Lion: Alternative rock with space overtones but quite snappy and upbeat all the same, there's a lovely indie rock feel at times.
Review Fix: How are your live shows different from your studio work?
Lion: We are always trying to keep the same studio sound in live performances.
Review Fix: What inspired your latest single?
Lion: CITIZEN is a song inspired by life in a big city. We thought about the problems, pressure, stress, and loneliness which sometimes is felt by all. It brings a positive message, with encouragement, hope, and freedom to move forward in everyday life.
Review Fix: What are your goals for the rest of 2019?
Lion: We are currently working with 'London Filmmakers' for the new video, and the video will be released early next year. Also, we've been sharing in our social media a photographic work done in collaboration with photographer Sop Rodchenvko (https://www.soprodchenvko) so we want to tell real stories about 12 Londoners. Happiness, anger, sorrow, empowerment and more to tell… these images represent their stories of life in London. They will be shared soon as a promotion of our latest single Citizen.
Review Fix: Anything else you'd like to add?
Lion: We're planning to record our 1st album, some live sessions and hit the road touring around Europe and Latin America.