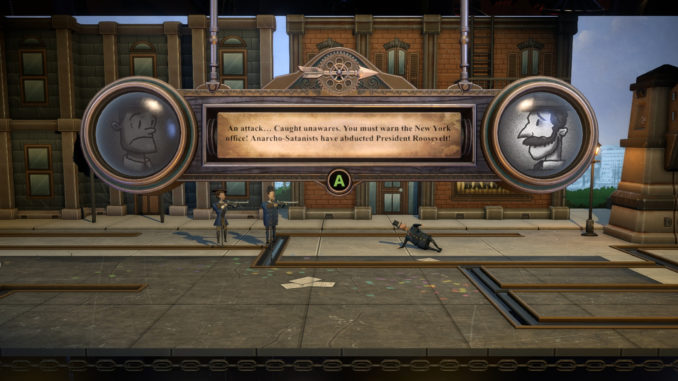 Review Fix chats with Clayton Kauzlaric, who is the creative director on Bartlow's Dread Machine, who details the game's creation and what fans of his previous work can expect.
Review Fix: How was this game born?
Clayton Kauzlaric: It started like a lot of game ideas: Riffing on ideas with friends at lunch. It was over a decade ago now. We were talking about old time mechanical arcade games and I made a joke about how it would have looked if they squeezed a modern video game design into one of those experiences. The idea took root from there and I started thinking seriously about doing a game like that. I made my first mockups and rough design docs a few months later. This was sometime in 2009.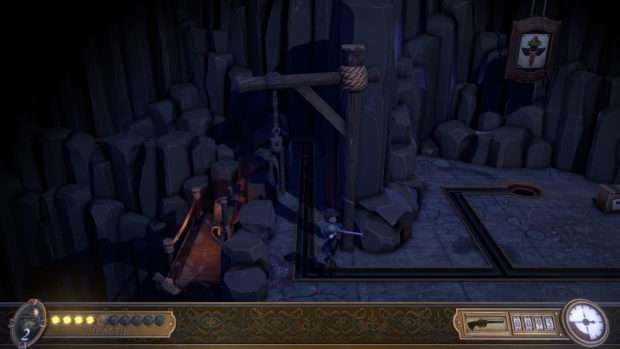 Review Fix: What was your role in the game?
Kauzlaric: I'm the creator, art director, writer and all-around design answer guy. Matt Hoesterey and his team at Tribetoy have executed on my original materials beautifully, though. They've really run with the idea and gone beyond what I'd hoped for when I imagined the game.
Review Fix: How did you get involved in the industry?
Kauzlaric: I started out as an artist and animator almost 30 years ago, mostly working on SNES and Genesis games.
Review Fix: What was development like?
Kauzlaric: It's been a really smooth process — so far, at least. We still have a couple game worlds to go! The fact that everybody was bought into the concept and brought a lot of their own ideas to the table made this one of the happiest, most collaborative projects I've ever done.
Review Fix: What makes this game special?
Kauzlaric: That's a hard question to answer. It's like asking someone why they love their kids. To me, it's been about seeing how a visual idea can translate into a meaningful gameplay style. The "what" of a mechanically-driven game informed a lot of choices for "how" we designed the controls and interactions within the game. As a game designer that's been an amazing experience. I think it's that sense of consistency that gives the game both its charm and great gameplay.
Review Fix: What games influenced this one the most?
Kauzlaric: The nutshell version when I showed the design stuff to Matt and his team at Tribetoy was "Robotron meets Pac-Man." It grew into more than that when we added that bit of dimensionality to the scenes but that old-school dual stick shooter feel is very much the foundation of the game.
Review Fix: Any fun stories or wild moments during development?
Kauzlaric: Ha — not really. Between Beep and Tribetoy working remotely from each other we didn't have a lot of drama. We had some fun meet-ups for beers now and then, but that's about it.
Review Fix: What were the major lessons learned?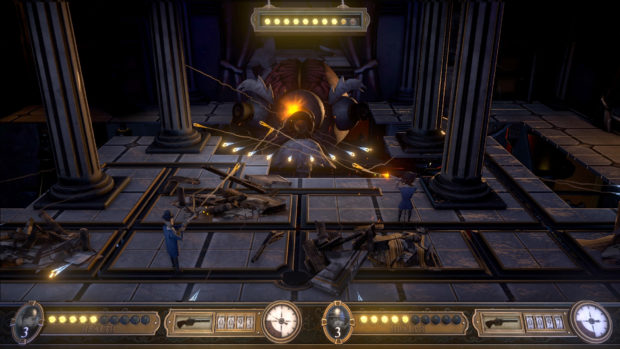 Kauzlaric: Leaning into the mechanical style was really interesting to me. In most games if you need an interface panel it can just pop up from nowhere. The same goes for button prompts, subtitles and everything else. Figuring out how those things might have happened with gears, struts, and wires actually made us all think pretty deeply about that functionality.
Review Fix: Do you think preserving older gameplay mechanics in new games is important?
Kauzlaric: Preserving is for museums, and you can see and play the games of yesterday countless ways. In new games, evolving is the important thing. Games are always built to some degree on other games but it's important to also add your own twist or bring something of your own to the table. Our underpinnings are based on some classic mechanics that players can pick up right away, but when you account for things like depth, cover, weapon choices and the tactical moments we've worked into Bartlow's Dread Machine, it stands on its own merits.
Review Fix: What's your favorite memory as a gamer?
Kauzlaric: As a gamer, I'd say watching the sunrise near Hyrule Castle in Ocarina of Time. As a game maker, it's watching people enjoy something I helped to make.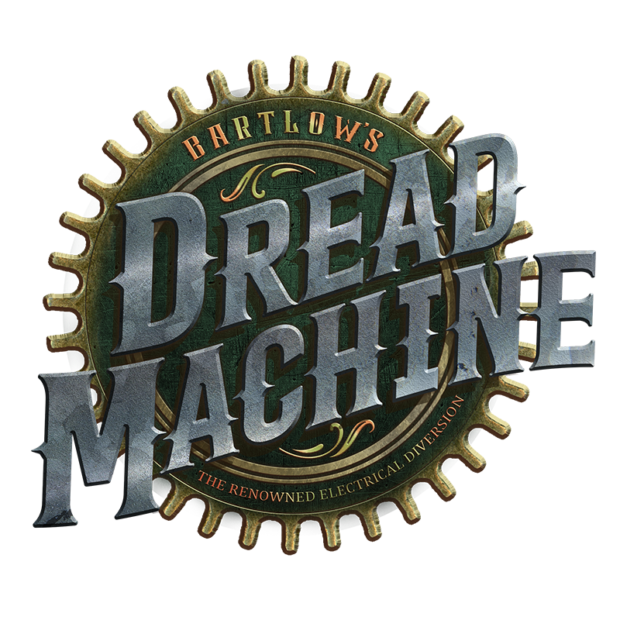 Review Fix: How do you want this game to be remembered?
Kauzlaric: This isn't meant to sound sarcastic, but I'll be thrilled if its remembered it at all. People have so many choices for games and entertainment — and where to get them these days. If this game earns a place in people's memories I'll be pretty happy.
Review Fix: What's next?
Kauzlaric: I'm always juggling projects, both in my day job as a Creative Director at Microsoft and building independent projects like Bartlow's Dread Machine. I'm sure I'll be on to the next thing soon, but I don't have a clear front-runner yet.