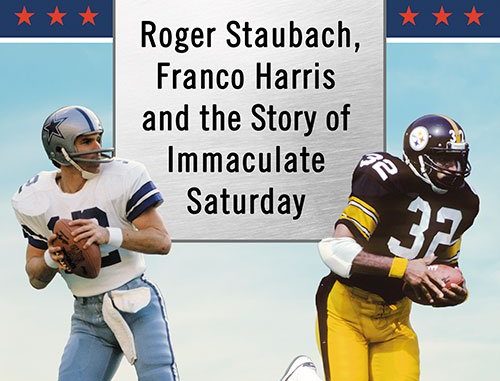 Review Fix chats with "The NFL's Greatest Day' author Brad Schultz, who details the creation process and why the book is one worth reading for any NFL fan.

About 'The NFL's Greatest Day':

A tight, dramatic NFL playoff game is exciting on its own, but two of the most dramatic in the same afternoon might result in the most compelling day in football history. This book is the first to capture the excitement and tension of December 23, 1972, when Pittsburgh played Oakland and Dallas met San Francisco in a pair of first-round playoff games that captivated millions. One game saw Dallas rally from three scores down in the fourth quarter, while the other featured the most famous ending in league history—the Immaculate Reception. This book details both high-stakes games as well as the historic season that led each team to the 1972 playoffs. Also covered are the men behind the miracles—some captured the moment to become heroes and legends, while others let success slip through their grasp. Two games, one afternoon, countless memories.

About Brad Schultz:

Brad Schultz is the pastor at Zion Evangelical Church in Shelbyville, Indiana. Before entering the pastorate he spent 15 years in television sports as an anchor, reporter and producer. He then taught 15 years as a full professor of journalism at the University of Mississippi. He has written twelve books on sports history and journalism, and has also produced several sports documentaries.

Review Fix: What inspired this book?

Brad Schultz: I'm not sure there was any one thing or moment that provided the inspiration. As a Cowboys fan who watched both games it was always interesting to me that they were both on the same afternoon. The idea just came to me to write about that, especially the second game which never got as much attention as the Immaculate Reception.

Review Fix: What was the writing and editing experience like for you?

Schultz: I have always enjoyed the writing process–researching, editing, shaping, creating. It was never work for me, but in many ways fun. I got to write about something that really appealed to me and share it with others. I do remember interviewing Roger Staubach on the phone and thinking, "I'm taking to Roger Staubach!"

Review Fix: Did you learn anything you weren't expecting?

Schultz: I'm not sure I didn't expect it, but just the realization that this mattered to so many people. Even the players I talked to still have a great appreciation for it, even though their lives have moved on. The tragic side, of course, is Preston Riley who misplayed the onsides kick in the 49ers game. It was saddening to realize how the incident negatively impacted his life.

Review Fix: What else makes that day a special one in NFL history?

Schultz: I'm not sure the NFL has ever had an afternoon quite like that one with six hours of back-to-back drama, including a play that is almost universally recognized as the greatest play in league history. Other days have come close, but I don't think any one day matches that one for drama.

Review Fix: How do you the Cowboys and Steels of the they'd fare in today's NFL?

Schultz: It's really hard to answer that because the game has changed so dramatically. The players are not only bigger and faster, but the whole philosophy of offense has changed, from a run-first approach to passing all over the field. I think Tom Landry and Chuck Noll, both being Hall of Fame coaches, would be able to adapt, but overcoming the size difference in the players would be difficult.

Review Fix: Who do you think will enjoy this book the most?

Schultz: Most likely people of my age who grew up with the NFL from that era. There is a great sense of nostalgia among Baby Boomers as they get older, especially for the sports and athletes of their youth. I would also hope it appeals to young people who would want to learn more about an important moment in NFL history.


Review Fix: What are your goals for this book?

Schultz: I've already reached them. I never worry too much about sales or public reaction; let's face it, unless you're Stephen King or someone like that you're not writing for a living. It's a hobby for me. I set out to tell a story, I told it, and certainly I hope people want to share it with me.

Review Fix: What's next for you?

Schultz: I'm about finished with my next book about the importance of the years 1957-1959 to the NFL. I'm not sure why I'm so fascinated with NFL history–I like other sports as well–but for some reason I enjoy writing material on that topic.

Review Fix: Anything else you'd like to add?

Schultz: I guess I should say that I'm not much of a fan of the modern NFL. I watch the Cowboys when they play, but otherwise don't find the league as interesting as when I was a kid. I could give you names, scores, statistics from almost any Dallas game of the 1970s, but couldn't tell you much of anything about who played last week. I can find an old game on YouTube and watch it almost start to finish, but have little interest in watching a game today.