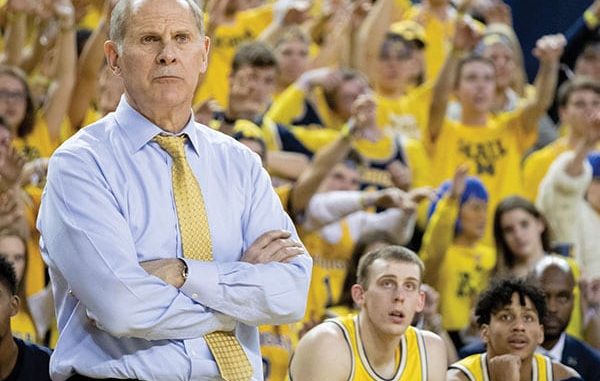 Review Fix chats with "John Beilein at Michigan" author, Tim Rooney, who lets us know what inspired the book and what he'd like people to learn from it.
About the Book:
When John Beilein arrived at University of Michigan in 2007, the once-proud men's basketball program was adrift after failing to reach the NCAA Tournament for nine straight seasons. Over the next twelve years, he became the program's all-time winningest coach, reached two national championship games, won four Big Ten championships and produced eight NBA first-round draft picks.
In an age of ethical lapses throughout college basketball, Beilein succeeded without a hint of impropriety. As much a teacher as a coach, he consistently identified undervalued recruits, taught them his innovative offensive system and carefully developed them into better players—an approach to the game that drove his unprecedented rise from high school junior varsity coach to head coach of the Cleveland Cavaliers. This book examines his tenure at Michigan in detail for the first time.
About the Author:
Tim Rooney is a University of Michigan graduate and a Major League Baseball scout for the Toronto Blue Jays. An avid basketball enthusiast, he plays and coaches regularly. He lives in Tega Cay, South Carolina.
Review Fix: How did this project start for you?
Tim Rooney: In early 2018, the Michigan men's basketball team went from unranked in January to the National Championship game in April by ripping off 14 consecutive victories. Late season surges were a staple of teams coached by John Beilein. As a Michigan alum and a passionate basketball fan, I loved following his teams and seeing his players' improve. As I watched the NCAA brackets announced in March 2018 after Michigan had won its second straight Big Ten tournament championship, I was inspired to share what made his time at Michigan so special.

Review Fix: What makes this topic so special for you?
Rooney: I love the game of basketball and am fascinated by great coaches. I work in professional baseball with a focus on scouting and development. Watching Beilein succeed through a combination of his ability to identify underrated talent, develop players, and do so with a great deal of class that is often lacking in college basketball tied all of those interests together.

Review Fix: What makes John Beilein worthy of a book to you?
Rooney: Well he's the winningest coach in Michigan history and restored the once-proud program that had fallen on hard times back to its status as a national title contender. He traveled an incredibly unique path from high school JV coach to an NBA head coach without skipping a step anywhere along the way. He has a resume that may one day lead to his induction into the Hall of Fame. But most importantly he's done it all with a tremendous amount of integrity. At a time when FBI investigations examined numerous programs for nefarious recruiting practices, he offered a template on the right way to do it. His values and the way he carries himself provide a model that we could all aspire to.


Review Fix: What did you learn while writing this?
Rooney: I certainly learned how hard it is to write a book! The organization that it required took up almost as much time as the writing. It's not a task that I took lightly but I don't think I grasped just how involved a process it would be or how long it would take, until actually going through with it.


Review Fix: How difficult was it to put all of this together?
Rooney: It was quite a process! I curated every piece of media I could find on Beilein and Michigan basketball—that included press conferences, newspaper articles, website content, podcasts, videos, and more. I then organized it into the various themes that I wanted to explore while also weaving the story in chronological order. Going from a general idea to actually executing that vision into an enjoyable read took me well over a year of work.

Review Fix: Any tips for people who want to do similar work?
Rooney: Make sure that passion and inspiration are driving you. There are many days where it's easy to run out of fuel, when you think your writing isn't any good, and you just want to give up. Having a true passion for your subject matter is essential to overcome those roadblocks.

Review Fix: Bottom line- why must someone check this book out?
Rooney: John Beilein's story is a remarkable one. From humble beginnings, he climbed step by step to some of the most prestigious coaching positions in the world. Along the way, he helped countless individuals thrive both on and off the court, developing as basketball players and as people. His constant emphasis on "doing the next right thing," provides a model that we would all do well to follow.

Review Fix: What's next?
Rooney: Good question! I don't have any current plans to write, but perhaps a subject will grab me the way this one did and provide the necessary motivation. For now I'm focusing on the upcoming baseball season and my work as baseball scout for the Toronto Blue Jays. Hopefully I can apply some of Beilein's lessons to my work helping us pursue a World Series!