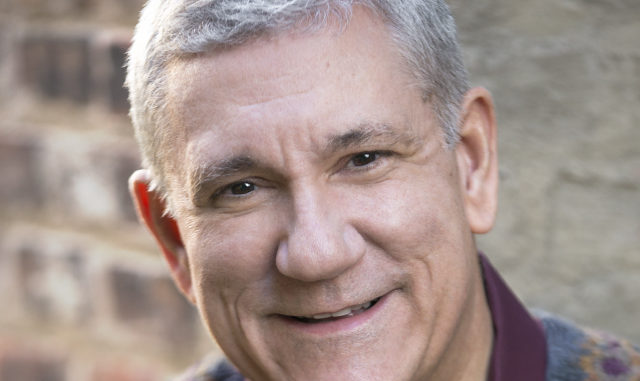 Review Fix chats with playwright Ross Hewitt, who lets us know what inspired his new production, "Echoes in the Garden."
About the Production:
One child's death, another child's birth, family dynamics, gossip (real or perceived) and racial tensions collide in ECHOES IN THE GARDEN. Set in 1962, with flashbacks to the late 1920's, the play centers on two generations of the Hemmerich family, navigating grief and expectations in the wake of loss.
About Ross Hewitt:
Hewitt is an associate member of the American Dramatists Guild and an active member of the Village Playwrights, a group that gives LGBTQ playwrights and screenwriters a voice. His full-length play, When October Goes, was produced by the Ujima Theatre Company in Buffalo, NY. When October Goes received an ArtVoice Artie Award nomination for Best New Play. His one-act plays produced by the Village Playwrights include Quicksand, Mother Knows Best, The Middle, Crossover and Witches Brew. His one-act play Booties was a part of the 13th Fresh Fruit Festival in New York. His jukebox musical, Rainbows and Ribbons, premiered at Don't Tell Mama in New York in 2017. He has also begun writing flash fiction and has started writing his first novel. He is a founding member of the American Bard Theater Company and has appeared on stage in many past productions. Ross G. Hewitt is also a practicing physician, specializing in HIV/AIDS, infectious diseases and sexual health. www.rainbowsandribbons.org

Review Fix: What was your inspiration for this production?
Ross Hewitt: I met my maternal grandmother only twice in my life. The first time, I was three years old. This play is based loosely on that visit. My mother brought my sister (who is one year younger than myself) and I to visit her parents in the early 1960s. She didn't like to talk about the subject much. I only remember visiting a chicken coop for the first time and her saying the visit did not go well. I took those few facts, and what personality descriptions I had of my grandparents and deduced what may have happened and why. I grew up not knowing her parents and wondered was it just because my sister and I were bi-racial? Or was there a possible deeper explanation? One thing my mother talked about was having a brother who died at the age of four years old. That happened five years before she, the next child, was born. She always felt she could never live up to the memory that her parents, especially her mother, held on to. So, my personal rejection by my own grandmother led me to explore the topic artistically.

Review Fix: What's your creative process like?

Hewitt: I have wanted to explore this particular story as a playwright for over twenty years. At first, I was scared to write it. I needed some structure that would provide no excuse not to, so I found a creative writing group run by a former actress and a playwright herself that met twice a month. I wrote a basic outline of the story to present at my first meeting. Having to attend the group made me show up with some new piece of writing twice a month. I think otherwise I would have found distractions that may have prevented me from writing or finishing it. Because it met on Saturday mornings, I began to commit to writing something on Friday nights. The outline was very broad with no real specifics, such as "the newlyweds see their new house for the first time". Then, I would sit and write whatever came out without any planning of the details. I had a good sense of who these characters were. Before I knew it, three or four hours had passed, and I had a 4 to 6 page scene — sometimes more. My workshop co-participants would help me read the scene out loud and then we would discuss it. The feedback would help me revise each scene many, many times, until everything in it was clear. That process could take months just for one scene. Sometimes I needed to put the material aside, and work on something else, like a short play festival. Sometimes I needed to let it gestate in my subconscious for several months. It took me over three years to write my planned twelve scenes for the first draft. I ended up with fifteen scenes that weave and flow together seamlessly.
Review Fix: What did you learn about yourself through this process?
Hewitt: What I came to learn as I started writing was how the death of a boy in the 1920s impacted my own life, now 100 years later, across three generations. I didn't know my grandmother and grandfather except from the snippets of information my mother shared. I began to think that before his death, they must have had dreams like those of any newlyweds. Their first child was a boy, and he must have been treasured. So how did they get from that immense joy to the depth of tragedy that the loss of a young child brings about? Young children don't die in numbers today like a century ago, but young children still die from accidents, just different kinds back then. That means the topic is still relevant today. I wanted to understand them and this exploration led me to have more sympathy for them than I ever imagined. My mother never forgave them for their rejection of her interracial marriage. I have come to forgive them. They had their faults but they dealt with their challenges as best they could, even if their response wasn't ideal. I learned they were human after all.

Review Fix: What makes the cast special?
Hewitt: This cast is incredibly talented. First, two young boys will share the role of David. They are so cute!! People will fall in love with them. They have a lot of actions they have to perform and they have to do it on cue, even though they have no spoken words. Both are already experienced actors at such a young age. Cheri Wicks and Arthur Aulisi have been involved with workshop sessions of the early script. They have watched the script and the story evolve. They both have had a great deal of time to delve into their characters with incredible depth. Both of these characters, over fifty years after the death of their son, are dealing with their grief, each in their own way. Kirrin Tubo was also involved with a public reading of the script last year. The rest of our cast knocked my socks off during their auditions. I have the utmost confidence that they can live in these characters' shoes completely.

Review Fix: What are your goals for the piece?

Hewitt: This is an Off-Off Broadway production that is costing about $40,000 to produce. The script calls for running water and rainfall. These are powerful symbols for tears and grief. Grief is universal. We can't fully realize those effects on this budget. My goal is to get enough people from industry to see it, and help take it to Off-Broadway or even Broadway — yes, I think it's that good! I can imagine what a larger, moving set with rainfall could accomplish in terms of impact on an audience. A larger budget would include four boys in the cast, not just two. There are classic archetypal roles that I can imagine the stars of today portraying. I hope other people will see its possibilities. I could even see a movie being made from an adapted screenplay.

Review Fix: Why must someone see this production?
Hewitt: Being a parent is difficult enough. When the loss of a young child occurs, it can affect not only the parents, but their children and their children's children in ways we cannot anticipate. What resonates for me are the universal themes that ring true even today, including family dynamics (mothers and daughters; fathers and daughters; husband and wife), grief and loss, racism, sexism, religion, politics and immigration. Even though this story is set over fifty years ago with lookbacks to a hundred years ago, the themes are alive and well in America and the world today. A historical production such as this one is also an enjoyable theater experience because of the details the designers and the actors use to recreate the past. I have worked hard to use language appropriate to the time being portrayed. And who doesn't love watching an adorable little boy being an adorable little boy live on stage? Also exciting is seeing a world premiere, knowing that the production could be headed for bigger things in the future.

Review Fix: What's next?
Hewitt: I plan to get started on a screenplay while at the same trying working to get the play published. That would be a huge springboard. I would like to see the play make the regional theater circuit. Launching a great production in New York is the first step.