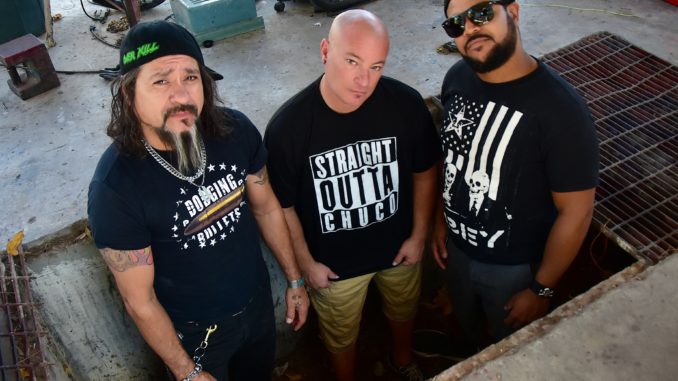 Review Fix chats with Little King's Ryan Rosoff, who discusses his origin in music, as well as his goals for the future.
Review Fix: How did the project start?

Ryan Rosoff: Back in the late-'80s, I played in a couple casual bands in high school (just outside of Seattle, right before Grunge exploded), but I was mostly singing and learning guitar, and they were cover bands which weren't particularly interested in writing originals. Fast forward or 6 years to El Paso, Texas, where I joined a band called Tweed Quickly with two guys who are still among my best friends, Scott Marestein and Shannon Brady.
That band was a TRIP! Scott was the drummer and singer and he wrote the songs. His influences were eclectic, like mine, but he opened my eyes to a lot of different things. Scott loves Zappa and the Beatles, and he brought those influences to his writing, along with a healthy dose of James Brown and Rush. You can imagine what that sounded like! He really embraces chromatic scales as a compositional tool that creates a little levity and a bit of drama. I wish we had properly recorded those songs, because they were intricate and complex and fun. One of them, "For Crying Out Loud," still makes appearances in LK sets 25 years later…it's a monster!

When Scott joined another band, the Southwestern legends The New Texicans, Shannon decided to split for audio engineering school (he did end up playing bass on Time Extension in 1998 and Virus Divine in 2003.) I w as left with a bunch of songs that I was working on and was going to present to those two. Suffice to say, I didn't let it go! I found a couple local dudes (Alex Lizarazo and Mike Esparza) in El Paso, called the project Little King (a loose translation of the name "Ryan), and the rest is history. We recorded Transmountain in 1997 and I am still at it, 23 years later.
Review Fix: What's your creative process like?

Rosoff: It's really the one constant in my career over 24 years. I have an old guitar that my dad gave me in 1988 that I still use to write songs. It's a Washburn acoustic dreadnought that has aged beautifully. Funny thing about that guitar, though, is that it sounds much better when I'm playing arpeggios and not as much strumming chords. As I sit here and reflect on that, I wonder if that fact has influenced my writing. Probably has…

I have to write the music before I get to the lyrics. I am the singer and guitar player, and I write fairly complex parts. We don't play a lot of 4/4…I like 5 and 3 and 7! My songs are in every key imaginable, too, so finding a vocal melody that suits the music and my voice is a process in and of itself.

Once the music is written, then I can fit lyrics and melodies to what I've put down on a demo. I can then sing along to it and slowly but surely achieve the independence necessary to sing and play Little King songs in a live setting.

Review Fix: What's your standout song? How was it written?

Rosoff: You are asking me to pick my favorite child! What will the other songs say?
I have a few that have stood the test of time as well as a couple on the new album that might take the honor on any given day. Those are "Bloodline" from Time Extension (1998), "Narcissus and Echo" and the Title Song from Virus Divine (2003), "Collateral Damage" from Legacy of Fools (2008), "Happy Home" from OD1 (2014), and both "Hate Counter" and "The Skin That I'm In" from Occam's Foil (2019).
"Happy Home" and "Skin" are companion songs and we will play them in succession live (if and when this madness blows over and we can get out and entertain…God willing.) The former was written in 2014 when I was relocating from California to Delaware, a place I'd never been with a wife who didn't want me there. It was brutal. I left my career, my family, my friends, and my home to try and save a marriage that was clearly dying. Or was already dead, honestly. But my son was there, and I have stayed in Delaware to raise him as a proud single dad. "The Skin That I'm In" is the response to that pain, 5 years later. I have come through it all better and stronger…and that guitar solo is my triumph! I think those 10 minutes, back to back, are as powerful as I can produce.

Review Fix: What are your goals for 2020?

Rosoff: So, I will use this space and your publication to announce that we are working on a new album. It was in the plans for early 2021, but things have changed around the world, and thus our plans have altered as well. I want to tour and support Occam's Foil so badly – it deserves to be performed and shared – but I just have no idea if and when that will be feasible.

Therefore, and because I am cooped up for a few weeks and feeling quite motivated, new music will be born. I have a couple songs I am working through as we speak, and they have the working titles of "Set It Down" and "Shelter in Place." I will debut one of them soon on a live stream. Stay tuned!

Review Fix: How do you want your music to affect people?

Rosoff: Brilliant question…thank you for asking it. The title of the new album reflects my response to the old philosophy of "Occam's Razor," which dates to about 1347 from Father William of Ockham. He was an English Friar who theorized that the simplest answer is usually the correct one. Bollocks, I say!
I think our society does far too much of taking things at face value without and deeper research, objective discussion, and regard for expertise and data. Furthermore, with the advent of rampant social media, every schmuck with a phone has a voice. Seems to me that the louder and more brash voices now attract the most attention, regardless of whether or not they have a fucking clue.
Little King music should move people to think a little more deeply, to ask some questions about their own lives and the world around them, and to listen again and peel away the layers of the music and the lyrics. We worked very hard on this record, and I hope that it engenders some listeners who go back to it again and again, not only to listen and tap their fingers, but also to listen to the thoughts in my head.

Review Fix: What's next?

Rosoff: Lunch. I'm starving, and I've got perishables that need to be used. I'm a vegetarian, have been for exactly 25 years, so I need to use up the veggies in the fridge. Egg white omelet with mushrooms, broccoli, squash, garlic, white cheddar, and avocado toast with some roasted Parmesan Potatoes. On that note…see you all on the road!