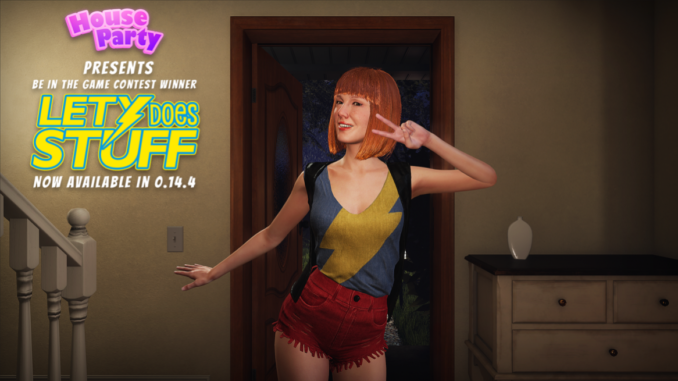 Review Fix chats with House Party Dev Bobby Ricci, who details the game's newest updates and what makes the game a special one.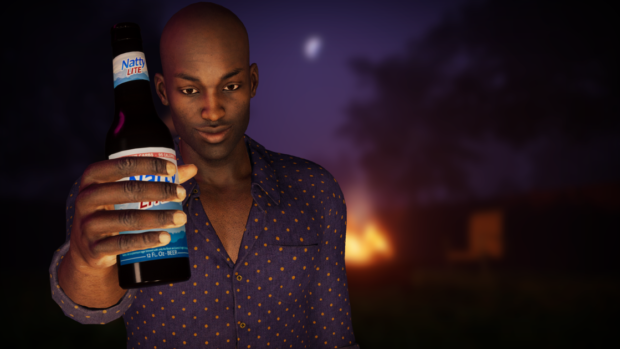 Review Fix: What makes Derek such a cool character?

Bobby (Eek! Games): Derek is an interesting character.  He is your only "link" to the other party-goers in the sense that he invited you to the party and you don't know anybody else there.  He also helps the character by giving him hints.  Derek is usually the person you can go back to if you get stuck, and he usually has some words of wisdom for you.  Derek has a complicated relationship with the host of the party, Madison, and the player can make choices that can either help him out with his relationship with Madison, or betray him and try to steal his girl!  House Party is always about choice, and in this new update, the player has a third option to keep Derek all to himself!

Review Fix: What inspired this recent update with him?

Bobby (Eek! Games): When House Party was originally designed, my intention was to have "something for everyone".  I tried to create versatile characters who had very different, but complicated personalities, and I wanted to cater to all walks of life.  So it was intended from the beginning that Derek would eventually have a full-blown story-line that would allow the player to a few different choices in terms of how that ends up, but we also wanted to play on Derek's connection to the player in this update and give more back-story to the player and why he's there.

Review Fix: How does it change the game?

Bobby (Eek! Games):  Though Derek isn't the only gay story-route in the game, it is by far the most wholesome. The story of two guys who are great friends, who eventually figure out they have feelings for one another.  Each story adds a very unique element and story to the game, and Derek's update is no exception, and even comes with new game-play mechanics for the player, and a unique way to progress through his story-line, which is dependent on a lot of other characters in the game.

Review Fix: What about the new outfits and booze? Was this something players were asking for?

Bobby (Eek! Games): Yes, we readily listen to our player community, and early on, our players have commented that the outfits in the game were very basic and generic.  With these new outfit do-overs, we carefully designed the outfits to match the personalities of the characters better to give them even more depth.

Review Fix: How do you feel the autosave feature alters the gameplay?

Bobby (Eek! Games): Auto-save is something that players have been asking for for a while.  House Party is a game of choice, and a lot of those choices can lead to sudden game-overs or send you down a really bad path with some of the NPCs.  Though those paths can sometimes be funny experiences, they also cut the player off to progressing in the story-lines.  We thought the auto-save was a good way to help out players who might be forgetful about saving before an important game choice!

Review Fix: How has COVID-19 affected the game's development?

Bobby (Eek! Games):  Luckily one thing that didn't happen during COVID is that people didn't stop playing video games!  In fact, I would venture to say that during the quarantine, our fan base grew at a more than usual rate.  Our team was affected directly in many ways though, in the form of living arrangements and availability of day-care, so it really slowed down our development cycles.  Fortunately, I think we are getting settled, and back on track now!

Review Fix: Have you seen an uptick in players because of quarantine?

Bobby (Eek! Games): Yes!  As I mentioned in my above answer, more people staying home and playing video games meant more House Partiers!  We are very grateful that people chose us to entertain them during the quarantine, but we are also looking very much forward to life getting back to normality!

Review Fix: For those who have yet to experience the game, what makes it so special?

Bobby (Eek! Games): For anybody who is a fan of those old adventure style games, they will understand my pain as a gamer that that style of game-play has never really successfully been ported over to a full 3D world and gameplay style.  House Party offers a lot of firsts in the sense that it tries to bridge that gap and bring a more immersive sandbox 3D environment and married it to that nostalgic adventure game style.  House Party was also the first game to have uncensored nudity and sex scenes, which I had thought the world was ready for, but apparently in 2020 people are still appalled by nudity and sex, despite all of the gratuitous violence that we are so normalized to.  Now, House Party is censored by default to satisfy certain legal constraints that we disagree with, but unfortunately have to comply with.  But we do offer a patch to return the game to its former glory!  And lastly, in House Party, your choices matter.  I know a lot of games claim that, but the sense of choice they actually give you usually ends up being one or two major choices that change a few things in the story along the way.  House Party offers unique scenarios in the sense that your decisions with some characters can affect your relationship with them and willingness to help you out in other adventures you get up to.  We offer ways to redeem yourself though in many circumstances so the player never feels a complete sense of being "stuck".  Usually talking to somebody, somewhere will open up new opportunities, but it's also possible to make really awful choices and miss most of the opportunities in the game, in which case your only recourse would be to start fresh, but it's that variability and replay-ability that we strive for!


Review Fix: What's next?

Bobby (Eek! Games): We are still finishing up House Party, and we are getting ready to start announcing some DLC that we have planned for House Party's future.  Though finishing House Party is our main focus, we are a team of 8, and we don't all have too much left to do (especially our graphics team), so some of us have been laying down the ground work for our sequel game, Office Party!

Review Fix: Anything else you'd like to add?

Bobby (Eek! Games): If you haven't tried House Party yet, you should give it a shot.  It seems a lot of people try to label our game as all kinds of things, but it really is a unique experience, and the people who do decide to give it a spin find that out very quickly.  It's not a sex simulator or a "porn game", it has many layers to it and a lot to offer players.