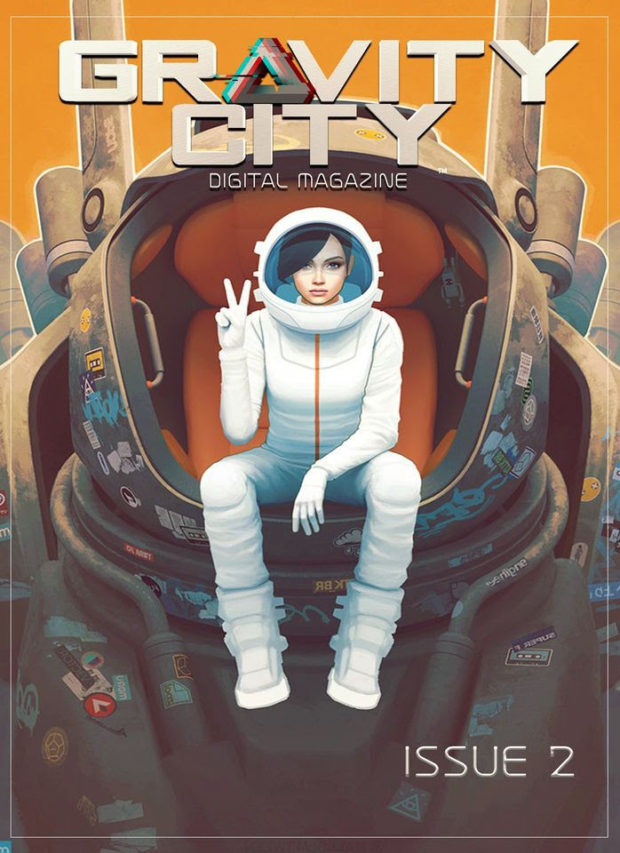 Review Fix chats with Gravity City Magazine's Artie Cabrera, who discusses the creation of the magazine and its vision moving forward.
About Gravity City Magazine:
Gravity City Digital Magazine —Filled with Mad Magazine lampoon-style ads and spoof gadgets and products, the magazine — aside from its humor — serves as a platform for emerging authors of science fiction, fantasy, and Horror, as well as illuminating interviews and articles about new films, books, and other genre events.
Review Fix: What inspired you to create Gravity City?
Artie Cabrera: Gravity City was born out of a long summer of binge-watching Dirty Harry films and reading Mike Hammer novels. It all started with the Johnny Rangers character, who is essentially Dirty Harry and Mike Hammer in the far reaches of space. The hook for me was that Gravity City (modeled after the gritty 70s era of New York City) was leaving this character behind because the times and the world around him were changing in short order. Rangers doesn't have much patience for people and technology, but he still enforces the law and gets his hands dirty the hard way. No fancy gadgets, no top-notch police tech. He just gets in there and beats the hell out of you with brute force. As I delved more into his character and psyche, the city and its occupants grew with him, and subsequently, the Gravity City universe. All these concepts about races, technology, politics, military, surrounding planets, mythos and history all just started coming together once we started writing the novels. I can't wait to see what this world reveals to me in the years to come.
Review Fix: What's your creative process like?
Cabrera: I'm not sure if I've necessarily locked down a formula or method yet, but generally, I'll begin by jotting down ideas and sketching out our faux-ads and features. A lot of it is brainstorming in the shower and bouncing ideas off my friends. For the record, I just want to be clear in saying that I don't shower with my friends, but I will share my ideas with them after a shower. After that, I'll sort through hundreds of images and reach out to artists when something leaps out at me and I think would make the magazine pop. We've been fortunate to feature insanely-talented artists in our magazine and for them to be so generous with us in return. Concurrently, I'll compile two to three wish lists for writers, artists, and elements I'd like to see in the next issue and repeat the process of reaching out to people and seeing who's available to be a contributor. At some point, I sit down and composite the ads and begin formatting the magazine, massage it into shape, and hope for the best while choking back tears. Nothing is more nerve-wracking than the moment I set an issue free out into the wild because you never know what anyone's going to say. For the most part, it's been nothing but positive.
Review Fix: What makes this different or special?
Cabrera: I developed Gravity City magazine with nostalgia and fun in mind. It was essential to me not to make this project something that was too sterile or highfalutin when it comes to the genre. I often refer to my childhood and think about the magazines and comic books I grew up reading, and from an early age I knew that I gravitated to the absurd, raw, and off-kilter side of art more than anything else. Growing up with an older cousin who was an avid comic book reader, collector, gamer, definitely helped nurture my taste for eccentric content. Growing up with teenagers in the house also came with stumbling upon material kids my age shouldn't necessarily come upon without adult supervision. So, admittedly, I snuck Robert Crumb comics and Playboy magazines under a table or off to the bathroom, read them, and also developed a taste for edgier things. Some of that has carried over into my work as well. With that being said and to finally answer the question, ideally, I'd like to cherry pick from all eras of MAD, National Lampoon, Heavy Metal, Starlog, and hopefully, evoke nostalgia for readers my age while also presenting it using modern tools to appeal to younger readers. Gravity City magazine is an amalgamation of those ideas and love letter to those publications.
Review Fix: What did you learn about yourself through this process?
Cabrera: I think I mostly reaffirmed to myself that when you have a blank canvas, freedom, and a love for art, anything is possible. Of course, it helps that no one is necessarily telling me what to do or how to do my magazine, outside of the tedious stuff, like marketing and business strategies. I think creative types are happiest when they are given carte blanche to express themselves and don't have anyone breathing down their neck telling them how they should convey their feelings or vision. I think that is when art pours of the artist in its purest form, like sap from a magical tree… and the canvas becomes this beautiful plate of magic pancakes that came out of your brain. Anyways. And because I have such a broad canvas to play with, I don't think I've had this much fun working on any of my projects in years, and I think that it comes across in the magazine. That aside, it is hard work. It's long days of hard work and sometimes longer nights to nail the idea that I'm after. But nothing makes me happier than to see the end product realized, and I'd like to continue and share that joy with our fellowship for years to come.
Review Fix: What are your ultimate goals for this production and for the future?
Cabrera: My ultimate goal is to see how far our team can go and how our work and universe is received by fans who love the genre. I'm like a proud parent. Of course, I have bias and want to win the trophies. But I genuinely want to see how it all falls into place. We have great characters and rich stories to tell when it comes to our fictional world. The magazine on the other hand is still very young, so I have to keep my expectations in check with everything. However, still, I am ambitious, so I'd be lying if I were to tell you that I wouldn't like to see a Gravity City product in some form of animation or film, like the Heavy Metal movie or Love, Death, and Robots on Netflix. I'd love nothing more for someone to pick up our magazine or book and get the same emotion I felt when reading my favorite magazines as a kid. Hopefully, not hiding in the bathroom.
Review Fix: What's next?
Cabrera: Issue 3 of the Gravity City magazine will be out in late November, and 2021 will see more of Gravity City in three novels that I have written with my collaborator Christopher Valin. Hopefully, it will be a busy, fun, and cool year for everyone all around.