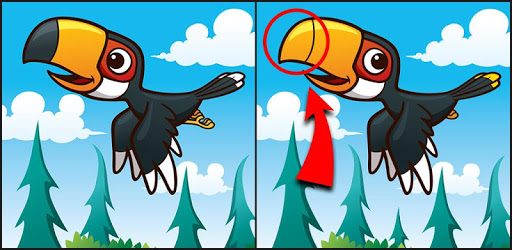 Are you struggling to find some exciting and challenging games? When we searched for interesting games on the app store, we came across thousands of apps, and it is quite difficult to know which one is good. The games where you just have to stay focused and act instantly to win are spotting the difference games. You'll find these games perfect for adults, and better suited for kids. Once, you play them, and you will surely become an addict.
Well, the best thing is playing such games will not only make you stress-free but also sharpen up your mind's creativity levels. The following list of game apps is especially gathered for those who love the detail-oriented and smooth, challenging Game. Scroll down to find your Game!
Hot Picks for the Year 2020 — List of Top 5 Spot The Difference Games
Below listed names are compared to be the best for the year 2020. Take a look!
Find the Differences — 5 Differences Finding Game
Spot it: Find the Difference Games
Find the Differences 750+ Levels
What's the Difference?
Fun Seeker- Spot the Difference
To give the order of obsession, we are going to dive into the depth of details:
1. Find the Differences — 5 Differences Finding Game
It is the most fascinating, Smoothing, Exciting, and Superb detective game. That is offering more than 300 challenging puzzle levels. In this world of traffic where nearly everybody is going through some crises in their life, it is necessary to boost your problem-solving skills. And one of the promising ways to do this is by playing this spot the difference google play puzzle game. It will not only relax your mind but also increase your IQ level. It is a free android game that is quite good from every angle!
2. Spot it: Find the Difference Games
It is another popular and simple pattern recognition game. That is well-known for its pleasant environment. It is a kind of puzzle where kids and adults must have to spot five differences between two oppositely similar images. It is an Award-winning game of visual perception for the entire family. By playing this Game will develop focus, visual reasoning skills, and excellent mechanism skills. The best thing about this picture hunt game is that it is toddler tested, which contains beautiful and eye-pleasing pictures. In short, it is an Addictive game that will be pretty fun for everyone!
3. Find the Difference 750+ Levels
It is another game specially built to Enhance attention and observation skills by its incredible working methods. It is cost-free and a great place to distress yourself. It contains more than 600 unlocked levels. Uses Multifunctional techniques that provide high definition(HD) images. Besides, it provides options like in, out zoom, unlimited hits, no time restrictions, and smooth and soft heart-stealing music. The most impressive part is it can be played easily on any device without the internet. Also, it offers Portrait and Landscape modes for Smartphones and Tablets.
All levels include change settings and features. This game is free and doesn't require any extra download. So, Spot the Difference anywhere you want to. Play without any hassles and internet connections.
4. What's the Difference?
Here comes the spot for all ages; This Game offers such an eye-popping setting that will prove perfect for both young and old. It's a cool and classic game that everyone's going to love. The leading spot the difference game "What's the Game" is developed by the makers of What's the Pic? Games! And people are glad to see their other best creation on the app stores. It's a little same as others; you have to spot all five undetected differences before the timer runs out. With over 25 high-quality images and 1000+ differences to spot, What's the thing that will keep you busy for 24 hours directly?
5. Fun Seeker – Spot the Difference
Do you like to detect differences quickly with thrills? If you do, you are going to love Fun-Seeker! This new Spot the Difference Game is supporting some fun features and an outstanding user-friendly environment. Just download it to get entry to the hundreds of mind-blowing levels, fascinating pictures, an incredible interface, and realistic rules! You have to discover the Difference between two same looking images. You have to spot five differences by simply tapping the pictures. You can easily zoom photos in and out by using two fingers. Once you discover any differences, you will move to a new, more thrilling level. This Game's levels have no time limits so that no timer could spoil all the fun! This place is 100% free — all you need to do is download and play it. Just an Internet connection will be needed for downloading more breathtaking levels! If you find any level too tough, just use free hints!
The Bottom Line
Spot the Difference games are a modern way that has become a reason for entertainment and also an excellent brain exercise. It is helping to enhance the mind's observation speed, focusing levels, and decisions making speed. Also, it kills time on a long commute, while traveling on a bus, or sitting at an event that you don't enjoy. So, there are many ways to spot the Difference Google play games impact our lives positively!