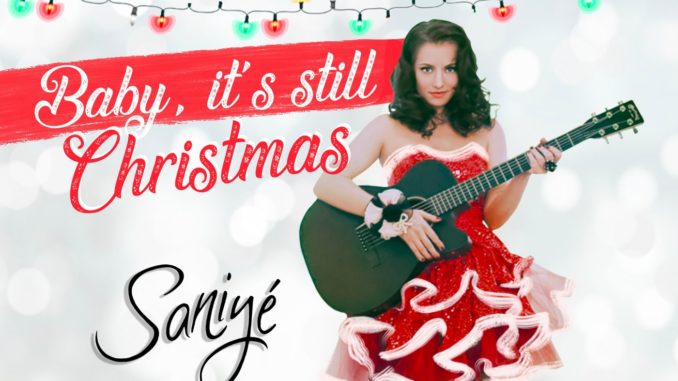 [bandcamp width=100% height=120 track=786719897 size=large bgcol=ffffff linkcol=0687f5 tracklist=false artwork=small]
Review Fix chats with Saniyé, who discusses her love of the holiday season and new single, "Baby, It's Still Christmas."
Review Fix: What inspired this track?
Saniyé: Well, let's see… Some years ago I somehow put it in my mind that I either wanted to record a duet with Michael Bublé, or write a Christmas song for or with him. Ha! Lofty goals there. Anyway, I had the verses more or less written, and an idea for the chorus, when I invited my colleague and super talented songwriter, singer, musician (and now, "The Voice" alum!) Blessing Offor to write on it with me. Not long after we wrapped up what we came up with, I flew to LA with plans to stay for a couple months to write, record, and be in the scene over there. I showed the song to producer and songwriter extraordinaire Mikal Blue, and ultimately we decided to go for it and record it. Mikal made it sonically such a warm and toasty Christmas recording, and he also gave the song itself it's finishing, magic touches.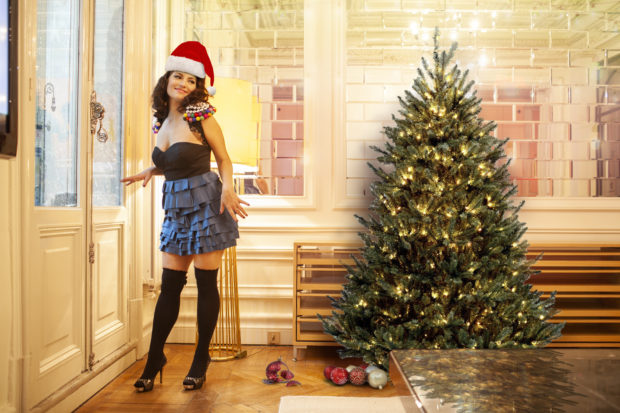 Side note: Later that month, Mikal and I co-wrote a different holiday song with You Tube sensation Alex G, called "It's You That I Miss This Christmas." THAT song was a "top-40 bop" + made it onto Disney Radio, ABC Family TV, to name a few. It was super exciting! But anyways, as for this song, "Baby, It's Still Christmas," I obviously couldn't get it to Michael Bublé, so I decided to sing it myself and release it as is. That's why it's in key kinda low for me, lol.
Review Fix: What do the holidays mean to you?
Saniyé: The holidays feel like a magical time for me because of all the prior holidays I had as a child. Santa, reindeer, twinkly Christmas lights, decorating the tree, gingerbread cookies with milk, marshmallows and hot cocoa, cartoons on TV or a good Holiday Movie, having butterflies in your stomach the night before Christmas Day… I mean, if you're lucky, it's the most exciting time for a kid other than their birthday!
It's also a time to wind-down, reflect on the year, spend time with family, and look forward to being in pj's alllll day and night for days on end. Though we've been home and in pj's for most of this year, (strange times) so, will need to get creative to think of something else to look forward to this holiday :)
Review Fix: What makes this song a special one?
Saniyé: I love this question. I have this weird mentality that music in general is special and not-so-special all at the same time. It's all where you put the perspective. For example, is the song written as a Holiday Anthem, one that will soar on the billboard charts and top Mariah Carey's timeless "All I Want For Christmas" bopper for decades to come? No. It wasn't written in that manner, or with that intention, or goal. As I mentioned before, I had Michael Buble in mind, and I wanted to do something different. Usually we think of holiday songs as upbeat, chipper, fast-paced, high energy (at least the newer original Holiday songs by modern artists like Katy Perry, Meghan Trainor, Kelly Clarkson..) I wanted to create a modern Holiday song that had the essence of the golden oldies, the slow burners, the crooner vibe, like the old time Christmas tunes that are legendary and epic, the kind we never tire of hearing year after year. Something like "White Christmas," "Chestnuts Roasting on an Open Fire," "Have Yourself A Merry Little Christmas," or "I'll Be Home For Christmas." Those songs are seared into our hearts, and in a good way. Like an old, cozy blanket.
Review Fix: How do you want this track to be remembered?
Saniyé: I would love for this track to be remembered as a holiday version of the year 2020, as its lyrics talk about everything going wrong, despite your best efforts! (Kinda like National Lampoon's Christmas Vacation?) Like, try as you may, your holiday is not going as you planned, and feels like it's all falling apart, and nothing is under your control. Many of us have felt this way about the entire year. So, my hope is that listeners will remember this song as a "Christmas in 2020" crooner-anthem, but in a fun, and cheeky way. After a very hard year, if this song and it's lyrics can bring you a moment of joy, a smile on your face, and in reflecting on 2020 none-the-less, then I've done my job.
Review Fix: What's the best you've ever gotten for the holidays?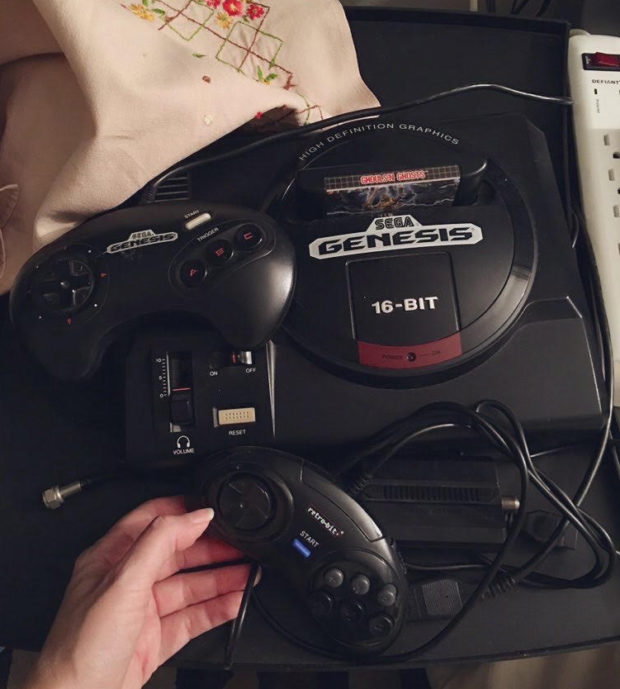 Saniyé: A SEGA GENESIS!!!! 16-bits of pure perfection. I still play it, and even took it to college with me. Will never forget tearing open that wrapping paper, my heart beating a million miles a minute, and seeing that magical blue "SEGA" logo peaking back at me. One Christmas I got the Atari 2600 before that, but the Sega is my baby. My cousin got it for me, and we played for 3 weeks straight in our pjs, lol. Those memories are what makes the holidays extra special for me.
Speaking of which, I am foaming at the mouth for your new "The Minds Behind The Sega Games book." I literally can't wait! I want to buy the first signed copy.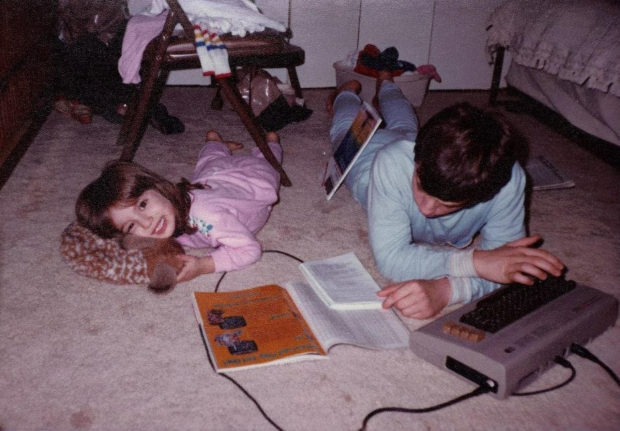 Review Fix: What's on your musical wish list this holiday season?
Saniyé: Do you mean as in what music will I be buying? Wishing for more guitars?
The more I think about the question, actually, the more I'm thinking about what I would really love… which is for everyone to put aside just 3 minutes and 59 seconds, put down their phone or devices, and just listen to "Baby, It's Still Christmas." Even better, if they like it, to share the song with a friend. Extra points when you listen on Christmas. Extra dextra double-dare super duper brownie points power up bonus if you record yourself listening and tag me @saniyemusic and I'll repost to thank you! THAT, my friend, is my one musical wish this holiday.
Review Fix: What's next?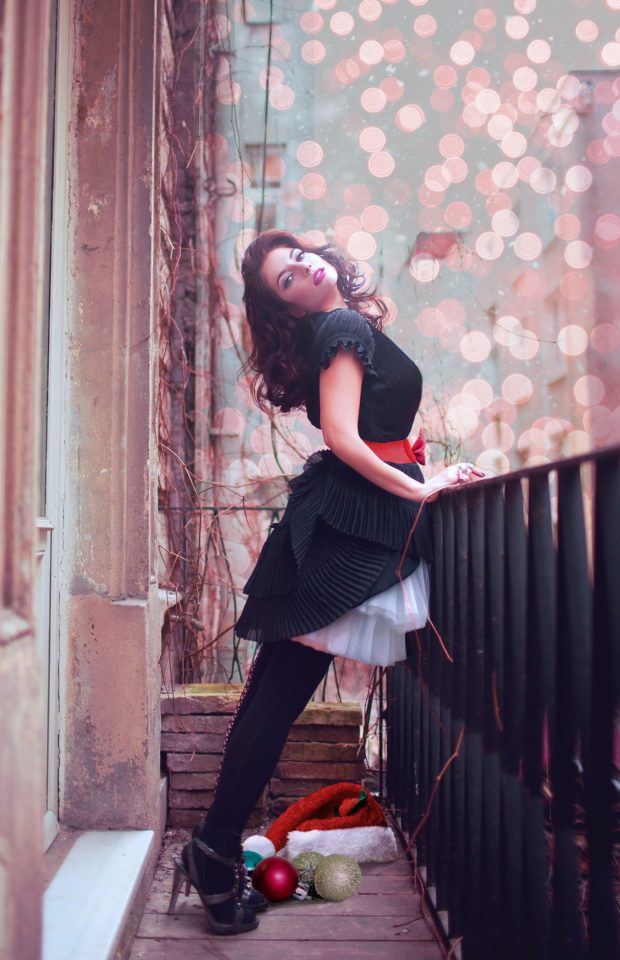 Saniyé: I have some new music coming out in 2021! Songs called, "Ready, Set, Go" that sounds like it's out of a Red Bull commercial, (vroom vroom! Who wants to race me?) and my video-game themed pop songs, "Up Up Down Down" and "Game Over." I CAN'T WAIT.
Review Fix: Anything else you'd like to add?
Saniyé: I'm doing a live stream on Wednesday, Dec 23, 8-9pm EST, a mini-Holiday show with trivia, giveaways, and guest artists. Come say hi! Otherwise, you can always find me on all socials as @saniyemusic or join my email list on www.letsplaysaniye.com.
Oh, and wear a mask, ya'll. Please. If yours is ugly, you can get a pretty Saniyé soft cloth mask to put over it, available in the store on my website… wink wink ;)