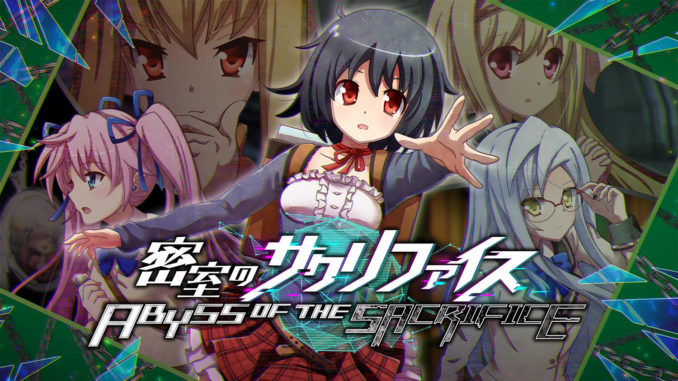 A remaster of Misshitsu no Sacrifice original released on the PSP back in 2010, Abyss of the Sacrifice for Switch and PC, ironically has aged gracefully and begs to be played. Join a group of teens as they awake after a quake has shaken the foundation of their world. But that is not the only problem they have to contend with.
Pros
Right off the get-go, we can see an update in the visual and sound design. The characters models are well drawn, each having their look and feel different from each other. As the game moves forward, you will also see and unlock images to help set more of the tone instead of the more common static character models. The sound is also very well done with having multiple music tracks to set the mood throughout the game from mystery to panic. The sound seems updated to sound more precise and more intertwined with the game. Then the game also has each character's voice to add more feeling and depth to the conversations.
The gameplay is also an influential attribute for Abyss of the Sacrifice. Throughout the game, you will play as the five different main characters. Each will there own very other stories and personalities. You start each chapter of the story with the girl of your choice, which changes the story based on those choices. Now how does it play? It plays like one big escape room. Every character will have different challenges to solve most of the time of the others independently. It will always have you thinking of what to do to solve the puzzle at hand.
Cons
Well, the escape room style gameplay is fantastic in this game. It is also its most significant flaw as you make your way through the puzzles will go from basic knowledge to a downright super genius level of difficulty. Having a paper pad around is another must to help make your way through to the end. They should include more tools in the game, so this is not needed. You can move to a different charter to see if it is more comfortable, but being a visual novel, you need to play through all the puzzles to see all the outcomes.
Final Thoughts
Yes, Abyss of the Sacrifice is very challenging at times, but that makes you feel even better when you finally conquer it. There is a hint menu in the game, but it doesn't help as much as it should.
Abyss of the Sacrifice is a great game to play with an intriguing story to boot. A real game to test any escapist out there looking for a challenge. It once again is a game that will finally get the spotlight it deserves now that it has made its way to the Nintendo Switch.