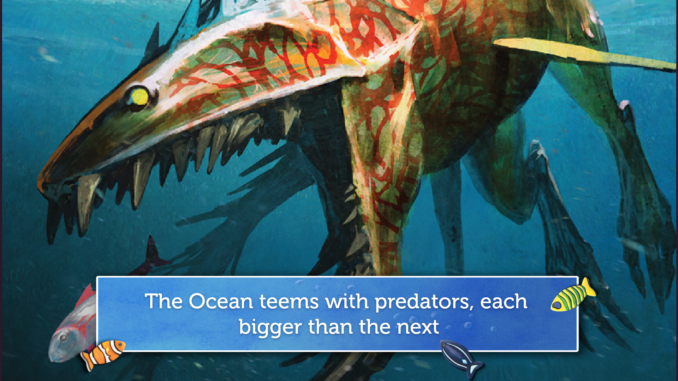 Review Fix chats with Scott Rencher, co-founder of North Star Digital Studios, who discusses the development cycle of "Oceans" and more.

About Oceans:
Oceans, the standalone marine follow up to award-winning strategy board game Evolution which has more than 3 million players across physical and digital editions, now swims the currents of iOS and Android as Oceans Lite.
Forge symbiotic relationships between bottom feeders and apex predators through crafty trait selection and strategic positioning, enabling all to thrive when one feeds.
Review Fix: How was this game born?
Scott Rencher: After we finished developing Evolution, we had a lot of folks asking why we didn't include aquatic life as it's the largest source of life on Earth. We started thinking about it and became fascinated with this idea of undiscovered species lurking in the depths.
Review Fix: What is your role in the game?
Rencher: I'm the product manager and lead the development team.
Review Fix: What has development been like?
Rencher: Intense! We set a goal for ourselves to have the digital version out the same calendar year as the physical release of the board game. 12 months is tight for a digital release! The team gelled really well though and our experience from launching Evolution helped a lot in terms of using our time wisely to focus on the features that matter to users.
Review Fix: What makes this game special?
Rencher: Oceans has two phases to it. In the initial phase, you start at the surface, adapting your Species to best take Food from the Reef. About 1/3rd of the way through the game, the Cambrian Explosion happens, which allows players to use mysterious and powerful Traits from the Deep. The Deep deck is a lot of fun as it allowed us to extend the concept of natural traits to creatures not yet discovered, but that could just possibly be lurking somewhere in the depths.
Review Fix: What games influenced this one the most?
Rencher: Oceans is definitely the spiritual successor to Evolution, and like it's elder brother it inherits a lot of the card playing synergies from Dominic's days as a professional Magic the Gathering player, but in a much more accesible form for board game players. You don't have to spend years of your life memorizing every possible card to really enjoy this one.
Review Fix: Any fun stories or wild moments during development?
Rencher: In an early iteration of the game, we were playing around with the concept that all fish in the Ocean are predators. We had the concept of giant predators that could get up to Body Size 8, but didn't have any defenses as the concept was that quantity and body size are the primary defenses in the Ocean. Well, one player established a large predator early on, and with no defenses, it's possible that one lucky player, (aka me), may have ended the game with a score of 5. That may still be the poorest showing ever done. Needless to say, we changed a lot of the mechanics, and ended up getting rid of Body Size completely, which makes the game a lot easier to learn upfront, while the introduction of the Deep Traits means there is a lot of content to explore to become a master.
Review Fix: What were the major lessons learned?
Rencher: It takes a lot of time and playthroughs to really dial in a game of this magnitude. We ended up spending four years on the development of the tabletop game.
Review Fix: Do you think preserving older gameplay mechanics in new games is important?
Rencher: So many games are out there that it's difficult to do something truly different and innovative these days. We think that we hit on something pretty unique with Oceans with the combination of one deck called " The Surface" that you use a lot and get to know really well, and then another deck called "The Deep" that introduces a lot of variety and fun into the game.
Review Fix: What's your favorite memory as a gamer?
Rencher: It would have to be playing Risk with my brother and cousins growing up. It was generally accepted that we were all going to cheat, (I'm looking at you Brian) so invetibally somebody would get caught and somebody would end up throwing all of their pieces at somebody else. Not sure if we ever finished a game but we sure put our hearts and souls into every game.
Review Fix: How have your previous experiences in the industry helped this game?
Rencher: Before this I worked in Intel's tablet division, not long after the iPad had first been released. Seeing the potential for what digital devices could do convinced me that amazing board games could be made for these devices, something that could even enhance the experience of playing physical board games.
Review Fix: How do you want this game to ultimately be remembered?
Rencher: My great hope would be that Oceans finds its audience and becomes an evergreen game in the hobby tabletop genre.
Review Fix: What's next?
Rencher: We're working on a digital version of the next game in the Evolution line, Climate.
Review Fix: Anything else you'd like to add?
Rencher: Thanks for taking the time to read this and supporting indie game developers!