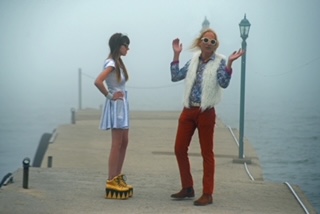 Review Fix chats with AV Sunshine to find out what inspired his new single, "Super Cool."
Review Fix: What inspired Super Cool?

AV Super Sunshine: First let me explain, in the summer of 2014, during her "Art Pop" tour, I became friends with the artist Lady Gaga (Stefani Germanotta) on several of her social media pages. This included several ever-changing personal Facebook pages she set up while touring her way across Europe. There I hung out and posted with a small group of her more 'artistic' friends and with some actual "Germanotta" family members. Besides helping cheerlead her daily behind the scenes tour stories via likes and fun replies, I also got the chance to talk to the artist about the music industry and songwriting. Often, we would try to entertain each other with 'on the fly' song lyrics as poetic post replies.

Having never met the artist, I studied both her musical accomplishments, as well as, the lessons she has shared, looking for similarities in my own life and experiences. In this way I was able to pen lines and eventually full songs that could be meaningful to her as well as myself. I'm not sure why I did it, but it was a lot of fun. It wasn't long until I had accumulated enough "Stefani Germanotta" inspired songs to fill an entire CD. I'm calling it "Art Rock" and it's an art rock tribute to Lady Gaga's "Art Pop".
As for the song 'Super Cool', when Lady Gaga'a acting career began to leap forward she posted that her management wanted her to refine her image and, in the process, she was being asked to shut down some social media pages including the ones we were talking on. Being somewhat of a rebel myself who has been told to act more proper I knew what this felt like to both her and the fans. That's how I got the idea of the song. I compared Stefani shutting down those pages like being kicked out of school for being the "super cool" kid. In the song, I'm the "tall boy in the back", one of her classmates telling the story and being bold, because being bold is what making great records is all about.

Review Fix: Has COVID affected it in any way?

AV Super Sunshine: My producer, Michael Bradford, had a full time 2020 gig playing bass for Dave Stewart's 'Eurythmics Song Book Tour', which due to Covid had to be rescheduled. I was going to release a CD of singles I already have recorded. However, I knew it would take time to properly record a "Gaga" tribute CD and I knew Michael had time in his schedule, so I decided to send him some demo's. Upon hearing the demo's, he got excited and asked to do the project.

Review Fix: What makes this song Super Cool?

AV Super Sunshine: Doing a record like this, a tribute to a world class superstar, is a huge gamble. If it's not killer it could be a career suicide. If it for any reason the song would in any way offend anyone, well, that would personally devastate me. So, having the balls to do it, well, that's cool.

Review Fix: How is it different from your other work?

AV Super Sunshine: Like most of my songs it's a straightforward electronic piece which rocks and yet is still danceable. To my credit, predictability is not a description that applies to him. I think what makes it special is that it represents coherent part of a carefully thought-out recording project which took me years to write. An Art Rock tribute to Lady Gaga's 'Art Pop', not a lot of artists have the time to devote themselves to project like that. Because it's a tribute to Lady Gaga. who has already been inducted into the Songwriters Hall of Fame, it must be a record of all singles and all competitive radio singles and no filler songs at that. I'd say that is what makes it different.

Review Fix: Who do you think will enjoy it the most?
AV Super Sunshine: Well, it's only been out a week on global radio and we already landed at number 6 on the Global Adult Contemporary Airplay Charts. The five songs just ahead of 'Super Cool' are Harry Styles 'Adore You', Ava Max 'King & Queens', The Weekend 'Blinding Lights', Post Malone 'Circles', and Lewis Capaldi's 'Before You Go'. We also debuted on the Global Rock Airplay charts at number 25 just ahead of The Black Keys "Shine A Little Light and just behind Tame Impala's 'Is It True'. So if you like any of those artists' songs then chances you'll love 'Super Cool' too.

Review Fix: What are your goals for this track?

AV Super Sunshine: To tribute Lady Gaga's 'Art Pop' with a song that either artist could sing and have it enjoyed by all folks who like pop or rock music. Hopefully, I'm doing that.

Review Fix: What's next?

AV Super Sunshine: We're working on some possible major TV appearances and performances. We hope to get out touring as soon as it's safe and accepted.

Review Fix: Anything else you'd like to add?

AV Super Sunshine: Peace, Love and Rock & Roll, cause at the end of the day, it's all about the bell-bottom bass!