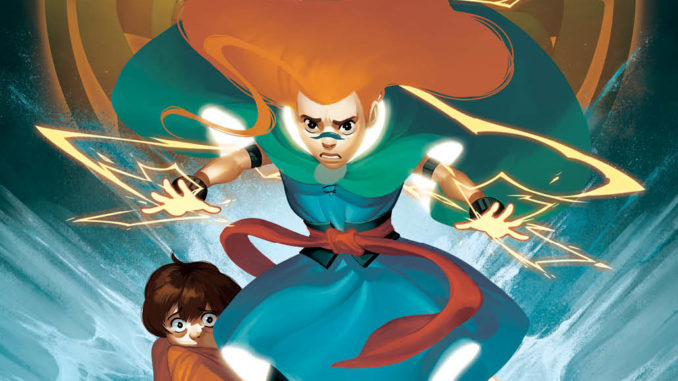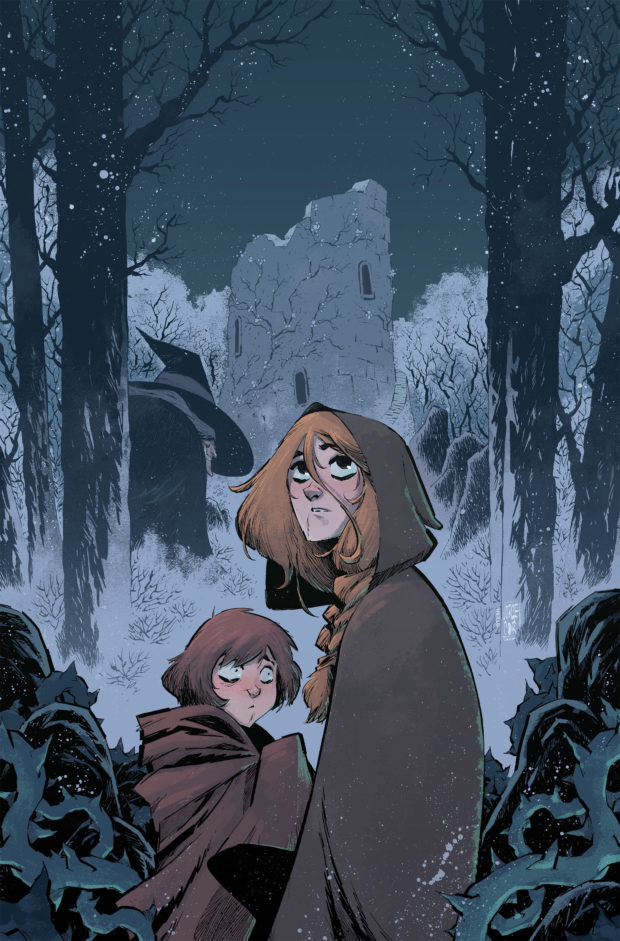 Review Fix chats with The Last Witch writer Connor McCreery, who discusses the series and his goals for it in 2021.
About The Last Witch:
THE LAST WITCH is a dark fairy tale that follows Saoirse, a twelve year-old girl, who, with the help of her brother and reclusive grandmother, must stop the Cailleach – the Queen of Witches before she can end all of creation by releasing the monstrous Eater of Worlds. Can Saoirse use the power found in her mysterious birthmark? Or will her WITCHMARK grow to consume her, turning her into one of the Queen's handmaidens?
Review Fix: You've done a lot in the industry, how did you get to The Last Witch?
Conor McCreery: It started with a meeting in Seattle I had with editor Shannon Watters years ago in Seattle. We got on really well, but there was nothing for us to work on together at the time. We stayed in touch, and had a lot of calls where we cracked each other up which got me the offer to do the Regular Show X Adventure Time graphic novel — I'd originally had a background in kids comedy, but in comics had mostly been doing adventure books. That graphic novel got me a couple of single issues here and there with BOOM! and I really enjoyed working with everyone there, so when Vee and I were looking for a home for TLW, BOOM! was a natural fit.
Review Fix: What does this series do that your others can't?
McCreery: That's an interesting question – TLW is way more magical than anything I've done before. Kill Shakespeare has elements of magic, definitely, and my run on Assassin's Creed has some hints of magic, that are really technology (that characters in the past don't understand), but The Last Witch is definitely a sorcery tale. It's also a coming of age story – which I'd only really explored in Past is Prologue: Juliet (Book 5 of Kill Shakespeare). Although, weirdly, my Regular Show/Adventure Time work also touches a bit on the theme of what happens when you suddenly are gifted an extraordinary amount of power.
I think what makes TLW stand out amongst my work though is it really is a YA-piece, and with the exception of Juliet, it's really the only time I've sort of played in that sandbox. I realized I really like it!
Review Fix: Who do you think will enjoy this one the most?
McCreery: Everyone???
To me the sweet spot will be readers from 12-13 up, as well as adult readers who like a good dark faerie tale. If you have any love for things like The Secret of N.I.M.H, The Dark Crystal, or something like Willow, then the style of adventure will definitely be for you. I also think there are some hints of Avatar the Last Airbender, as well The Dragon Prince, and maybe even a touch of Lone Wolf and Cub.
Review Fix: How is Boom different than the other places you've been published?
McCreery: I find BOOM really accessible. I've been able to meet CEO Ross Ritchie a couple of times, and feel like I could bring something to him personally if needed. I'd say IDW was a lot like that as well — that's probably a big reason why both those companies have found ways to grow in such a tough industry.
I really respect how supportive BOOM! is for me as a creator, having worked with them on both creator-owned, and licensed properties it's pretty unusual that you're given as much space to explore with either.
Review Fix: What makes this series a special one for you?
McCreery: This was actually my first bit of published prose (if we don't count a short story I wrote when I was eight). Saoirse's tale was adapted from a short story I wrote for a Canadian charity anthology a few years back. Her adventure – this strange trek into the woods, on the one day you SHOULDN'T go into the woods always stuck with me. What could happen next after this first encounter with a witch? How would it change her?
TLW is special as well because it's my first time back with a creator owned story since Kill Shakespeare. I really enjoyed getting to write for brands like Assassin's Creed, Adventure Time and Regular Show, but I'm also excited to dive back into my own distinct brand of weirdness, you know?
Review Fix: How does the latest issue reinforce that?
McCreery: Well, it's the first issue of the series – so I guess it doesn't reinforce so much as: "set the tone". The original concept for The Last Witch was to release it as a pair of Original Graphic Novels, but because COVID, we had to change gears, and thanks to the success of WYND. BOOM! felt confident that we could bring the series to people in these giant sized editions. The first issue runs well over 40 pages – so it's a lot of story. I think readers will really appreciate being able to dig in so deeply into Saoirse's story.
Review Fix: Has COVID affected your creativity in any way? How have you fought it?
McCreery: I think it made me really focus on using the time I had. With two of my children needing to be home-schooled, and a newborn at home – my work day shrank to 3-4 hours, max. So, I've had to just buckle down and work. There is no time for 'feeling my way into the process'. I need to be productive as soon as I hit the chair, and worry about the quality when it comes to rewrite.
Review Fix: What's next?
McCreery: Well, there will be a book two of The Last WItch. I've also got a new series called Trickster, with Neil Gibson. It's a horror comedy in the vein on Shaun of The Dead, but with a Robin Hood vibe (if Robin Hood was a Leprechaun), it'll be out later this year through British boutique publisher – T-Pub. I'm also building this very cool science fiction world called Future Now – it's going to be a series of, well for lack of a better term, short films, as well as a TON of prose. If you search for Future Now in the next few weeks you can actually become an early adopter to the project and help us shape it.
I'm also writing an OGN for a prose publisher for the first time — it's a magical realism take on the superstar musician/revolutionary Fela Kuti. Jibola Fagbamiye – whose mostly known as a fine artist is my co-creator and his art is absolutely insane.
Review Fix: Anything else you'd like to add?
McCreery: Just to thank everyone who's supported me in the past, and I hope you love The Last Witch, Vee, Natalia, Jim and I have poured my heart into it.