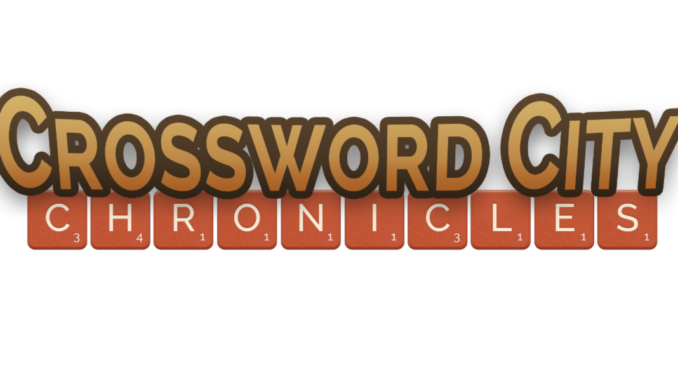 Review Fix chats with Crossword Chronicles developer Thiéry Adam, who discusses the game's creation and goals.
About Crossword Chronicles:
Play as a 1950s reporter investigating crimes by using your word building skills to interview, interrogate, convince, deceive and debate your way to a solution.
In Crossword City Chronicles you will have to draw letters tiles onto a rack, then place them on the board to make a word that connects with those already placed to advance the plot.
While the game interface and story is available in English and French, the word games can be played in English, French, Italian, Spanish, German, Portuguese and Dutch. You can change language at any point during play.
Review Fix: How was this game born?
Thiéry Adam: The "single player Scrabble" portion came from playing board games with my wife. She's not a fan of competitive play, so we played Scrabble cooperatively with just the goal of finishing the bag of tiles and getting a collaborative high score. It's then a much faster paced unofficial version of the game.
When we started thinking of how to turn that into a video game experience, that's where we started making a leaner quicker version of Scrabble where turns would take less time, the letters drawn onto the rack would always ensure a good mix of vowels and consonants, and you'd earn your results much sooner. That way it was easiest to start and stop whenever you felt like it, a true casual game.
The theme of being a retro detective was initially inspired by watching Mad Men at the time, a love for the fashion and characters. It also made sense to bring back a word game to journalism in an era that was still more dependent on investigative reporting and the written word, rather than photos, videos and social media.
Review Fix: What is your role in the game?
Adam: You play an investigative reporter working for a newspaper. You're competing against a colleague and helping out the police and friends solve crimes thanks to your quick wit and way with words. Essentially, the word-building game mechanics represent your abilities as an interviewer, an interrogator, a liar, a debate master, and so on.

Review Fix: What has development been like?
Adam: Trailblazer Games is structured closer to how independent productions happen in theatre, cinema or television, where a team is put together per project, and the calendar has more spaced out phases. Myself (Thiéry Adam) I manage the studio and design the game, working with Jean-Roch Roy as the developer, we work out the game mechanics and the structures, iterating to find the fun. Once we know the frame, we bring on the best people we can find who fit the project. Marjolaine Allie, our usual ally for interfaces, mocked up several generations of our word games adapted to the tone and theme. Her wealth of experience brings quick results once we're confident with the mechanics. Tessa J Brown and Emily Willson are our favourite duo of writers, who have created these characters and scenarios that give meaning to the word games and the world. They take turns writing an episode's structure while the other reviews and "punches up" especially for the comedy aspects. On the art side, Tara Phillips designed our cast visually with this delightful caricature style.
The first version of a story-based word game was not the comedy, but in fact a drama called Words Are Power that took place right after world war 2, when women journalists like many other women who had entered the workforce were being forced out when the men were returning from war. Not wanting to lose that independance and wider world was a catalyst to second wave feminism, and having a Washington DC woman reporter digging into corrupt politicians and chauvinistic military officers was a great mirror to hold up to realities that are still affecting us today.
Unfortunately, we didn't get the traction we had hoped for with that version, and ultimately put that story on ice and pivoted into the lighter bite-sized episodic comedy we have today. Who knows, maybe the Words Are Power campaign could be an eventual DLC if enough people ask for it.

Review Fix: What makes this game special?
Adam: Word games are a huge genre, no doubt, with bazillions of downloads everyday of digitized board games like Words With Friends. It's hard to imagine that fans of words aren't fans of reading, though, so it's a bit of a surprise to me that there aren't many single player word games that focus on story.
Kind of the same way where I wasn't much into match-3 games like Bejeweled because they didn't feature clear meaningful progression until Puzzle Quest gave me a reason to line up three-of-a-kind, we hope that Crossword City Chronicles will do the same for people on the fence about word games. Reassembling letters into words is a pretty infinitely replayable core mechanic, but giving a sense of progression and earned story result will hopefully bring in new players who otherwise would have left the competitive board games aside.
By putting in systems to make your life easier, like ensuring a balanced draw of letter tiles, not punishing the player for trying out words on the board and adapting the score targets to their personal skill, we also hope that means that the perception won't be that the game is reserved for the grammatically elite.
Review Fix: What games influenced this one the most?
Adam: Scrabble is definitely the mechanical "parent" even though the right board & balancing had to evolve to get that perfect momentum to keep the story moving forward.
For the detective side, Criminal Case's structure is definitely a relative, and you can see if you swap hidden-object for word-building how earning stars to pursue clues moves forward the investigation.
Review Fix: Any fun stories or wild moments during development?
Adam: No. We all go to bed promptly at 7pm to ensure no shenanigans. :P
The people involved in this project are friends. Since it's remote collaboration rather than office hours and we work at different points on a same project, our fun stories have more to do with our involvement with the Montreal performance arts community where several of us can get on stage. So I guess one kind of funny story is sometimes the only time where colleagues on a project ever met each other was when they were invited to go see them perform. Maybe in the character artist's mind, that writer is still Captain Hook!
Review Fix: What were the major lessons learned?
Adam: A big surprise was how the video game industry (incubators, investors, publishers, journalists, etc.) were not ready for a game studio to produce content in the same way theatre, television and cinema do. It really seemed to be swimming against the current, the idea that we all had more than one project, and that we weren't dedicated colleagues. I think as time goes on, more and more people will put into question the "factory" style of video game production where you're producing similar games with dedicated teams serially the same way the golden age of Hollywood where an actor or writer was dedicated to a single movie studio. Innovation requires a certain tolerance to risk and a certain liberty of constraints, and if you're optimizing a team towards a certain type of project, you're pursuing what the team can do more than you're pursuing the innovative possibility.
Review Fix: Do you think preserving older gameplay mechanics in new games is important?
Adam: The audience looking for "new" in my experience is a niche. It of course makes for great stories and generates press, but fundamentally people like liking what they like and it's okay as video game developers to also like the classics and refresh them. Ultimately, video games are art, and I'll encourage anyone to pursue making what they want there to be more of in the world, whether that is honouring a classic mechanism or trying something new.

Review Fix: What's your favorite memory as a gamer?
Adam: I'm the middle child of a family of five with quite a breadth of age differences. Some of the best video game related memories are when we would all meet up at our father's, bringing each our own computer and wiring them into a local area network so we could play together. The living room was an IT mess. We favourite cooperative games like Baldur's Gate or teaming up against AIs in WarCraft II. I can't believe how easy it is today to just connect from anywhere over the internet and hear each other, see each other and games just simply WORK. XD

Review Fix: How have your previous experiences in the industry helped this game?
Adam: I've worked across pretty extreme different genres and formats across my career. On one hand I've been a lead designer at Ubisoft where I was innovating hardcore competitive multiplayer, and on the other a project lead at Ludia where I would bring movie & tv licenses to the widest audiences possible on mobile. It's at Ludia where I met Jean-Roch. Working on mass market accessibility has certainly affected greatly how we see video games and our design philosophies.
Whatever you thought you were doing, you should have been right. That means either perfecting signs and feedback or that can also mean supporting multiple ways of doing the same thing. I used to design games where the first thing was to decide what every button on the controller would do, now I'm mad at any game that didn't see how they could have combined these seventeen actions into just a contextual interpretation of my whim. I joke that it's because I'm getting old and busy, so I don't have the time to study, practice and master before being allowed to have fun.
This doesn't mean there can't be depth, but you put in place balancing elastics and under-the-hood player adaptations to let the player discover that depth at their own rhythm rather than giving them pass/fail exam tutorials.
Review Fix: How do you want this game to ultimately be remembered?
Adam: Our most ambitious hope would be that it creates a genre. That people start seeing that word-building mechanics can be more than a digitized board game and start making more combination experiments. The same way cards can be found in an RPG, or slot machines in a city-building game, there isn't really a reason that word-buliding can't be the skill challenge that earns you your progression in a ton of different ways.
Review Fix: What's next?
Adam: We are working on Tomes & Quests: a Crossword RPG. Similar to Crossword City Chronicles, the core is a word-building mechanic, but instead of detective stories it's tied to a more traditional role-playing game. (Think Puzzle Quest but Scrabble instead of Bejeweled for the core mechanic). That game should go live this September, and we're extremely excited by how fun the early builds are already. :)
Review Fix: Anything else you'd like to add?
Adam: Trailblazer Games did give itself a mandate to approach new audiences, potentially making games for people who don't see themselves already as video game players. One of the ways we did that was by bringing people from outside the video game industry in key roles on the project. The writers for example have great experience in regards to writing for the stage, but had little preconceptions in terms of what a gamer would expect for a script. A real life journalist and an academic researcher were involved in creating the believable world. In relation to that, across almost all its projects, the content team has been almost exclusively women. We hope that will be a part of why our games will be meaningful, because they'll be more meaningful to more different people.