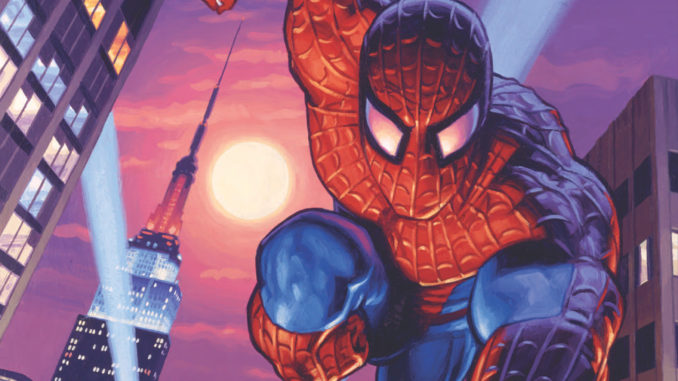 Fans of classic fantasy illustration and Marvel's most iconic characters are in for a one-of-a-kind treat with The Marvel Art of the Brothers Hildebrandt, a deluxe, oversized art book featuring hundreds of paintings and sketches by legendary illustrators Greg and Tim Hildebrandt. Published by IDW, this 284-page, full color hardcover will be available for purchase beginning February 23, 2021.

In 1994, Greg and Tim Hildebrandt began an amazing relationship with Marvel Comics, producing the incredible Marvel Masterpieces trading card set, featuring all of The House of Ideas' most incredible characters: Spider-Man, Captain America, Black Panther, the X-Men, the Fantastic Four, and so many others! The entire set is reproduced in The Marvel Art of the Brothers Hildebrandt, alongside showcasing model photos and preliminary drawings of the paintings.

This beautiful art book also includes the X-Men 2099 painted graphic novel, written by John Francis Moore and illustrated by the Brothers Hildebrandt, as well as a treasure trove of illustrations that came after their massive Marvel Masterpieces undertaking. Artwork from the '90s through today, published as trading cards, posters, and more, are featured with insightful commentary, amusing anecdotes, and candid reminisces by the one and only Greg Hildebrandt.

"In 1993, I walked into Marvel, met Tom DeFalco, told him that I wanted to do something in comics, and he said, 'How about 158 trading cards?' I thought that this would be the opportunity of a lifetime, and it proved without a doubt to be one of the top highlights of our careers. I had a blast painting so many heroes and villains in Marvel's library of characters. Painting these still brings out the kid in me," says Hildebrandt. "This book is the most comprehensive collection of our Marvel art, and I'm so happy to be able to have it available all in one beautifully produced book for fans to enjoy."
"The word 'legendary' is bandied about a lot when describing the subjects of art books," says editor Scott Dunbier, "but when it comes to the work of The Brothers Hildebrandt, it's almost impossible to describe them any other way. Their careers, together and separately, prove them to be masters of their craft. As a lifelong fan, I can't wait to hold this in my hands."

The Marvel Art of the Brothers Hildebrandt
by Greg and Tim Hildebrandt
ISBN 978-1-68405-748-1
$59.99 US / $79.99 CAN
284-page, full color hardcover, 9" x 12″
February 23, 2021

The Marvel Art of the Brothers Hildebrandt is available for preorder via booksellers and comic book specialty retailers. Visit www.comicshoplocator.com to find a store near you.