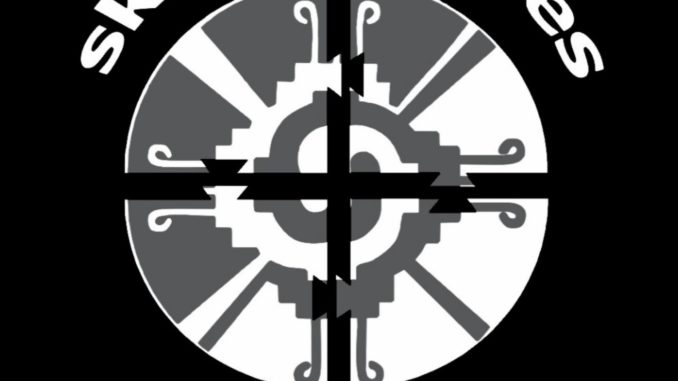 Review Fix chats with SkinsNBones members Red and Bones, who discuss the band's origins, creative process and goals.
Review Fix: How did this project begin?
Red: Mid 2019 Bones and I started a recording project to release songs that had been written by Bones after not having any luck getting other artists to record the songs. Knowing we had some songs that would be well received we decided to record the songs ourselves to get them out there. Our first single, 'Is There Meaning?' was recorded in December 2019 and released late January 2020.
This original line up of skinsNbones was never a long term plan due to others involved having prior commitments and obligations. A few months after our first release in January 2020 we met Gunnar, who is now a permanent member and a vital part of the skinsNbones sound.
Review Fix: What makes it unique?
Bones: skinsNbones are not your traditional rock band. We collaborate with, and feature other musicians to create what we think is the best line up for each song. The heart of skinsNbones is Bones, Gunner and Red and features vocalist Jason Kafoa on our latest releases, 'Forever On' and 'There's Reason'. We create a real live sound and feel that is not formulated as its the natural way we play. It's just real musos, real sounds and no studio trickery.
This collaboration with Jason has been extremely successful and we will continue to release new material with him during 2021. He brings a wealth of experience and his vocal abilities speak for itself.
This project is about promoting issues raised in our songs, about the message within and not the messengers. This part of our project focuses on mental health and helps moves one towards ease and change perception at a time the world is in need. We're simply attempting to get this work to reach a larger number of people through one of the greatest and quickest change agents known – music.
Review Fix: What inspires you?
Red: We are inspired by: each other and driven to constantly improve not only the songs but our sound and the recording process, so we can give the best we can; seeing innovative ideas become real and successful; small acts of kindness that make a huge difference; the human spirit; and continuing the work of those passed – keeping their spirit alive.
Review Fix: How has COVID affected your work?
Bones: As we released this project in January 2020 we were unable to perform live or tour and make contact on a personal level with our fans. Hopefully this is remedied soon. We used this as an opportunity to establish networks of like-spirited people and fully focus on marketing our songs to a broader global market via many established online platforms and radio, which has had success.
As our work has had success and directly relates to helping ease the mental health effects associated to COVID we've become more passionate and focused on doing the job we love as there is much work ahead.
Review Fix: What makes "There's Reason" a special track?
Red: This song has the potential to help soothe and awaken a weary soul plus inspire a change of perception and see the silver linings that exist, to give hope, reason and new focus to a pandemic filled world. It's success in charts proves this song touches people who are unable to be touched due to COVID which is a heart-warming uplifting feeling, especially at this moment in time.
As the topics within this song as age old 'There's Reason' also has the potential to be relevant for some time to come, as change is a step-by-step process of free will. Uniqueness ensures movement at differing points.
'There's Reason' also has a number of ways to be interpreted which can mean something different and new to an individual as they change, so the song "changes" to give new meaning as real life and meaning changes. In this way both the individual and song can have a new life.
Review Fix: What are your goals for 2021?
Bones: Record and release more songs and take our show and message of hope and reason on the road and to more people. This depends on our ability to travel and venues reopening. People need to enjoy life again, to move forward and away from the madness and chaos of 2020. If we can help people have a better understanding and appreciation of each other, a major goal will have been kicked.
We have been lucky enough to have had success in Top 10 and Top 20 charts worldwide with our latest singles, and aim to better this success with our future releases and to reach a larger audience.

Review Fix: Who do you think will enjoy your music the most and how are you trying to reach them?
Red: Our songs were designed for many different generations, which is shown by our fan base – young teens to over 80 with the majority being 20s – 35.
This spanning of generations was intentional, to reach as many people as possible as all are being affected by the pandemic. Yet, more than reach, these songs were intended to and have proven to "touch" people at a time we are unable to physically touch each other.
Radio has proven to be the best and most effective way of getting skinsNbones to the masses, plus using music press to help spread the good word.
We've used many platforms available, finding some popular "modern platforms" outdated and/or unsafe, without reward and little to no customer service. Streaming "services" are a dis-service to musicians and artists, particularly new upcoming artists, who are almost forced to use these "free services" yet receive very little reward and/or profit. E.g.: some website providers only accept links to these streaming services, so uploading your own music or videos directly from your computer can mean having to pay for an upgrade to your website. There is cost involved to the artist while their products are given for free to large organisations and the public at large. This outdated model based on greed is clearly unsustainable.
Review Fix: What are your biggest strengths and weaknesses as a band?
Bones: Our strengths are being able to maintain a high quality output of songs and having great musos to work with, plus staying focused and taking the appropriate steps to achieve our ultimate goals. We believe there is always a positive, even when things don't go quite to plan.
Strengths can be weaknesses and weakness can be strength. Both can empower an disempower. A strong belief, standing firmly in position, can weaken by leaving little room for movement or change. Too strong a focus can create a great product but lead to ignoring other areas of your life, making those weak. Mis-takes can be used to make a song or product more powerful. Without a mis-take penicillin wouldn't have been found so early, 1928. These perceived weaknesses made a strong product. COVID prevented travel whilst being the catalyst for our work going global; it made us think in new innovative ways, and many others, ways that are succeeding. True power is knowing when to use strength and how use perceived weakness as an advantage.
Circumstances can be turned to opportunities. We have all been given a unique opportunity due to the pandemic filled world. Never before has the public, en masse, been forced to quickly think in new innovative ways in order to continue their daily work at a time we have the technology to make these innovative ideas real and the wisdom of all the giants of any field, both past and present, at our fingertips, i.e.: Google. New innovative ways and projects have succeeded through 2020 and brought reward. These ways wouldn't have been thought about and made real now if not for the circumstances of the world. These circumstances make us more focused determined and passionate about our job and the way we do it.
Review Fix: What's next?
Red: Our next goal is to conquer the rock/music world whilst being peace activists. Seriously though, we're organising and intending to take our show on international tours, travel permitting. We're very keen performers and this is one thing the members of skinsNbones have missed due to the events of 2020 up until now. We really enjoy connecting with people in real time and share what we love doing, uplifting spirits, playing, just having fun. 
For More Info:
SOCIAL MEDIA: Brand New Twitter account@_skinsNbones https://twitter.com/_skinsNbones
WEBSITE: https://skinsnbones.com/