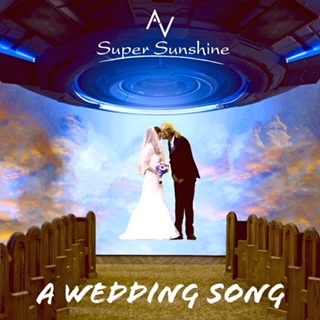 Review Fix chats with AV Super Sunshine, who discusses the influences behind his new single, "A Wedding Song" and more.
Review Fix: What inspired this song?
AV Super Sunshine: Philomena and I were celebrating our first wedding anniversary and the gift theme was paper. I'm not good at paper crafts so I decided to write her a song. As a gift, a wedding song made sense, as we had reminisced many times during our first year of marriage about how much we enjoyed our wedding and how great it would be if we could relive the day's events with our friends and relatives. It's a song which captures the way Philomena and I feel looking back at our joyous day – and it's also a song for anyone who has ever experienced or will experience the simple joy weddings bring."
Review Fix: What was the creation process like?
AV Super Sunshine: I like to write songs and lyrics which are real to me, words that I will be able to sing for the rest of my life because they are true. I've always believed that AV Super Sunshine could appeal to a very broad audience and have prided myself on having the empathy and love to make that happen lyrically. This gave me the idea for a new type of wedding song that could be relevant whether you are single looking forward to your wedding day or if you are already married and looking back at the day in fondness and remembrance. A joyous song of celebration with no gender references helping make it truly universal.
Review Fix: How is it different from your other songs?
AV Super Sunshine: It's a little slower in tempo. Also, instead of trying to tell a complete story, I'm simply trying to convey a feeling. My end game is too invoke enough happy thoughts and memories with the listener to give them a few minutes of joyous escape.
Review Fix: What was it like filming the video?
AV Super Sunshine: It was a lot of fun and in a way was a bonding exercise for Philomena and myself. We didn't have much budget because we're in the middle of recording the new 'ARTROCK' album, but we knew we needed a first class music video. Being early March the lake behind our northeastern Wisconsin home was frozen and all of the trees were still bare. This gave us the idea for the honeymoon themed music beach video. We spent 4 days driving and 2 days filming which, as a bonus, gave us a lot of alone time together.
Review Fix: How do you want this song to ultimately be remembered?
AV Super Sunshine: First and foremost, as a song that bring couples together and maybe helps keep them together. Staying committed to the same partner day in day out is hard work. Philomena and I know this first hand, but we also know and value the rewards of being in a loving relationship. One of the things that brought our relationship to a healthy level was planning for our wedding. Now married, sharing memories of our wedding remind us of our commitment to one another and of the good times ahead. I hope this song can promote happy hopes, dreams and memories.
Review Fix: What did you learn about yourself by putting this one together?
AV Super Sunshine: I learned a lot of personal feeling stuff about myself that guys aren't supposed to talk about. Taboo relationship stuff that as men, we're not supposed to convey in fear of being called out as not being manly enough. I will give testimony here that having spent 6 days in a car with my spouse I am even more grateful for her presence in my everyday life. I'm trying harder to reinsure her of my love and commitment on a more regular basis while at the same time I'm trying to improve as I'm more aware of how my unhealthy behavior effects her.
Review Fix: You've been super busy the past year! Any tips to stay motivated?
AV Super Sunshine: I once took a time management course where you split up your day up into little time boxes each with different pending tasks. The idea was to always be productive and be finishing projects. I was always failing until my instructor stepped in helped me modify her system to fit my work habits. She taught me that when a task leaves me unmotivated or unprepared to switch to another worthwhile task to stay productive. We all have work and goal related tasks that are fun for us and we enjoying doing. I save these tasks for when I need a break from the less enjoyable tasks. For instance, when I tire, I can always go to practicing my guitar, singing and songwriting which I love doing and I always reap benefit or improvement from.
Review Fix: What's next?
AV Super Sunshine: Coinciding with its official release date, we will be sharing acoustic performances of "The Wedding Song" on a multitude of prominent TV outlets, including "CBS Saturday," "The Kelly Clarkson Show," and the "Tamron Hall Show." We will be able to announce the air dates as we get closer and the networks allow. We're also hoping to do some live in studio television performances soon, as we've been approved for in studio performances on both the "Today Show" and "The Hallmark Channel" once in studio performances begin again. We're also in our first week of launching the new "A Wedding Song" single to radio and are pleased to announce that it's our most successful start to date. In the first few days the song has been downloaded by over 900 radio stations worldwide. These include hundreds of iHeart Media, Townsquare Media and Cumulus Media owned stations so we're hoping you'll hear on your favorite terrestrial AM/FM radio station soon.