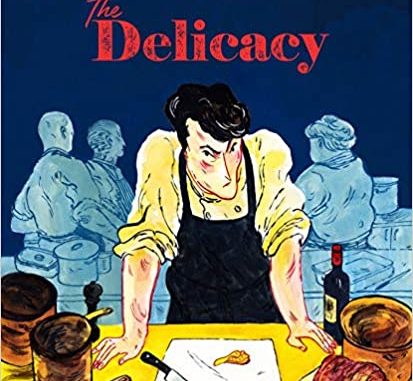 Review Fix chats with "The Delicacy writer and artist James Albon, who discusses the graphic novel, his influences and so much more.
"The Delicacy" Synopsis:
Tulip and his brother Rowan have left the simple comforts of their remote Scottish island with a plan: to grow succulent, organic vegetables in an idyllic market garden, and to open a restaurant serving these wholesome culinary delights to the busy sprawl of London. The world of fine dining seems impossibly competitive… until they discover a deliriously scrumptious new species of mushroom. The dish brings diners in droves, catapulting their small restaurant to success beyond their wildest dreams. Now, pressured by the demands of a hungry city, Tulip is desperate to crack the secret of their new ingredient's growth. But just how much will he sacrifice to feed his own insatiable ambition?
Review Fix: How did you know a career in comics was for you?
James Albon: I've always loved drawing and storytelling, but unlike a lot of comic artists I didn't grow up reading comics, which weren't easily available in my small village in rural Scotland. I loved a lot of comic-adjacent media though, reading novels, watching films, getting a little into tabletop gaming, and I eventually "discovered" comics in my late teens when I stumbled across second hand copies of Watchmen and Persepolis. When I went to art school I knew I wanted to do something that combined my love of illustration and writing. The deeper I got into the world of comics, the more I realized what a perfect medium it was for a whole range of different kinds of stories and experiences, and it opened up a world of storytelling to me.
Review Fix: Who inspires you creatively?
Albon: Honestly, I try to take as much of my inspiration as possible from everyday life: communicating emotion is the core of good storytelling, and the emotions we feel every day can be extrapolated to form the basis of a great story, whether it's excitement, frustration, love, jealousy, or anything else. In that sense, my inspiration comes from my friends, and from my enemies.
When I look to famous figures who inspire me, I'm particularly interested by artists and writers from the 19th and 20th centuries: artwork by Daumier to Vallotton to Hockney, and dark and enthralling stories by Zweig and Bulgakov. On a more contemporary level, I'm always blow away by the talents in the arty comic world of North America and Europe: Jillian & Mariko Tamaki, Gipi and Manuele Fior, to name but a few.
Review Fix: What inspired this comic?
Albon: As I say, my approach to storytelling can often be boiled down to a core emotional tension: in this case, it's success and jealousy, good turning bad. Tulip and Rowan start their restaurant as brothers, but as success starts to get out of their control, Tulip's greed and Rowan's resentment pull them apart – I think a lot of readers have experienced those sorts of feelings, even if they're in very different contexts and don't result in the same murderous climax!
I also wanted to tell a story about luxury and extravagance, returning to the colorful "Floating World" of London parties and high living that I explored in my first comic, Her Bark & Her Bite. I love painters like Toulouse-Lautrec from the French Fin de Siècle, and Japanese Ukiyo-e prints which dive into this beautiful world of hedonism, and it's so interesting to tell a story that shows on the one side the luxurious fine dining which the customer enjoys, and on the other the insane workload that can tear apart the lives of the people who are providing that luxury. Morbid as it sounds, this sort of high living is the perfect setting for an undercurrent of darkness and death.
Review Fix: How is it different or special?
Albon: The story will take the reader into a world that is at once colorful and unusual, but still familiar and believable; a world that's rarely explored in comics! Beyond the surface of luxury and extravagance, there's a dark undercurrent, and more than a touch of Agatha Christie mystery.
Review Fix: Who do you think will dig it the most?
Albon: This book is for anyone who loves to eat well, but also anyone who's ever seriously contemplated burying a body in the woods.
Review Fix: How do you want it to be remembered?
Albon: The story and artwork are really unique – it might not be for everyone, but for readers who are excited by fine dining or love an unusual mystery, I hope it'll make a deep impression.
Review Fix: Anything else you'd like to add?
Albon: I think my approach, my background, and my inspirations are quite different from a lot of other comics creators working at the moment: I've never tried to emulate any sort of comic "style", I always want my drawings to surprise me, and I try not to anticipate how the pages will look when they're finished. The scenes of bars, restaurants, streets in London, farms in the countryside, are almost all based on sketches from real life. Drawing the pages of this comic is probably the most exciting project I've ever worked on, and I hope the excitement I felt will be felt by readers too!
Review Fix: What's next?
Albon: I've got some really exciting new ideas for stories marinating away in my brain. It'll be some time before they're ready to serve though.
Review Fix: Where can people find out more?
Albon: I'm on instagram at @jamesalbon.illustration, and my main illustration portfolio is at www.jamesalbon.com.