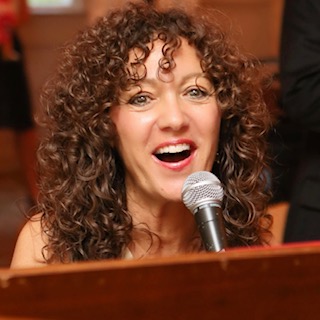 Review Fix chats with singer/songwriter Krisanthi Pappas, who discusses her new single, Hug A Million Times, origin in music and so much more.
Review Fix: How did you get involved in music?
Krisanthi Pappas: I started performing in local community theater as a kid.  I also sang on a tiny stage in my backyard for an empty yard filled with an imaginary audience.  While I was still in high school I started singing professionally at a local restaurant.  When I realized I could make a living doing what I love to do, I continued to do it and have never had another job.
Review Fix: What's your creative process like?
Pappas: I usually sit at the piano and listen to see if there is anything swirling around in my head. If there is an original idea in my head, I play around on the piano with the melody and see which chords give it the best harmonic foundation. Sometimes I come up with the lyrics at the same time, and sometimes I just write "filler words" to hold the place of the melody and then I come back later and write the real words.
When there is nothing in my head, I play around with chord patterns on the piano and see if it forms an idea.
My best songs come to me clearly, with both the music and lyrics at the same time, for at least one part of the song. For "Hug A Million Times", I immediately thought of the chorus with both music and lyrics "It feels so good to be together, it feels like it has been forever, I just want you to know that I'm not letting you go, until" and then I was stuck. Until what? I couldn't come up with that next line. I'm not letting you go, until what? And I thought "Until we get to hug a million times" and I decided I would go back and replace that line because it's kind of goofy. But the more I thought about it, I realized it was exactly what I wanted to say so I decided to embrace it and make it the focal point of the song.
Review Fix: What inspires you?
Pappas: Anything that I feel a connection to. Love. Heartache. Romance. Death. A color. Reunions. A beautiful day. Life.
Review Fix: What does music mean to you?
Pappas: Music is my life. I absolutely love it and breathe it, but sometimes it overwhelms me. I have a complex relationship with music because it's my job and when I need a break from it, it's hard to escape it. You can't go to a restaurant or a grocery store or turn the TV on without hearing music. I can't lie in bed and hear silence. There is always music in my head. The only thing that rests my mind is the sound of nature, like ocean waves or birds in the trees.
Review Fix: How would you describe your sound to someone who has never heard you?
Pappas: I have a husky voice and I have been compared to Norah Jones, Karen Carpenter, Diana Krall, Carole King and Sara Bareilles. My early songs were much darker but now I tend to write happier songs, kind of in the style of Michael Buble or Randy Newman.
Review Fix: How are your live shows different from your studio work?
Pappas: When I am performing live, I thrive off the energy from the audience so I tend to play things with a little more edge when I'm live. I feel like I am with my friends at a live show so I have a lot of fun on stage.
In the studio, I am more serious, focused and am trying to capture the live feeling with a polished sound.
Review Fix: You've toured with some amazing artists. What have you learned from them?
Pappas: The major artists for which I have performed pre-shows have been at large Boston area venues, which is where I am based out of. I was performing a retro-pop show of my own at a theater, when the GM of Xfinity Center came to my show and thought I would be the perfect opener for some of the retro-pop bands coming to Boston.
Review Fix: Any fun stories?
Pappas: One time I was in the audience for a jazz concert by Cheryl Bentyne from the band The Manhattan Transfer. We were all waiting for the concert to start and I was sitting near the sound board and recognized the sound engineer from a past concert he had worked for me. A few minutes later, the band leader came onto the stage and announced that Cheryl had laryngitis and would not be able to perform. The audience seemed upset by this sudden news. Before I knew it I was whisked backstage by the sound guy and introduced to the band leader. "This is Krisanthi Pappas, she's an amazing jazz singer". We immediately put together a set backstage and the next thing I knew I was on stage performing in Cheryl's place. Another jazz singer named Kevin Mahogany was also in the audience and he performed a set also. Cheryl kept thanking us for saving the show and I ended up going back to her house, seeing her many Grammy awards and hanging out with she and her husband, who was also the band leader.
Review Fix: What inspired your latest single?
Pappas: I had received my first vaccine and suddenly realized that after a year of only seeing people on a phone or computer screen, I would soon be able to be with my friends and family in person again! As I imagined what it would be like to be with the people I love, I sat down at my piano and the song just jumped into my head.
My niece was born during the pandemic and although we had not been able to be together in person, we see each other on FaceTime every day at lunch time. When I was finally able to hug her face to face, she recognized me from seeing me on a screen, and the connection of hugging her was magical.
Review Fix: Were you a "Hugger" before COVID?
Pappas: Yes, I am an emotive, expressive person and love to give a hug to people I care about.
Review Fix: What are your goals for the rest of 2021?
To get my song out to the world. To bring a burst of joy to people with my music.
Review Fix: How has the pandemic made you better?
Pappas: When the pandemic first hit and I lost all of my gigs for the next year, I decided to do a live concert online to be able to connect with fans. It was so successful that it turned into a weekly show that I still perform on YouTube Live. That has kept me fresh musically and has been fulfilling to connect with fans virtually.
The pandemic also forced me to take a look at my life and realize what was important. It made me appreciate life and the people I cherish most.
Review Fix: What's next?
Pappas: Hopefully "Hug A Million Times" will be successful and allow more people to know my music. Then I'll decide what to release as a follow up.
I also love musical theater and have written two musicals which are both in the works. One was scheduled to be staged in 2020 but was put on hold due to the pandemic. The other one is still being written.
Review Fix: Anything else you'd like to add?
Pappas: Thank you for asking about my music! People can go to HugAMillionTimes.com to learn more!