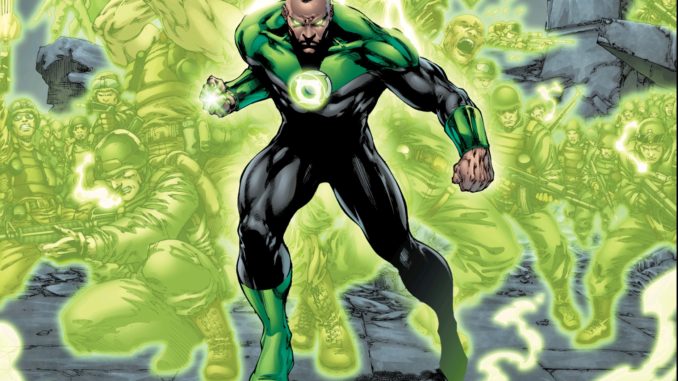 2021 is the 50th anniversary of the comic-book character John Stewart being the first black green lantern. Since being co-created by writer Dennis O'Neal and artist Neal Adams John has had to kill fellow green lanterns Mogo, the living planet and Kirrt, has made a major miscalculation causing the planet Xanshi to be destroyed, having his wife a fellow green lantern murdered and through it all has never made excuses for his actions. This compendium is a celebration of the character who's impacted so many lives.
With the start of each chapter there's an essay from those who significantly contributed to John Stewart's narrative, giving a complete picture of this complex character. John starts off as an angry black man, who confronts Hal Jordan on his always running off helping people in space when the fight is on earth where there's systemic racism and oppression. In his first appearance in issue 87 'Green Lantern: Co-Starring Green Arrow' the cover reveals John holding a passed out Hal, both are in a green lantern uniform with one exception, John isn't wearing a mask. Throughout the decades John has briefly worn a mask, but mostly we know him as the black man who doesn't hide and shows his face for all to see, as if being a black man in America is just as much as a threat as a supervillain. One episode in 'Justice League: The Animated Series' sees John's landlady attacking the Flash with a broomstick talking about John and not green lantern. That's the thing about him, he's our John Stewart. A personable character who belongs to us. For many he was the first introduction into the DC universe. As you flip through the chapters, the most important one for many is the one introduced by actor Phil LaMarr who voiced John Stewart in the television 'Justice League: The Animated Series' 'Justice League: Unlimited' and guest appearance on the animation 'Static Shock.'
Back in the early 2000's inclusion of characters of color in voice acting often wasn't seen as a consideration. Phil LaMarr being an avid comic-book collector understood the assignment of what it meant to people who would see a black character as one of the leads. For many John Stewart is the premier Green Lantern protecting his sector. During the time 'Justice League' the animation was on the air there was also a corresponding comic that sometimes told stories that weren't seen on the show. One in the compendium is narrated by Warhawk, the son of John Stewart and Hawkgirl, also known as Shayera. 'Beyond Origin: Warhawk' written by Derek Fridolfs and Dustin Nguyen with amazing artwork by Eric Nguyen and his team tells the story similar to the episodes in the animation where Shayera falls in love with John, is part of the league but is later revealed to be a scout for her race of people the Thanagarians, who attempted to take over earth. But from there the story changes slightly. Adam Strange comes in to fight a common foe, and later both John and Shayera retire from being superheroes to raise their son. A boy who became a man, fought for and won freedom for his mother's planet Thanagar, even though he was called a 'half-breed' celebrates his parents.
No matter the incarnation, John Stewart, Green Lantern has been the main staple in the DC Universe. This compendium is a complete account of a complex black character, deeply loved.