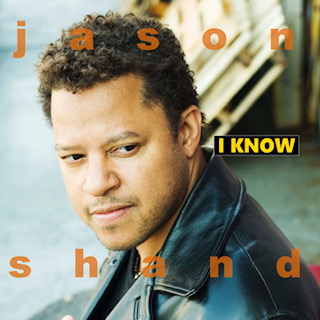 Review Fix chats with singer/songwriter Jason Shand, who discusses his new single, "$$$ in the Bank (Let Go)" and so much more.
Find him on various social media platforms here: Twitter, Facebook and Instagram.
Review Fix: How did you get involved in music?

Jason Shand: I always wanted to be a singer from in my childhood years. My mom played piano in our house as a hobby, but other than that, I was not surrounded by any artists or musicians that could perhaps spur me on to explore this part of myself. I also had aspirations of becoming a professional tennis player.
When that didn't work out, and after graduating from college, I moved back to NYC and the itch to explore the possibility of being a singer resurfaced. I auditioned for a band and the audition was horrendous because I practiced so much that I lost my voice by the time of the audition. In those days I didn't know about singing from the diaphragm, it was all throat. But doing that audition was a fantastic experience and then I moved to Boston and started to verbally tell my friends I was interested in maybe trying singing out. That disastrous audition give me the courage to want to try again, but I'll have to say that my best friend is the one that got me involved in music. We were in Little Steven's pizzeria in Back Bay and he saw a flyer up for a band looking for a lead singer. My best friend took that number down, gave it to me, and said I should call. I auditioned for this band of very seasoned musicians along with 150 other people, and they took me based on my raw talent, but under one condition – that I get voice lessons.
So in my first band ever, I was headlining from the get-go. I was cramming learning how to sing, how to be a frontman, and learning about music and songwriting at the same time. I lucked out in that the songwriter for the band was a very very good one. Without even realizing it, I soaked up the art of song writing.

Review Fix: What's your creative process like?
Shand: I can only write when I'm inspired. It's very rare that I can force myself to write a song. I usually write about aspects of my relationships with friends or lovers, or my observations of other peoples interpersonal relationships. Believe it or not, I've Come up with ideas for lots of songs while doing dishes, I kid you not. It's really therapeutic to do dishes and that's when the melodies/lyrics would come to me. Sometimes it's the melodies first, sometimes it's the lyric idea first. Sometimes it's a combination of both.

Review Fix: How is it different being on your own compared to your time in a band?
Shand: Well… while I do miss the camaraderie of being in a band, I do like being a solo artist much more. I like being in a dictatorship where I run the show. Sure, everything's on me, and it can be a little lonely at times, but I would not have it any other way. I like being in control of my art.

Review Fix: What do you feel you have to do to get to as many people as possible?
First and foremost, I've got to write a good song. If I can't do that, then I'm not going to get to anyone. That's half the battle. The next thing is promotion and getting a great promotional team around me, which I'm in the process of doing.

Review Fix: What inspires you?

Shand: I usually write about aspects of my relationships with friends or lovers, or my observations of other peoples interpersonal relationships.

Review Fix: How has COVID affected your art?

Shand: For the first 6 months of the pandemic, I had severe writer's block. What a strange time we are living in. I was blank. I had not experienced that in a long long time where I could not come up with any lyrics or any melodies whatsoever. And then I met my husband to be and wrote a couple songs, and slowly the dams began opening up.

Review Fix: What does music mean to you?
Shand: Music means the world to me… But it's also not my everything. I'm also still very passionate about tennis. I'm passionate about my family and friends. But it's such an honor to be an artist and to be part of this songwriting community. It truly is a gift to be able to put words and music together and there's nothing like coming up with a song that speaks to many people's hearts.
Review Fix: How would you describe your sound to someone who has never heard you?
Shand: Art rock? Sophisticated pop? Adult alternative? Adult contemporary? Simply… pop music? It depends which tune you catch me on I guess. But I definitely draw from the 80s, 90s, and beyond.

Review Fix: How are your live shows different from your studio work?
Shand: Obviously there is the exchange with a live audience that you don't get in the studio. There is spontaneity, there is electricity… Not that you don't get that in the studio as well, but there is nothing like having a great live performance and seeing that people appreciate your art. But I do love both recording and the live experience.

Review Fix: What inspired your latest single?

Shand: When it was written, that song was a stream of thought about a failing relationship I was desperately trying to hang onto, circling around a dead end. Thankfully it ended and I am where I am right now with a fantastic husband.

Review Fix: What are your goals for the rest of 2021?
Shand: I'd love to win a Grammy… but that's probably more realistic for 2022. My 'Petty Narcissist' album comes out in the fall and my goal is to restart gigging, but who knows how everything's going to go with Covid. Fingers crossed.

Review Fix: What's next?
Shand: Releasing the album, gigging, shooting a couple of videos, promoting this record that I'm so proud of.

Review Fix: Anything else you'd like to add?

Shand: I could not do this without the wonderful band that I have backing me up. John Clancy and Ben Marino on drums, Ben Butler on guitars, Sean Driscoll on acoustic guitars, John Roggie on keyboards, and Dave Richards on bass. They are top-notch.