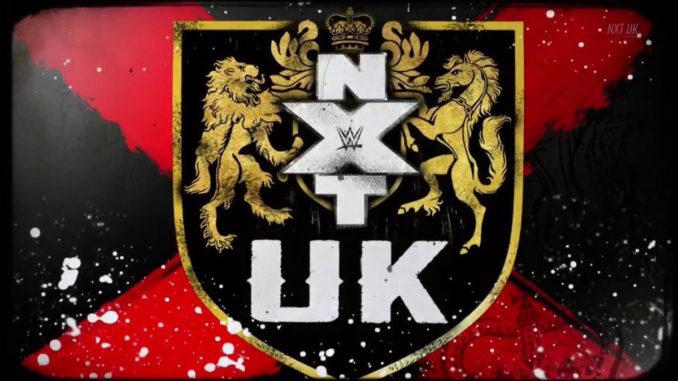 NXT U.K. decided to leave work early this week and the fill-in rolled out the T.V. cart after lunch. However, they played an Oscar worthy classic on that T.V. so I can't be too mad. And they gave us their full effort before leaving for the day. So let's jump into another week of power rankings for the forgotten brand across the pond;
Honorable Mention: Jordan Devlin: The man had his massage disturbed by Gallus roaming the halls celebrating like soccer hooligans and the least I can do is put his name on this list for his troubles.
5: Noam Dar and Kenny Williams: Unless I missed something Dar still comes across as a heel. Maybe he's supposed to be more of an Eddie Guerrero lovable hooligan (hopefully not forever as Kozlov and Romero may have a bone to pick with him) but he hasn't been on the recent U.K. episodes enough for me to say for sure. Kenny Williams being the "Scum of the Earth" is clearly in the same boat. I think Muttley might be on the line in their meeting next week because it feels primed to be a race to the bottom to see who can be more Dastardly.
4: WALTER: He was on the losing end of the TakeOver 36 title match but if you have a reign that lasts over two years in the modern era I'll give you a spot twice for the same match, even in a loss.
3: Ilja Dragunov: A replay of his epic clash with WALTER was our main event this week and it was just as fun to watch a second time. Throughout the match we had picture-in-picture comments from Draguov himself as well as main roster members Balor, McIntyre, Cesaro, Sheamus, Storm and Ripley. Unfortunately the commentary didn't add much other than Balor having a line about WALTER being one of the rare matches that's escaped him. Nevertheless a classic is a classic so these guys get one more spot in the top 5 for the same match. While I pray this never happens, if WWE ever does need to fill time on future shows by showing past matches having wrestlers do full stop alternate commentary remotely from home would be a fantastic way to freshen things up. The comments here were mostly kept surface level but I'd love to see a full scale nerd-fest where participants go into the psychology of certain spots and moves, what was planned v. called on the fly and if there were any issues, fears or changes mid-match.
2: Wolfgang: There was a spot in the match where Gradwell rolled to the outside near the end of the round to buy extra recovery time and it was one of those little things I love about NXT U.K. Gradwell got the first fall in round 3 with a big braced up knee to the arm followed by a clothesline. Wolfgang followed up with a unique looking twisting suplex to tie the falls at 1 each. Wolfgang finally won 2 falls to 1 after Gradwell ducked a spear, jumped over a spear and then got nailed by a third spear. The eldest member of Gallus now goes into the semi-finals of the Heritage Cup #1 Contender's Tournament with a bullseye square on his left arm that we know Teoman will keep an…eye…on. I'm a bit surprised with the story told with both men that this isn't the Finals of the tournament even though I'm sure Teoman v. Dar or Williams will give us more high spots.
1: Saxon Huxley, Ashton Smith and Oliver Carter: The unlikely trio picked up a big win over Symbiosis this week further solidifying Saxon Huxley being better than Eddie Dennis. Huxley has a look similar to Brodie Lee and Bruiser Brody and while I won't say he's on their level just yet the guy is a lot of fun to watch. Just full of energy. Smith and Carter are a blast too and part of that quicker, high flying side of the UK roster I love. They got the win with a twisting Doomsday Cutter on Primate. Carter and Smith feel destined to meet Pretty Deadly in the not too distant future.