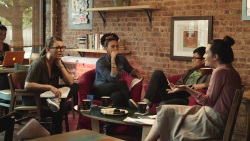 Favorite coffee of George Clooney, Robert De Niro, and other celebrities
The image of an American actress walking in Los Angeles or New York with a cup of coffee in her hand has long become a cliché Starbucks is celebrated even in films (we wrote about films in which coffee is almost the central character).
George Clooney and espresso
Academy Award-winning and Golden Globe-winning actor, filmmaker, and entrepreneur George Clooney has been the face of Nespresso for 14 years and has served on the company's development boards for the Rainforest Alliance, Fair Trade International, and Fair Labor Association. Until it was discovered that Nespresso's Guatemalan coffee plantations were using child labor.
But Clooney did not stop drinking coffee. His favorite is regular strong espresso.
Kylie Jenner and the caramel frappe
Another socialite from the Kardashian family, model, businesswoman, and Instagram star (by the way, one advertising post on her account costs 1 million dollars). Despite all of the above, Kylie is no stranger to simple pleasures like cups of caramel frappe from Starbucks.
By the way, she shares photos of her favorite drinks in her blog. So, in addition to coffee, it included pictures of passionfruit and strawberry lemonade (from the same Starbucks) and an iced latte from the Alfred coffee shop.
Rihanna and Ice Latte
One of the best-selling artists in pop history and winner of 8 Grammy awards, Rihanna loves iced coffee. We don't know if she only orders it from Starbucks or other coffee shops, but she is usually photographed with a glass of coffee depicting a green mermaid.
Jennifer Aniston and plain black coffee
Beloved by millions of Rachel from Friends can't help but know a lot about good coffee. Unlike lovers of coffee cocktails with milk (cow, soy, almond, or something else), Jennifer prefers regular black coffee. Sugar-free, of course. She admitted this in an interview with Women's Health magazine in 2019, talking about the diet that she has been following for many years.
Ashton Kutcher and Iced Caramel Macchiato
Actor, TV presenter, and producer Ashton Kutcher has confessed his love for coffee more than once. Even during his marriage to Demi Moore, he, together with his daughter Demi Scout, recorded and posted on Youtube the song My Sober, dedicated, of course, to coffee. By the way, the line "My coffee, I can't live without you" sounded several times in the chorus.
The actor himself, as far as we know, chooses an icy caramel macchiato.
Robert De Niro and black coffee
Hollywood classic Robert De Niro, like any purebred Italian, treats coffee with great respect. The actor prefers not newfangled sugary drinks, but good old strong coffee to enjoy your morning. Which is strictly brewed in an espresso machine. by the way, Robert's wife, Grace Hightower De Niro, is the founder and owner of the Coffee of Grace brand. It supplies Rwandan specialty coffee to the United States.