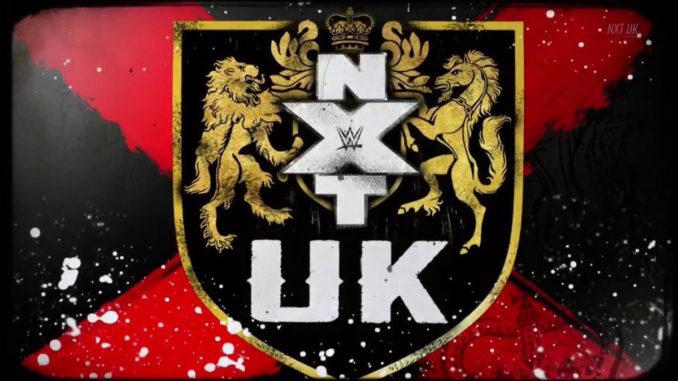 Secretariat in 1973. American Pharoah in 2015. Tyler Bate in 2021.

NXT U.K.'s first ever triple crown champion was crowned tonight when Moustache Mountain won the NXT U.K. Tag Team Championship for an inconceivable first time! How the founding fathers of the British brand have never held the straps before blows my mind. How Tyler Bate is still only 24 is even harder to fathom! But they've now reached the Mountain top so let's get to this week's rankings!

Honorable Mention: Everybody I ran out of room for. Despite my novel length recaps of one hour of TV I still couldn't squeeze everyone on this great edition in. Sam Gradwell put Sha Samuels out of business by beating him and getting closer to a rematch with Dar despite the 4,000:1 odds. Kenny Williams said that Mark Andrews is a scared, insecure little boy pretending to be what he's not and that he knows because he used to pretend too but he's going to take down the last piece of Subculture and in it's place will be the Culture of Scum. A-Kid and Nathan Frazer had a good back and forth package hyping up their meeting next week to crown the next contender to the Heritage Cup where Frazer told A-Kid he's going to play his game. He's going to take A-Kid to the sky and drop him and A-Kid reiterated timing beats speed. A-Kid was the future but now he's the present. Xia Brookside whined about not having enough time for Meiko as her "friends" all walked away and even my hated Gallus boys had a really nice looking segment where they loaded up their car in a parking lot and talked about Joe needing to teach Dempsey a lesson and them having to take out Die Familia only to bolt with police sirens approaching in the background. This was shot like a movie and looked fantastic. There really was just too much good not to mention everyone.

5: Jordan Devlin: He came out and said he's not like the rest of the roster, he's not going to interrupt Dragunov, he's calling out Ilja right now. As the longest reigning Cruiserweight Champion he earned a shot at the NXT U.K. Championship and he's not going to stop if Dragunov knocks him out, he's not going to quit if he breaks his nose, between these ropes nothing is sacred to Devlin and he will not stop. Give him just one chance and he will end Dragunov's career without losing one wink of sleep. Dragunov accepted and said nothing Devlin could say would strike fear in him but Devlin struck the lowest blow a man can take, a Kenny Williams' level cheap shot when he said he hopes his wife forgives Ilja for what's about to happen to him and he hopes Dragunov can explain to his son Constantine why he has to grow up taking care of his father. This match is already a classic and I don't know if it's even been taped yet.

4: Amale: She didn't have a match tonight but she had one of the best produced, most emotional video packages I've seen on this brand. She talked about how her name means hope. That she's a French-Moroccan with two Master's Degrees who worked as a teacher and who nearly quit wrestling after her first WWE try-out in 2018. She cried real, heavy tears and talked about how everyone doubted her and even her parents tried to talk her out of wrestling. But there is nothing more important than wrestling. She ended with "My name's Amale and I am hope" So many feels here as the package had pictures or clips of everything mentioned; her classroom, her try-out, even her parents. This did wonders for establishing her character and her as a great baby face.

3: Blair Davenport: The self-proclaimed number one foreigner made relatively short work of Meiko Satomura's protege, putting her away with a Falcon Arrow. After the match Davenport locked Emilia McKenzie in Meiko's own STF before yelling at the camera "Final Boss v. Ichiban Gaijin!" Meiko v. Davenport has been far and away my most anticipated women's match since I started writing these and I'm glad we're closer now than ever to it happening.

2: Pretty Deadly: Their reign as champions started ten months ago and saw them defend the belts five times. While that may not sound like a lot if you follow Raw or SmackDown NXT U.K. generally feels more sports and record oriented and each defense feels like a big deal. It's also one more than the longest reigning champs Gallus had, as commentary reminded us. Despite the nits I'll pick later this match was a fantastic back and forth affair that saw Pretty Deadly hit Spilled Milk on Seven inside the ring for two and catching Bate outside and landing it there as well. They also landed their back launching facebuster followed immediately by a powerbomb and then a second powerbomb on to the knees of Stoker for two! While they didn't get their hands on the towels this meeting Pretty Deadly used those big old model brains of theirs multiple times. Early on Stoker grabbed Howley's arm to stop him from being planted by a DDT attempt from Seven. Stokley then tried to tag in from the floor which the ref said didn't count but not before Howley dead legged Seven while he was dealing with Sam. The beautiful brainiacs had another sly spot when Howley tagged in Stoker out of sight of Seven and Stoker waited in the corner rather than rushing in. When Howley ducked outside Seven went to follow only to eat a kick from Stoker on the apron with his head leaning between the ropes. At one point There was a great false finish when Howley grabbed the tag team titles, threw one to Stoker in front of the ref's view and then threw the other to Stoker with the ref returning the first belt allowing him to clobber Seven with it but only for a two count! They may have lost the match but these last four months have solidified them as one of my favorite tag teams today and maybe the best in wrestling at pulling dastardly heel shenanigans.

1: Moustache Mountain: On August 21st of this year I typed up my first edition of these Power Rankings. That first show was main evented by a phenomenal clash between NXT U.K. Tag Champs Pretty Deadly and challengers; Moustache Mountain. I don't know if time is a flat circle but it sure is a circle and in the squared one we finally saw this story brought to a full one. They did a masterful job of swerving me with the ending tonight. Early in the show we were reminded that Seven doesn't know what to do with himself if they lose. Seven coming in with a fragile mental state and a banged up hand combined with commentary mentioning Pretty Deadly approaching Gallus' record reign made it feel like a given that Stoker and Howley would retain and we'd see the erosion of Moustache Mountain. Alas, the summit was finally reached when Bate hit a Capo Kick and Tyler Driver on Howley, followed by Seven hitting a Burning Hammer that sent Stoker on to Howley and Bate ending the night with a spiral tap for three! This match was incredible yet again but if I could pick two nits it's that the towels did not come into play at all when they played such a major role in the two peak moments of this feud before this and that commentary really sold Seven having a bum hand but very little being done in the match to play that up. Despite that this was a great showing for all men involved and the U.K.'s handsome grandma finally has silver hair and gold on his waist.