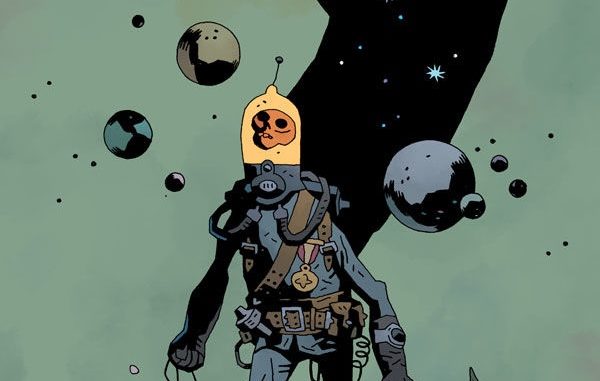 During the Covid 19 lockdown, Mike Mignola decided to do a ton of sketches. One of those sketches was of a skeleton in a spacesuit called "Alien Spaceman." This character proved to be so popular with fans that Mignola decided to write a two-part comic story called "Radio Spaceman: Mission to Numa 4" with artist Greg Hinkle.
When a spaceship mysteriously crashes on the planet Numa 4, Radio Spaceman is called to investigate and rescue any survivors. However, there are much worse things on Numa 4 than just whatever alien life lives there.
Mignola decided that Radio Spaceman would be a robot controlled by an old man. That's an insane idea that on the surface sounds like a great idea but is doomed to failure. Mignola manages to make it work somehow. By having an old person control a robot is probably the best way for them to help out in battle. Of course, the comic does suffer from some faults. Maybe because it's only two issues, the old man doesn't have a name. In fact, there's little in the way of identifying who any of these characters are that you just have to guess. If Mignola continues making "Radio Spaceman" comics these questions will be answered.
Hinkle's art is incredibly detailed. Everything from the old to Radio Spaceman and the old man's cluttered bedroom has so much detail that it will take you a while to notice everything. Not everything is amazing though. There's a female character that was part of the crew whose facial features look weird. The main feature is her nose. "Honker" would be the correct word to describe it and it ruins her face.
The first comic to feature the Radio Spaceman character has a lot of room to grow and the first part of this two-part story does a fine job of making readers want to see more of the character and this world. While there are some drawbacks to the story and art, there is plenty of room to fix these minor problems and create a comic that is fun to read.