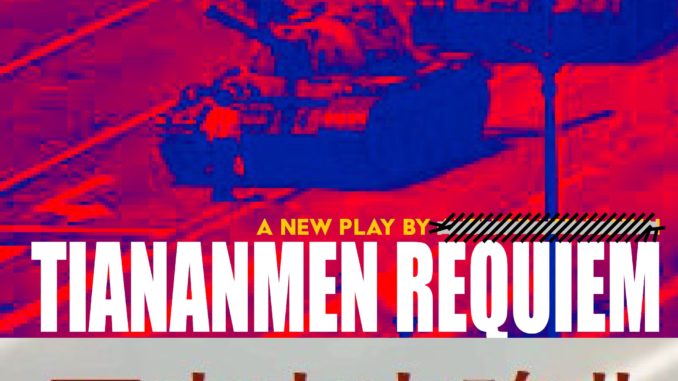 Review Fix chats with Tiananmen Requiem playwright who (prefers to remain anonymous) discusses this powerful new production.
About TIANANMEN REQUIEM:
March 10 – 27 at The Players Theatre, 115 MacDougal St, NYC, is already the subject of controversy.

An all Asian cast brings to life a deeply moving tale of a young gay couple trying to survive the Tiananmen Square crackdown and how their daughter – more than a decade later – is attempting to uncover one of her parents' secret ties to the Chinese military during the massacre. This tragic love story set against the backdrop of the Tiananmen Square Massacre displays the brutality of this terrible moment in history.

TIANANMEN REQUIEM has had its share of obstacles already. This play – one that the Chinese government doesn't want you to see – lost its director, cast members, and even one of its producers before reaching first rehearsal. Many simply quit without offering a reason. Even a university professor, a mentor to the playwright, refused to be involved – even as dramaturg. Finally now, a company has been gathered for what is likely to be a very important and historic piece of art.

Director Dennis Yueh Yeh Li has assembled a talented and valiant group of actors including Charles Pang & Michael Benzinger; with Karina Wen and Joyce Keokham.
Review Fix: What inspired you to tell your story as a play?
My family left China because of religious repression. My parents and my grandparents are Christians, and both of my grandfathers went to prison because of their religion. My parents left China on student visas to Germany, and in the summer of 1989, when I was a little child, my paternal grandfather planned to get me out of China so I could be reunited with my parents. But in the early summer of 1989, the Tiananmen Square massacre occurred, preventing us from leaving the country. My uncle who was a student at the time was actually in Tiananmen three days after the massacre and witnessed the aftermath. So this event has been part of our family's consciousness.
Review Fix: How does your family feel about this project and its dangers – to them and to you?
They are in secret quite supportive, which I'm very grateful for. Despite the dangers, they want this story to be told. But my father is also very nervous about the potential implications with the Chinese government.
Review Fix: What's your creative process like?
A love story against the backdrop of Tiananmen has been on my mind since I was a child. Scenes started to form early in my life and made me wake up at night.Then, during the pandemic, the characters suddenly came together and the play finally poured out of me like a fountain.
Review Fix: What did you learn about yourself through this process?
It takes sacrifice to make art. Writing a play that's absolutely forbidden in China and that can cause serious issues for my family in China is the price for art.
Review Fix: What are your ultimate goals for this production?
This play was written bilingually, so I hope that not only will Americans see it, but one day, I hope Chinese people all over the world will have the freedom to see it.