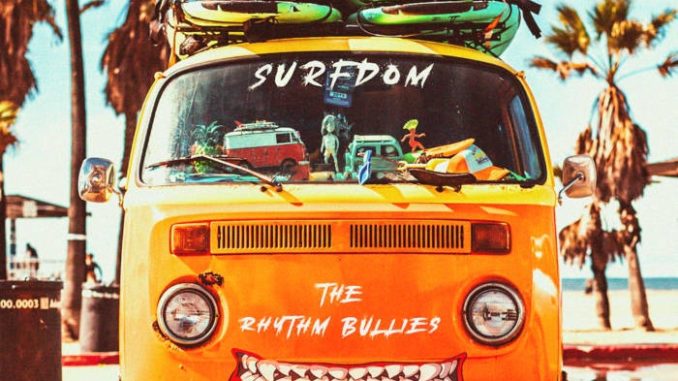 Review Fix chats with singer/songwriter Sebastian Mogan who discusses their new EP and so much more.
About Sebastian Mogan:
Because his emergence on the indie rock scene as The Rhythm Bullies marks a total musical re-invention and dynamic, sonically progressive path forward for Sebastian Mogan, the Nashville based singer, songwriter and guitarist had some initial hesitations making his unusual disability part of the story. And when folks get hip to the Bullies' explosive and transformational new EP SURFDOM , they may not care that he has a rare genetic disorder called NF2. When they hear his fiery fusion of rock, synth energy, symphonic and world music that in his view is "what rock should sound like in 2021," the fact that he is extremely visually and hearing impaired probably won't matter.
But for the sake of building an interesting narrative, and perhaps inspiring anyone with disabilities to not let them create limits to creativity and success, we should note that he has performed at a fundraiser at the Venetian Las Vegas with the cast of "Jersey Boys," raised money for NF2 research at an event in his home of Franklin, TN accompanying Michael McDonald on guitar and is currently the Tennessee ambassador for NF2 bio solutions.
Review Fix: What does this EP do that you're proud of?
Sebastian Mogan: It rocks. It doesn't try to imitate rock or be pastiche.
Review Fix: What inspired these tracks? Any fun stories?
Mogan: I wouldn't say they were inspired. Most of the time for me songs just happen and I follow. I have actually had both of these sitting around since 2017 and decided they would be a fun follow up to last year's The, Dysnomia EP.
Review Fix: How does NF2 affect you musically?
Mogan: My musicianship definitely became fine-tuned after losing my vision when I was 13. And every time I have an issue with my hearing I pick up on different frequencies. I hear much more low end than I used to and when that started I began playing bass guitar and became interested in bass synthesizers. And God knows how having a lot of brain tumors is affecting my mind.
Review Fix: What have you learned from Michael McDonald?
Mogan: Michael is a great guy and we have raised awareness and funds for NF2 research. No matter how famous he is he remains humble and charitable. He also told me that when recording to tape you want to put the kick drum and the bass guitar on adjacent tracks.
Review Fix: What should rock music sound like to you?
Mogan: My favorite era in rock 'n' roll history is the post punk movement. So much originality and so many bands experimenting and doing something completely new. It should always rock but it should never fit in a box.
Review Fix: What's wrong with the genre now?
Mogan: A couple months ago in a Rolling Stone interview Elvis Costello said that today's rock music isn't good because there is no roll and the roll is what makes it fun. I agree with that. Also there's a lot of dudes that sing like castrated 12-year-old warlocks and I just don't get it.
Review Fix: How are you changing things?
Mogan: My records have a lot of riffs and solos. Like I mentioned before I don't try to be pastiche. I love rock 'n' roll and want to expound on it instead of being one of those bands who purposely imitate some other band from the past and that's the whole appeal for their fans. Generally I don't hear players in bands. Just one , undynamic, motion.
Review Fix: What's next?
Mogan: For sure a video for Smoke Rings. I'm nearly done with a new EP I started writing about a month and a half ago that is very Gothic and orchestral. I was listening to a lot of Nico over the winter.
Review Fix: Anything else you'd like to add?
Mogan: I would like to add that everyone needs to stop talking about the production of a record and learn how to hear the song.