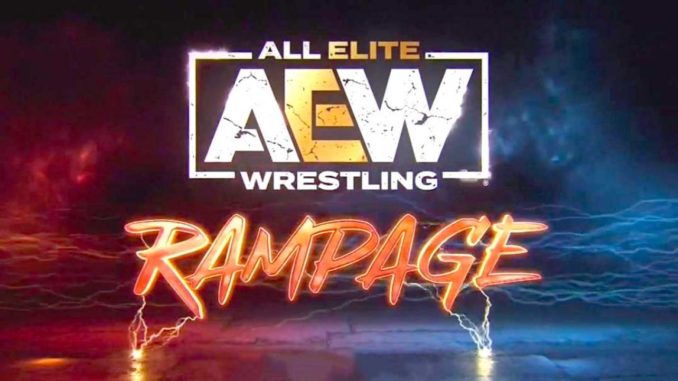 Blackpool Combat Club may never have a logo as iconic as the n.W.o. They'll likely never have a catchphrase as popular as D-X's "Suck it!" And they definitely don't have a hand sign as cool as the Horsemen. What they do have though, is one of the most unique, interesting builds to a faction that we've ever seen. And after tonight they also have a new member. So let's get to ranking a fantastic episode of AEW Rampage! 

Honorable Mention: Hook and Ethan Page. If I had to give Danhausen some advice I'd say "Just close your eyes each loving day and know this feeling won't go away" because much to his dismay he tried and failed once again to curse Hook. This time popping out from a garbage can as Hook was throwing his chips out following an "interview" in the locker room where Hook literally said nothing and kept his headphones on just snacking away. Hook left unphased by the surprise and Danhausen took the chips from the garbage, said "Ah chips! This must be where he gets his powers!" and took a bite. There is so much potential for comedy gold with these 2 that I hope they keep it going. I want Danhausen to come out when he's cleared, after eating chips, doing all the Hook motions and mannerisms only to get squashed in seconds and left puzzled. "All Ego" makes it for a line he had during a segment between Men of the Year, Dan Lambert and Sammy Guevara and Tay Conti. Page looked into the camera and said "Gabriella, I know you're asleep right now, cause I'm a good ass parent but I pray you don't end up like Tay Conti." For being a "good ass parent" I had to find a spot for him on the list. 
5: Swerve Strickland. Swerve beat QT Marshall with a House Call. This was mostly just a showcase of Swerve as he got to do his handspring exit to the floor following QT trying to toss him over the top, he bridged up and out after Marshall stopped a sunset flip attempt, landed his pump kick from the apron to QT on the floor and hit his spring off the bottom rope dropkick to Marshall's knee and a flatliner before the finish. After the match Ricky Starks grabbed the mic and challenged Swerve and Lee to face he and Hobbs on Dynamite this week. That should be a good one!

4. Willow Nightingale. I've been pretty harsh on Red Velvet in last rankings. I genuinely believe Velvet will eventually be a good, maybe even great wrestler. Red has a willingness to try things and a lack of fear that the great ones have. But right now, she is not there. This was another Velvet match where there was a big spot missed. Willow went for a moonsault off the top that Velvet was supposed to roll out of the way of but it looked like Nightingale clearly connected with it because Velvet didn't roll in far or fast enough. Velvet won with a corkscrew kick to earn a spot in the Owen Hart Foundation Tournament and taunted the crowd with a "cry about it" type hand motion after the bell but it was clear as day that Willow is the more polished, complete package right now. Willow did a back roll early on that Velvet leaped over, hit a back sentona cannonball splash in the corner and a beautiful p-p-p-p-pounce that would have made Monty Brown cry tears of joy. Nightingale also has great facial expressions and the crowd was really behind her. We were told she went to college in Boston but I think with her style and ability the match could have been anywhere and the reaction would be the same. I appreciate AEW rewarding longer tenured people in the company with bigger spots but they should have called an audible here and given Willow the W. Her charisma and deceptive athleticism for her size are reminiscent of Keith Lee and I hope she becomes that for the women's division. 

3. Bryan Danielson. While the main event initiating one member of The Best Friends into the Blackpool Combat Club the opening contest solidified while another will likely remain just a Best Friend. Bryan and Trent had a solid back and forth match that Danielson finally ended with a running knee, Gotch style piledriver, his signature face stomps and a neck crank that forced Trent to tap. This was good on it's own but in rereading my notes made even better because Trent not being bloodied and giving up contrasted so well with Yuta's bloody refusal to do the same. BCC is a main event faction and while I called for this with Best Friends v. Undisputed Elite too, BCC is a group truly made for a Blood & Guts match at some point. 

2. Jon Moxley. When you have a match as great as the main event tonight you're going to get a top 2 spot, win or lose. And despite coming out on the winning end of this battle the match was really about making Yuta a star so Mox has to settle for 2nd place. We knew we were seeing a different side of Yuta tonight when he started the match off with a tope suicida to Jon before he could even get in the ring. Wheeler was there to send a message. But Moxley sent one of his own when he stomped Wheeler's head against the stairs and busted him open. It feels like I say this too often and my list is going to have 100 matches on it but this was yet another contender for match of the year and one everyone should seek out. 

1. Wheeler Yuta. As evident by WrestleMania last weekend "Stone Cold" Steve Austin is arguably the most popular superstar in pro wrestling history. One of the most iconic moments in Austin's career came at the hands of Bret Hart when at WrestleMania 13 Hart locked him in the sharpshooter and a bloodied, battered "Stone Cold" refused to tap and instead passed out. That night solidified Austin as a fan favorite and absolute badass. Now, no, I don't expect Wheeler Yuta to come out in 25 years and close out a stadium show with 70,000+ people by having an impromptu match and beer bash but I do think within the realm of Yuta's career this moment was as important to him at WrestleMania 13 was for Steve. After being beaten in minutes in their first meeting and then being much more competitive in their second outing Yuta made Mox pull out everything he had to put him away tonight. After getting busted open and pouring blood Yuta still managed to kick out of a King Kong lariat and not 1 but 2 Paradigm Shifts plus survive a bulldog choke. Not only did he fight through all of that he unleashed his own brutal offense; biting Moxley back after Jon sunk his teeth into him, nailing the Bryan Danielson stomps to Moxley's face and locking in his own bulldog choke. Ultimately Wheeler succumbed to a Regal knee and rear naked choke that made him pass out. After the match Regal and Danielson entered the ring and the founding members of the BCC circled Yuta. Yuta motioned for them to give him their best shot but instead Regal reached out a hand and Yuta shook it. The show ended with Yuta writing BCC in blood on his own chest and Mox telling him "Now the real work begins" I love the Fight Club like story BCC has where prospects have to go through war with existing members and literally bleed with them to be welcomed in. It makes the faction seem so tight and cool and while I was admittedly hesitant on the idea of Moxley and Danielson together at firts everything about the execution since Revolution has proved me wrong. This has been fantastic and I look forward to the first person who takes the war to BCC but doesn't accept an invite.