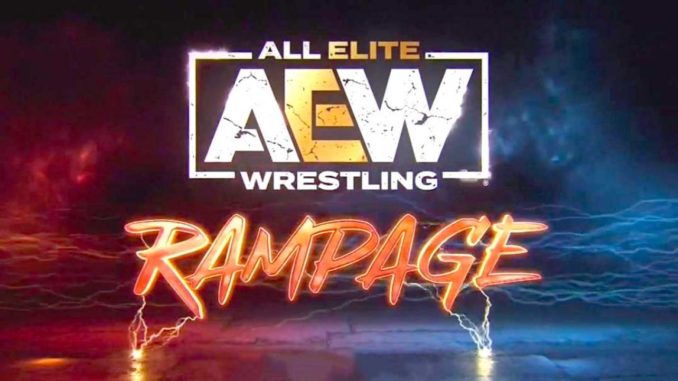 I'll try to keep this short because odds are by the time you see this Double or Nothing is just hours away if not already in progress. Here's the Rampage rankings!
Honorable Mention: Darby Allin. He had a short promo challenging Kyle O'Reilly to a match on Sunday because Kyle was the one who took Sting out. He said if Kyle doesn't accept he'll get involved in the matches of Cole and The Bucks and ruin The Undisputed Elite's night. I was hoping for an 8 man with The Hardys, Darby & Sting v. Undisputed Elite before the tag match was announced but this singles clash should be great!
5. Dan Lambert. Lambert had a great line to the effect of "If your girlfriend's CM Punk shirt is 3 sizes bigger than yours you're probably an AEW fan" before presenting Scorpio Sky with a custom made purple and gold Lakers style TNT Championship belt. I enjoy that this belt has had so many variations already. They were then cut-off by Sammy Guevara, Tay Conti and Frankie Kazarian at American Top Team. The trio destroyed the tropht cases full of UFC and wrestling belts. They were originally going to go after the TNT title in the case but instead Sammy opted for the 1 of 1 BMF title and said "Be Mad Fellas" Sammy and company said if Men of the Year wanted the belts back they'd be in Vegas Sunday and they should bring Paige VanZant with them. Sky finally accepted their challenge to a mixed trios match but added that if they win Sammy and Frankie can never challenge for the TNT Championship again.
4. Dante Martin. Martin beat Max Caster relatively quickly avenging his loss to him on the first ever Dark Elevation when he hit a Nose Dive for the 3. Caster came out with the "Ass Boys" who still take offense to the name despite Billy Gunn wearing a shirt that has "Sons of Gunn" crossed out and Ass Boys spray painted on it while he wheeled Bowens down the ramp in his wheelchair. Caster didn't have any exceptional jabs but The Gunn Club did confuse Las Vegas with LA a couple of times before Dante did a no hands vault off the top rope on to Caster and the younger Gunns as Bowens was trying to deliver the "Acclaimed have arrived" line. Aubrey Edwards ejected Bowens and the Gunn Club right away to make this a fair fight. The Acclaimed becoming Billy's favorite sons is hilarious to me and I'll always enjoy Dante getting a win. Martin was also talked up by Regal during Danielson's opening match which could be a sign of things to come.
3. The Young Bucks. I chuckled when The Young Bucks showed up dressed as the Hardys. I laughed harder when Gangrel was with them. I full on velly laughed when Brandon Cutler came out as Lita complete with exposed thong. The Bucks had "MATTer FACTS" during their entrance as well which included "Matt Jackson came up with the 'Broken Matt' character in a dream", "Nick Jackson taught Jeff how to do a Swanton Bomb in a swimming pool, in the summer of '93" and "Matt Jackson believes the cure for Matt Hardy's 'Jimmy Legs' is a perfectly applied figure 4" They then went on to make short work of Jon Cruz and Taylor Rust (who I had totally forgot about until he showed up). They hit The Hardys offense including the Poetry In Motion which got sarcastic chants of "You still got it!" from the crowd (Though maybe those were meant towards Gangrel, it was hard to tell) before hitting double super kicks and Matt landing a Twist of Fate and Nick hitting the Swanton Bomb he taught Jeff for the 3. After the match as Gangrel celebrated The Bucks attacked him from behind and teased a BTE trigger before The Hardys came out to run them off and leave the trio alone with Cutler. Gangrel hit a jumping DDT on Cutler that looked great and Matt and Jeff hit a Twist of Fate and Swanton of their own. Having seen this pairing clash twice in ROH, first in a surprise short match in person and then on PPV in a Ladder War I didn't need this match again but I do think it'll be more fun than I was expecting it to be when it was announced.
2. Bryan Danielson. "The American Dragon" had a blast of a match with Matt Sydal. Danielson pulled off a wild looking forward roll while holding Sydal in a surfboard type lock. He caught Sydal trying a spinning heel kick but Sydal countered into a hurricanrana for 2. Sydal landed a meteora but Bryan rolled through it and got Matt in a single leg crab. He out his knee on Sydal's head in the crab, switched it to a kneebar and added a heel hook but Matt grabbed the ropes. Bryan tried for a side suplex from the second rope by Sydal countered into a sunset flip powerbomb with a high stack pin for just 2. Danielson then ducked a jumping knee and hit his Busaiku Knee, hammer and anvil elbows and finally a guillotine choke that forced Sydal to pass out. Danielson matches are always good and I forgot how capable Sydal is too.
1. Ruby Soho. Her and Statlander had a really great main event in the last semi-final of the Owen Hart Foundation tournament. Soho took advantage of Statlander's injury history capitalizing on a bum shoulder by kicking it to escape a late Spider Crab attempt and then kicking out her bad leg to get the roll up win. This match was structured largely with Statlander feeling like the valiant face which seemed like a bit of an odd choice until the post match promo. Soho turned a middle rope fireman's carry into a hurricanrana early on. Statlander then dropped Soho during a gorilla press attempt because of her bum shoulder which allowed Soho to hit a No Future kick but Statlander fell through the ropes to the floor. Ruby followed that up with another hurricanrana off the apron to Kris on the floor. Back inside Ruby came off the corner with an armbar and turned it into a kimura but Statlander got her foot on the ropes. Kris then countered a poisonrana attempt into an Alabama Slam into the corner turnbuckle, then rolled through that into a German suplex and added a spinning fisherman's buster but still just got a 2 out of it before going into the previously mentioned spider crab attempt. The crowd booed Soho but because Statlander had seemed to be the one they were building sympathy for. But it sounded like Soho may have got the crowd back when Baker came out on the ramp and Soho cut her off and said if she was willing to do that to Kris who she likes and respects what will she do to Britt? She's going to hurt Britt and give her a receipt from Grand Slam.