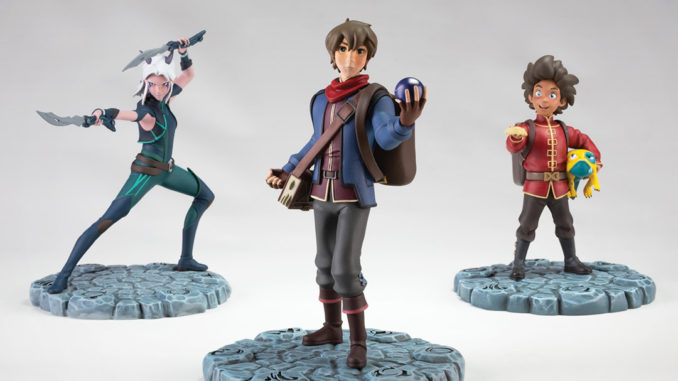 In celebration of the Emmy® Award-winning series' return to Netflix on November 3, Dark Horse Direct and Wonderstorm have teamed up for a new line of The Dragon Prince statuettes featuring Callum, Ezran, and Rayla!
These limited-edition collectibles are a must-have for any fan of The Dragon Prince. At 6.15 inches tall and with a Primal Stone outstretched, Callum prepares to channel the Sky arcanum. At 5.75 inches tall, Ezran is ready for adventure with his two most prized possessions in hand—the grumpy glow toad, Bait, and a perfectly-baked jelly tart. And at 6 inches tall, Rayla remains poised for battle, equipped with her razor-sharp wit and (equally sharp) twin Butterfly Blades. All three characters stand on a matching 4.5- inch-wide stone-like base engraved with the symbols of the six primal sources of magic.
Each statuette is a limited-edition of 1000 units and priced at $59.99. As an added bonus, every statuette pre-order will include a FREE digital copy of The Art of The Dragon Prince from Dark Horse Digital. Plus, those who pre-order all three statuettes will also receive a 15% discount on their order. Statuettes are due to ship to customers between July and September 2023.