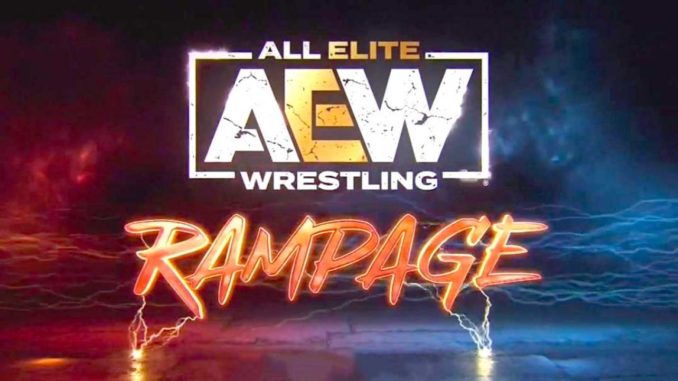 It's a new year but the same old me. I told myself I was going to make these rankings a lot shorter and easier to read this year. I was just going to watch the show and then do them from memory on what really stood out. But after trying to watch the opener with that mindset it felt like it'd be an injustice to leave anything out (and I still missed a few things) so here's another extra wordy Power Rankings for what was a much better Rampage than what we've been getting most of the last few months!
Honorable Mention: Preston Vance a.k.a. "Perro Peligroso" He won with a Full Nelson and discus lariat before ripping the mask off his opponent Sonico and dragging him to the back. I'm all for more squash matches like this in wrestling. Literally 2 moves and out. Vance looks like a million bucks and I like the idea of him going after luchadors since he's aligned with the Mexican heels. I'm curious what happens after the ladder match for the trios belts Wednesday because if I had my way I'd start to gear up for Rush, Dralistico & Vance v. Death Triangle with or without the belts. 
5. The House of Black. In a darkened setting Malakai Black says he knew a man who carried a gun in his pocket because he didn't trust the world. That same man has now asked him why he did not reply to him on a contractual basis. That man who did everything through the lens of violence now asks why he didn't play by the rules. There's a hidden history for him and Eddie. He misses the Eddie Kingston he knew. The violent, sadistic bastard. Brody King said 1 year ago they told him they'd turn his eyes black but not they'll make him hear it because the sound will be deafening. Matthews said "You're sick Eddie" And Julia Hart finished saying they're here to help him. Not a great promo but it did set-up Ortiz starting to question Eddie on Battle of the Belts and the announcement Ortiz and Kingston will face the Kings of the Black Throne next week. 
4. Britt Baker D.M.D. & Jamie Hayter v. The Renegades. Right off the bat the crowd went wild for Hayter. Hayter double suplexed both sisters. Baker and Hayter hit sandwich elbows to one of the Renegades then Britt knocked the other sister off the apron and after a low lariat from Hayter and stomp from Baker the heels left victorious. This was really just to remind us that they're facing Saraya and "Toni Storm" Wednesday. My gut says after Dynamite Shida takes out Storm before the match and Mercedes Mone reolaces her. Teasing a mystery partner for weeks only to announce it a week out right as Mone debuted for New Japan just seems too suspicious for me. The look on Shida's face when Saray picked Storm said it all. I could also see Shida attacking Saraya instead but with her having limited matches pulling her from an announced match, even to replace her with Mone, feels like bad business. It could also be a swerve and the attack happens after with Mone making the save but I'd be SHOCKED if the former Sasha Banks isn't on Dynamite Wednesday. 
3. "Hangman" Adam Page. He had his papers to clear him but he was starting not to care because if he couldn't knock Mox out in the ring he was going to beat his ass in the parking lot. This isn't the sad, mopey Hangman sob story Mox wants it to be. This is about how after 3 years Mox finally got his ass handed to him. And the difference between what happened to him and what will happen to Mox is he wants Jon to remember every single second of it. And if he can't, he'll remind him. He'll put it in his entrance video. He'll buy a billboard and play it on loop. He'll even burn it on VHS and mail it to his house so he can watch it in the dirty basement he and the rest of the Blackpool Combat Club get horny watching MMA in. If he thinks Page can't stand toe to toe in the ring he's right because the only place he'll be standing Wednesday is with his toes on Mox' chest wiping the blood from his hands to make sure he doesn't catch something. This was one of Page's better promos and I really liked the way they've used him getting knocked out in this story and the MMA line made me grin.
2. Darby Allin. Darby was interrupted in the back after his match Wednesday by The Kingdom. Mike Bennett runs down his accomplishments and says this place has an entitlement issue but Darby doesn't have one and neither does he. He says Darby likes open challenges so Bennett is challenging him. Darby accepts and in the best thing Matt Taven has ever done he remarks "He's sooo brooding" and it made me laugh. Bennett says Darby is just cosplay, Mike's been through real darkness most people wouldn't survive. He's going to show him real darkness. Darby made his debut in Portland and everyone in the locker room said he'd never make it in this business or even lace their boots but look where he is now and where they are. I can't think of a Darby match I haven't enjoyed. Like Orange Cassidy every match of his is must see for me. But I was surprised at how much I liked this because I have been very critical of The Kingdom (though Taven moreso than Bennett) but this was the best Bennett singles match I can recall seeing. 
1. Jon Moxley and Bryan Danielson. Dante flew out of the ring to flatten Mox as he was entering through the crowd. This was filmed really well with the camera facing Mox and us not seeing Dante until he flew into the frame. Danielson then tried to tope on to Top Flight on the floor but they caught him and tossed him on the barricade. There was a smooth spot where Darius pulled Dante from a suplex attempt by Mox, ducked a lariat from Mox and a kick from Danielson and BCC was left in the middle of the ring back to back while the members of Top Flight each had a stare down with them. It looked like a scene from an action movie. With Darius & Danielson and Moxley & Dante paired up they started exchanging blows.  Mox sat Dante in a chair outside and hit a big running boot to him as Danielson sat Darius in a chair against the barricade and hit the Yes kicks followed by stereo dropkicks from he and Moxley. The BCC eventually slowed things down working over Dante with grappling and submission moves before hitting simultaneous Yes kicks to the chest and back. But Dante ducked the final attempt and Danielson and Mox kicked each other's legs which let Dante get the hot tag to Darius. Darius hit a running uppercut to Mox in the corner, jjmped a charging Bryan forcing him to spear Mox in the corner and then kicked off Bryan to kick Mox. Danielson tried for his sequence where he backflip dodges Darius out of the corner and tries to come off the ropes with a lariat but Darius turned it into a Spanish Fly. Bryan tagged Moxley who tried to toss Darius out but he immediately came back in with a flat liner vaulting off the bottom rope. Mox grabbed Dante by the waist and Darius grabbed Dante and threw him up and over Moxley to grab Mox's waist. Dante grabbed Mox in a half and half and Darius kicked off him to tornado DDT Danielson while Dante hit a swing out slam to Mox for 2 and he followed up with a frog splash but Mox rolled through and hit the hammer and anvil elbows. He tried a King Kong lariat but Dante victory rolled him for 2. Mox did connect on his second lariat attempt but Dante kicked out as commentary reminded us it was the shot that took Page out of action for 2 months. After an exchange that ended in Dante tope-ing Moxley outside Danielson rebounded off a whip from Darius with a busaiku knee but Dante broke up the pin. Bryan threw Dante to the floor as Darius rolled him up for 2. Danielson nailed him with a kick as Mox came off the top with a double sledge hammer to Dante on the floor. Dante hit the BCC stomps on Darius and locked in an STF to make him quickly pass out. Commentary put over the heart and progress Top Flight showed. This was one of the better Rampage matches in a long time and I just adore all 4 of these guys. Which is something I never thought I'd be saying about the former Dean Ambrose. To get two guys with the name value and star power of Mox and Danielson to give as much as they did to two kids both under 24 years old shows a real appreciation for the future of the business and fans you don't see too often from guys at their level. Commentary tried to say it the whole night but this was one of those performances that really does elevate guys in a loss. I look forward to Danielson continuing to do this on the road to Revolution. I hope all of his Dynamite opponents are in that Takeshita mold of great up and comers.