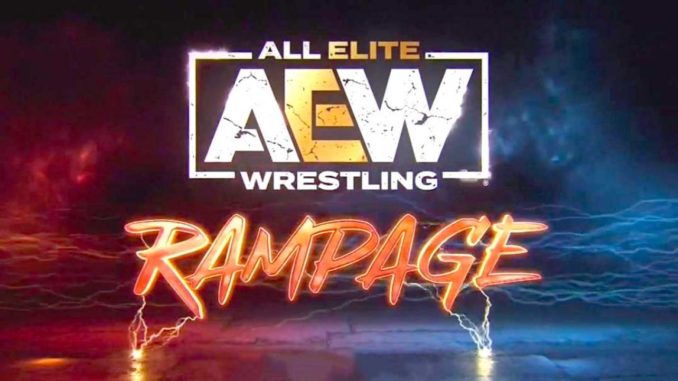 With March Madeness in full swing and the NCAA tournament causing the later airing of Rampage I'm surprised AEW didn't use Action Andretti tonight or go with some sort of big upset on the card. And with Tony Khan's love of tournaments that's another concept that could have been used tonight but instead we got no tournament tie-ins and to my surprise almost no mention of it even being a St. Patrick's Day episode despite being called St. Patrick's Day Slam going in. Yet in spite of those complaints and "The Hug" on SmackDown being the moment of the week in all of wrestling Rampage still wasn't all bad. So let's rank it!
Honorable Mentions: Stu Grayson, Matt Menard and Angelo Parker and Taya Valkyrie. Grayson wasn't sure if he was going to stay in AEW but after last week now he's thinking he's back and challenged Moxley to a singles match next week. He sounded intense and he's been missed in Dark Order. He and Uno getting back to tag action would be a welcome addition to the division. Menard and Parker got a rare win, beating their fellow Canadians, The Bollywood Boyz with a double DDT. Taya Valkyrie followed up her arrival last Wednesday by making short work of Ava Lawless, who was also making her AEW debut by hitting her version of "Jaded" called "The Road to Valhalla". After the match Cargill, Sterling and Grey came out taking notes and taunting her. I'm not a big fan of Taya as a face and she shouldn't beat Jade but I'd be all for her joining The Outcasts to add to the possibility of the first ever Women's Blood and Guts match that I've been calling for for what feels like over a month now. 
5. Stokely Hathaway. In an empty arena package we saw Matt Hardy, Isiah Kassidy and Ethan Page training with Stokely Hathaway. This was fun. Hathaway tripped over Kassidy while running the ropes then was fed chips by Kassidy as he was doing sit-ups. Hathaway broke a half Nelson from Kassidy by tickling him. Hardy wanted to toughen him up so both he and Page bodyslammed Stokely. As he laid their in pain Hardy said "He's the suplex machine!" which led to Page asking "So why are we doing bodyslams?!" It ended with Hathaway running the stairs and celebrating with a cookie as Excalibur said "6 and a half more years training like that (he) may stand a shadow of a chance against the cold hearted handsome devil." This could have been even funnier considering the people involved but still made me chuckle. I'm glad they're filling time with this and didn't just go straight to the match. 
4. Don Callis. Don Callis greeted Takeshita at the Winnipeg airport with a Japanese drummer and a woman to give him flowers. He said this is what he gets in Winnipeg and everywhere else when he's associated with Callis. Callis pulled him in for an awkward hug and then Callis, the drummer and flower lady all clapped for Takeshita whose expression shifted from confusion to looking impressed. This was entertaining so it makes my list this week. 
3. Top Flight. The Gunns tossed their bags at Top Flight outside a hotel before Austin caught himself and said this wasn't valet service, it was the second best team of brothers in AEW. Darius said they must be fans of the Young Bucks, the Lucha Bros. or Matt and Jeff before a flustered Gunn Club said they were talking about themselves! Dante said they left them their bags but not the titles because if they did ever wrestle they'd valet those too. They agreed to a tag title match at Dynamite and as the Gunns left Top Flight realized they left their bags and took them. The was the best thing the Gunns have done in a long time and the lines from Top Flight were strong too. As a big visuals guy I loved that it was shot outside of a hotel at night where you could see snow on the ground and the city behind them. It's a little thing but goes a long way with me. Sadly I don't want to see Top Flight lose but I do think they'll pull as good of a match out of the Gunns as anyone has so far. 
2. Daniel Garcia. No triple box for the main event this week, just a very quick Excalibur run down of the recent JAS/House of Black interactions and Mark Henry telling us it was time for the main event. Daniel Garcia came out with Jericho wearing a Winnipeg Jets jersey and getting the pop from the crowd. I really wish Jericho had heeled the crowd a little and had an Atlanta Thrashers jersey on. Garcia did what he could to try to avoid King in the early stages of the match and use the high ground to his advantage but Brody eventually took control. Garcia tried to sensually dance for Julia Hart who blocked his path on the outside but King just chopped Garcia and sent him into the barricade. King sat him on a chair against the guardrail and crushed him with a running crossbody. During the picture-in-picture Garcia just disrespectfully walked back and forth over King's back before doing a salsa. King got him back when the break was over by hitting a piledriver for 2. Brody smushed Garcia against the corner of the ring with a cannonball splash but Garcia got his foot on the rope to break the pin. Garcia got King in a Boston Crab but King reached the ropes. Jericho nailed King with the baseball bat as Garcia distracted the ref and Garcia locked in a choke as King's arm dropped 3 times to give Garcia the win. This was a fun match though the alignment of heel v. heel with Jericho acting the role of the home town face most of the match was a very strange choice. I don't mind House of Black turning face though. The crowd seems to love them already so it fits. 
1. Powerhouse Hobbs opened the night making his first defense of the TNT Championship against Rey Fenix. Aaron Solo and QT Marshall from QTV joined Hobbs at ringside while Fenix had Alex Abrahantes in his corner. Fenix brought it early with 3 consecutive diving attacks to Hobbs on the floor but Powerhouse recovered quickly and whipped Fenix, sometimes literally, from pillar to post. One of the cooler spots cane after a slew of kicks from Fenix when he tried to go to the top rope but Hobbs yanked him off for a powerslam. Fenix German Suplexed Hobbs in an impresive show of strength that got the crowd going but Hobbs kicked out at 1, tossing Fenix in the process. Fenix landed a rolling cutter but it wasn't enough to take the title. An exhausted Hobbs leaned on the ropes and Fenix did his tightrope walk kick to the face. Hobbs pounced Fenix as he headed towards the corner and then picked him up for a spinning spinebuster but Fenix kicked out at 2. Fenix hit another series of kicks,  frog splash and more kicks but as he went for a final attack Hobbs caught him in mid-air and hit a Town Business for his first successful retention. After the match Hobbs intimidated Abrahantes who turned around and ate a Diamond Cutter from AEW's Harvey Levin. I complained about The Factory and QT Marshall but the QTV segment Wednesday made me laugh and if we're going to continue them as a full blown TMZ parody there could be some fun in that.