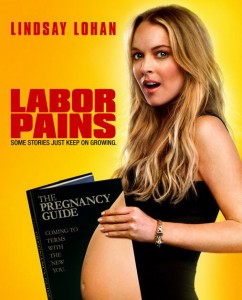 "Labor Pains" (airing on the ABC family channel) seems to have an engaging premise, but ends up falling flat in the end.
Party girl Thea (Lindsay Lohan, "Mean Girls") in a desperate attempt to keep her job lies to her boss and tells him she's pregnant. The remaining two hours should be a hair-raising romp on how she stays one step ahead of the deception.
In the beginning, it proves that being a liar has its perks. Thea is able to keep her job and her landlord eases off the rent. It's a faulty plot device from co-writer and director Lara Shapiro (Tipped). After all, Thea constantly has to be reminded that she's pregnant and when she is taken off the softball team after sliding into home plate, she doesn't seem to grasp the weight of her circumstance.
She is then asked to be an associate editor of a manuscript about pregnancy by Nick, (Luke Kirby, "The Stone Angel") who is temporarily put in charge of the publishing firm that she works for.
What is completely annoying is that Thea's change in behavior comes across as fake. Though in the beginning she still smokes in the bathroom and drinks and completely ignores her teenage sister, as the film develops, Thea does see the errors of her ways. And the moments in which she is honest, such as when she tells Nick about her parents fatal car accident, are supposed to elicit some sympathy for Thea's predicament.
However, it still comes across as false and unconvincing.
Even if we can turn a jaded eye away from this contrived ploy, we cannot ignore Lohan's one note performance. As she begins to change the lives of the people around her, there should be some anticipated tension. The "oh-no" moment is supposed to make us care that Thea's house of cards is about to fall down. When her sister tears apart her baby bump, Thea, in front of her surprise baby shower-party guests, grabs a balloon, stuffs it under her dress and stomps out. Later when the balloon pops and the jig is up, it's an anti-climatic moment that makes the audience feel nothing.
The biggest sin in this movie is the wasted use of its actors. Her confidante, Cheryl Hines (Curb Your Enthusiasm), has excellent timing and delivers her lines with flair. It makes you think that the only reason she took this film was that the mortgage was due. Willie Garson (Sex and the City), Tracee Ellis Ross (Girlfriends) and Jay Thomas (Cheers) seem as if they are slumming it in their small roles.
The funniest part of the movie is the beginning – as they all deal with McArthur the dog, who was truly missed when he was written off to get his owner Jerry (Chris Parnell) off the canvas in order to bring Nick in.
Worst of all, there is no chemistry between Nick and Thea. Most of the movie centers on their budding romance, which makes this another reason why this movie falls flat.
In the end, the little sister is able to live out her dream and go to culinary school, the book that brought Nick and Thea together becomes a success and Nick forgives Thea for her deceitful lies. Everyone lives happily ever after.
Unfortunately, through the direction and writing, this is an unsatisfying waste of two hours.