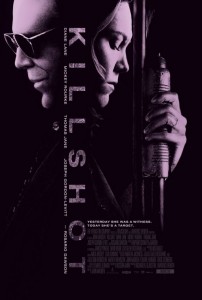 "Killshot" had all the elements to make it a winning picture, including a top-notch cast, an Academy Award-nominated director, and a screenplay based on an Elmore Leonard novel.  However, heavy post-production tinkering landed this film with a direct-to-DVD release after poor test screenings.
Test audiences seemed to have so much say on the final product that the character of a corrupt cop played by Johnny Knoxville was completely removed from the final cut.
Oddly enough, all that was released was an 84-minute re-cut, and it is a little sad that a proper cut of this film may never see the light of day. But it is still a worthy entry into the action genre with some pretty strong performances that deserves to be seen.
Until John Madden's ("Shakespeare in Love")  official cut of "Killshot" is released, what we have now is widely entertaining, yet at times an incoherent mess. It is clear to see that Madden directed it  with a clear vision that is apparent in every respect. The cinematography and the acting are all done extremely well, but it is the post-production rearranging of the pacing that hurts the overall experience as a whole. We also have no way of telling how some of these scenes were rearranged, or how the cut scenes affect the character development.
The plot can easily be broken up into two separate stories that are deeply intertwined, one involves the criminals and the other focuses on the couple that have witnessed their crime and must now go into the Witness Protection Program. What essentially would be a deadly game of cat and mouse allows us to peer into the personal lives of all involved. That element is what really provides that new dimension to the movie.
This was actually filmed a few years before its eventual release, and before Mickey Rourke's impressive comeback. Here, Rourke seems to be channeling Charles Bronson as a no-nonsense hit man that is forced to silence a witness that saw his face. Even though he is a stone-cold killer, he seems to have set some high moral values for those that he cares about, including a kid brother he lost. It is a multi-layered character that screen villains are often not given in these types of movies, and Rourke really delivers a commanding performance.
But the breakout star here is Joseph Gordon-Levitt ("10 Things I Hate About You") as Richard Nix, a petty conman that reminds Rourke of his little brother. Gordon-Levitt gives a brilliant,  unhinged performance, and creates a scary character that you can't take your eyes off.  He is an actor to watch in the years to come.
Yes, this film creates more interesting villains then heroes, unfortunately.
Diane Lane and Thomas Jane play the couple that are forced into the Witness Protection Program just around the time they are on the verge of a divorce. In the original cut, they are a happily married couple. See what some tinkering can do?
Lane is an on-screen treat to watch, as her performance ranges from the vulnerable woman to the tough-as-nails shotgun wielding action star.
Poor Jane always seems on the verge of a great production and a star-making vehicle, then minor production problems often stall his career. He is a really good actor that deserves some stronger roles, and here he gives his usual good performance playing the likable Everyman.
The end resembles a modern variation of the western genre with a pretty good shootout that packs a wallop. But then the production ends abruptly, as if there was more to be told. (There probably was.)
Sadly, the Weinstein brothers may have officially ruined any legitimate chance that "Killshot" had in the way they handled the releasing and publicity.
"Killshot" delivers a few jolts and bangs with a great performance from Gordon-Levitt, but it leaves a lot to be desired.