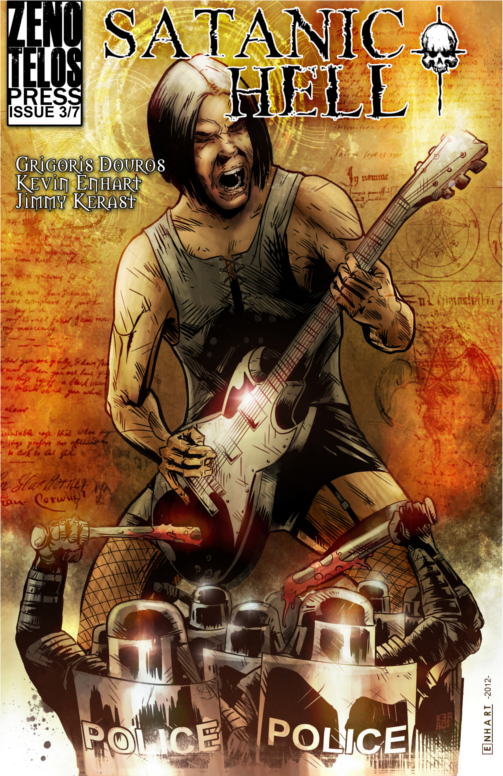 The plot continues to thicken in the third issue of Satanic Hell, but after all the bubbles and boil, the final concoction isn't a clear one. An issue that continues the story development, there isn't anything resembling a climax here. Still in the growing process, the story is intriguing, but those who have read the first two issues may find themselves getting impatient.
If "Josie and the Pussycats" could make love to a Rage Against the Machine video, you'd have something awfully close to this series. A band with a mission, they find themselves stuck in a religious state Americans used to know as Texas. With the calling of their fans and promises of glory, they head to the area and now find themselves in a war of sorts. The situation was a departure from reality for the band at first- enough so that they found a way to have fun in it. But now things are about to get serious. After two issues of debauchery and silliness, the reader begins to see how organized the oppressors are. It's a scary and twisted sight.
Can the band help their fans protect their right to freedom of expression? After the third issue, it's a tough one to call. While the band has help, it appears they are in a fight that will end up killing off their hopes and dreams. This dire situation is something comic books fans love; to see if the seemingly regular joes can turn the impossible into the possible. If you've invested the time into the series already, this seems like the worst time to give up on it. Things appear to be at their tipping point.
However, after three issues, none of the main characters have made themselves worthy of standing out. Even the band's frontman lacks the charisma needed to enthrall. As a whole, the concept is there and the band works well off each other in conversation to induce a snicker and smile, but it may not be enough. At this point, the most enjoyable and deep characters are the baddies. In order for the comic's message to truly be delivered, Satanic Hell needs more than catchy punk and metal lyrics and an intense opposition.
It needs the rebels to be cool.
At the same time, with solid art and an easy to read story, the third issue of Satanic Hell isn't mediocre. It's just more of a clarification of premise than an addition to the journey it needs to be.