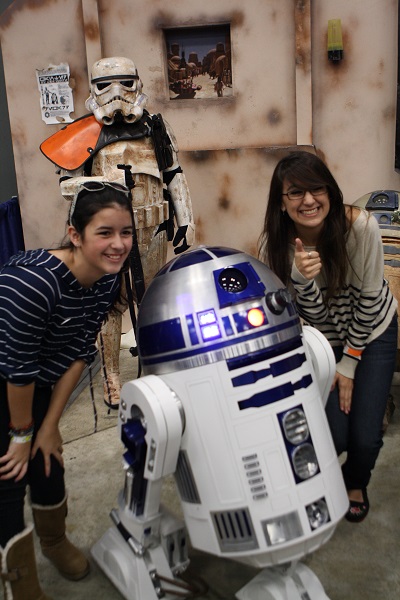 Cosplay And Fan-Based Organizations Bolster Inaugural Event At America's Center, March 22-24
Fan communities representing the most fervent followers of blockbuster franchises like "Star Wars" and "Ghostbusters," zombies, pop culture and science fiction are among the groups that attendees will see roaming the Wizard World St. Louis Comic Con floor, March 22-24 at America's Center.  Cosplayers from these groups love to interact with fans, adding another level of fun and in many cases raising money for charity.
Some organizations that fans will enjoy meeting include:
501st Legion, an all-volunteer organization formed for the express purpose of bringing together costume enthusiasts under a collective identity within which to operate. The Legion seeks to promote interest in Star Wars through the building and wearing of quality costumes, and to facilitate the use of these costumes for Star Wars-related events as well as contributions to the local community through costumed charity and volunteer work.
Archon, a premier fan-run Science Fiction/Fantasy convention that began in 1977, held in Collinsville, Ill.  Archon has a personal touch – it wants everyone who visits to have the best time, meet fellow fans and great guests, and go back home eager to return the following year.
Airship Vindus, based out of Columbia, Mo., is a collection of prop-makers, costumers, writers and artists that desire to produce and share multimedia projects specializing in all things concerning the steampunk genre. Calling the project Steamworks & Shadows, one of its main goals is the inclusion and inspiration of steampunk artists and fans in the Midwest.
The Finest, a costuming club focused on the creation, display and cosplay of G.I. Joe and Cobra costumes from the action figure lines, comic books, cartoons and most recently the movies.  The Finest is always looking for new members who strive to bring to life one of the most iconic toy and comic book lines of the 1980's.
Kansas City and Saint Louis R2 Builders Groups, founded in 1999 by Dave Everett, an internet fan based club with over 5000 members worldwide. Using the web as a common means to gather information and share thoughts and ideas with one common goal:Â  to build their very own, life sized, R-Series Astromech Droid.
Great St. Louis Ghostbusters, who entertain children of all ages at toy shows, conventions, and other events in the St. Louis metro area. The GSTLGBs meet about once a month with no dues and no requirements for membership except that members like Ghostbusters.
STL Nerdy Girls, a spin-off of the Oklahoma City Nerdy Girls meetup. The purpose of this group is to foster continuous learning for women of all ages interested in things typically described as "nerdy." It hosts a book club, participates in lectures and tours, and volunteers with various organizations throughout the community.
The Rebel Legion, an international Star Wars costuming organization created by, of and for people interested in creating costumes from the Star Wars mythos. Research, create, build and improve your costumes in a place where costumers with similar passions share skills, tips and ideas.
Z.O.D. Zombification and Disaster Preparedness, an organization whose purpose is to promote zombie/apocalypse enthusiasm as well as disaster preparedness in a positive atmosphere and to provide opportunities for growth through entertainment, instructional programs, & community involvement. Z.O.D. was born from the mind of Author Shane Moore's fictitious zombie fighting group from his novel "The Apocalypse of Enoch"
The inaugural Wizard World St. Louis Comic Con features Stan Lee, Laurie Holden, Billy Dee Williams, WWE® Superstar Randy Orton®, Henry Winkler, James Marsters and Dean Cain at the top of a standout lineup of celebrities.  They will be joined by an All-Star collection of well-known artists and a variety of activities, exhibitors and special attractions in the second event on Wizard World's 2013 calendar.
Wizard World St. Louis Comic Con, produced by Wizard World, Inc. (WIZD.PK), will bring together thousands of fans of all ages to celebrate the best in pop-fi, pop culture, movies, graphic novels, comics, toys, video gaming, television, sci-fi, gaming, original art, collectibles, contests and more.  Admission is free for kids 10 and under, and Sunday, December 2, is "Kids Day," an array of programming specially designed for children.
Event hours are Friday, March 22, 3-8 p.m.; Saturday, March 23, 10 a.m. – 7 p.m.; and Sunday, March 24, 10 a.m. – 5 p.m.
For more on the 2013 Wizard World St. Louis Comic Con, visit http://www.wizardworld.com/home-stlouis.html.