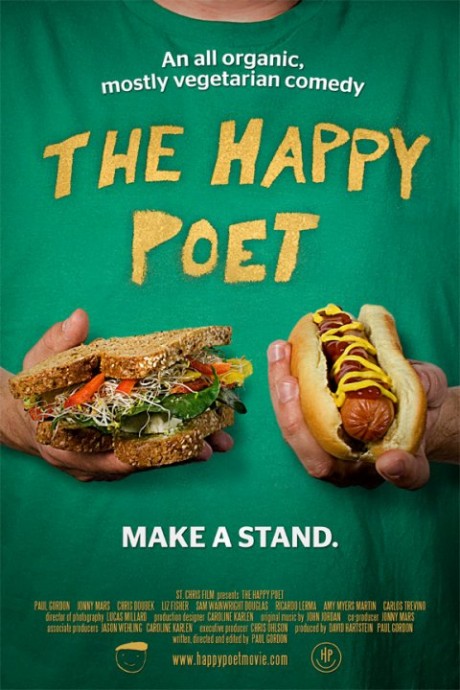 Bill [played by writer/director Paul Gordon], the hapless hero of The Happy Poet is in trouble. His freshly minted Master's Degree in creative writing—concentration poetry—has not led to a job; he and his girlfriend have called it quits; and he has no idea how he's going to support himself. Even worse, his student loans are coming due and there's a whopping credit card bill sitting on his table.
As money-making schemes begin to germinate, Bill concocts a plan: He'll borrow money, purchase a hotdog cart, and sell organic tabouleh, hummus and eggless "egg salad" sandwiches in an Austin, Texas park. Despite numerous setbacks and glitches, Bill eventually raises enough cash—albeit on a payment plan—to establish his health food restaurant-on-wheels. Sadly, day one is an abysmal failure—virtually no one wants the vegetarian fare he is offering. Nonetheless, a few kind strangers assure him that things will turn around if he is persistent.
Needless to say, since Bill has no other options he continues, going so far as to give his cart a name: "The Happy Poet". If it sounds amusing, rest assured it is, and while it may not elicit loud guffaws or cackles, the film will have you simultaneously chuckling, cringing and rooting for this unlikely hero.
But back to the story. As Bill plods on, he uses his last few nickels to hire Donnie, [Jonny Mars] assigning him the task of alerting Austin's hipster community to the cart's location and menu. In short order, Donnie is riding his motor bike around town and distributing promotional leaflets; later, as the business takes off, he delivers meals to workers throughout the city.
Things seem to be looking up. But is the upswing real or is it an illusion? As the story develops, viewers learn that unbeknownst to Bill, Donnie has entrepreneurial ideas of his own—suffice it to say that in addition to dropping off lunch, he's keen on making other, less-than-legal, deliveries. And then there's Curtis, [Chris Doubek] an apparently homeless-or-near-homeless hanger-on who helps Bill clean up, in exchange for which he's given each day's leftovers. They're an odd and awkward trio, but, at least for a while, the division of labor works and The Happy Poet seems to be doing reasonably well.
Gordon's portrayal of Bill is perfectly tuned; he is the type of sad-sack who is typically invisible in a bustling metropolis. At the same time, his mumbled and close-to-monotone speech is speckled with dry wit, showcasing the residual impact of his graduate school education. Nonetheless, it is only during "The Happy Poet's" denouement, when Bill learns that his friends are not exactly the people he thought they were, that he comes fully alive.
As the surprise ending unfolds, Doubek, as the bumbling Curtis, is particularly effective. Likewise, Mars shines as a scheming opportunist who is subsequently unveiled as a man of conscience. There's sweetness here. Indeed, this is real male camaraderie, not the juvenile boys-will-be-boys hijinx of a Judd Apatow film, but authentic, caring friendship between guys who mean something to each other.
And that's not all. Anyone who has ever wanted to tongue lash a bully or get back at someone who has betrayed them will hoot and holler at Bill's ultimate triumph. What's more, his success proves that the owner of a small business does not need to develop a heart of stone. In fact, this otherwise apolitical film makes clear that a business can prosper without exploiting others, ruining the environment or cutting corners on quality.
Not surprisingly, "The Happy Poet" has already garnered awards on the festival circuit and was an Official Selection at the SXSW, Venice and Tokyo Film Festivals. Charming, quirky and engaging, it will make you smile—and maybe even crave a plate of spicy tofu or veggie scramble.
The Happy Poet, Written and Directed by Paul Gordon, 85 minutes, available on DVD and digital platforms. Copies can be purchased from Cinema Libre Studio, www.cinemalibrestudio.com, 323.785.1585. Cost: $24.95.