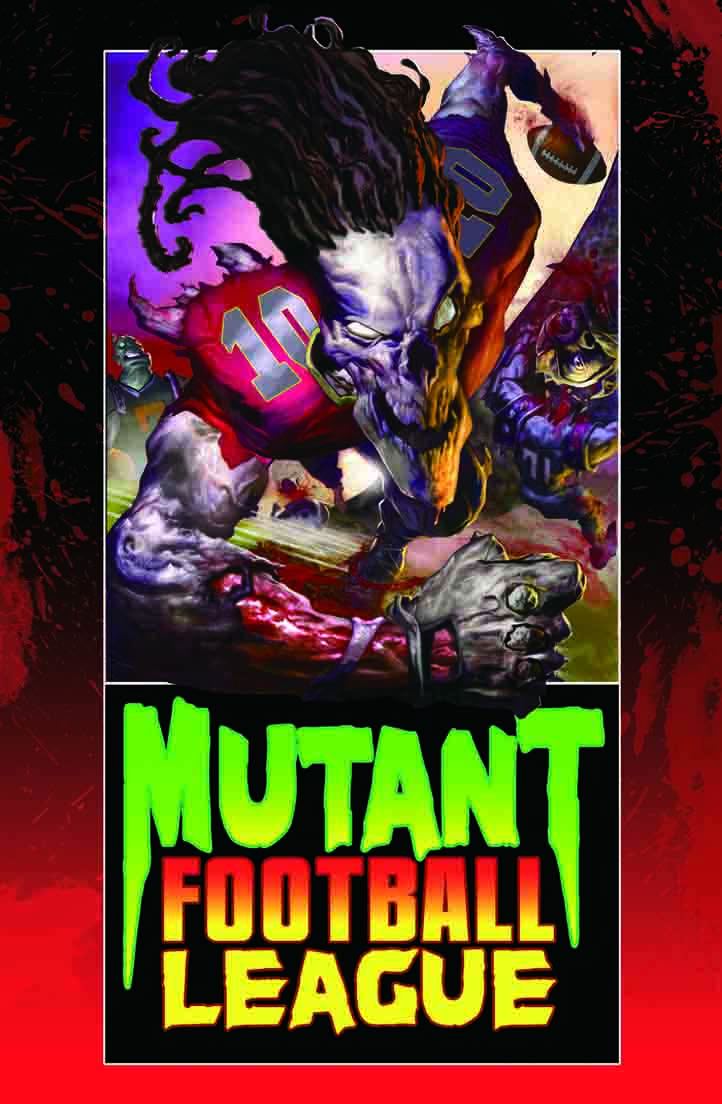 Review Fix chats with "Mutant League Football" creator Michael Mendheim, who discusses the game's current attempt at another life on the Steam, Xbox Live and iOS.
Mendheim and his team are currently asking for $750,000 to fund the completion of the title via Kickstarter. In just a few hours after the start of the Kickstarter on Monday, it brought in over $4,000.
This modern day version of the game, if completed, will consist of 30 teams and promises to bring the classic gameplay to the tablet, with several new additions.
Review Fix: For how long have you seriously considered a new version "Mutant League Football"?
Michael Mendheim: It's the games 20th anniversary and the timing just felt right so we're given it a shot. It took several months to put the team and plan together. Now it's up to the gamers, if they want us to develop the game they will need to get the word out and back us.
Review Fix: How have your feelings changed about the series over the years? We're all aware of the rise it had in the early '90s. How did it feel then? How did you feel after the game's popularity waned?
Mendheim: I've always been fond of the brand and it was one of my favorite games to develop, also one of the hardest. When people in the studio (not related to the dev team) started to play it, we felt we might have something because usually everyone was glued to Madden. Once we received advance reviews we felt relieved, the press liked it and some of them loved it. At that point the brand took off quickly, the game was launched, rose to the top of the charts, a television and toy line deal was signed, and we started developing sequels. I'm hoping we can bring it back and have a new generation fall in love with it too.
Review Fix: Why do you think the series has endured over the years?
Mendheim: The gamers cared about their individual players, they established bonds with them while playing and then when these players died, they felt something. They also probably had insane moments of gameplay, where on the last play of the game the ball was overturned three or four times, via various deaths and then one of the teams recovers the ball, crosses the goal line for the victory (with no time left on the clock and just a few player's remaining on the field). Now that's football. Moments like that actually happen in the game. If fans of the original series or new players find this at all intriguing and want to experience a similar kind of gameplay, they need to get over to the Kickstarter page and help support the game. Don't wait, don't pass go, go straight to Kickstarter and back us please.
Review Fix: Your Kickstarter video was hilarious, but informative. What was the mindset during filming? What were you guys going for?
Mendheim: Ah, thank you. It was a collaborative effort. My friend Larry Wotman shot the video. Please let me give him a quick plug. If you need a great Kickstarter video go to Larry at www.wotmanproductions.com. Our writing team: Dave Elliot, Jay Lender, Micah Wright and myself, wrote the script. We wanted the video to have the same tone as the game. It needed to be surreal, funny and sincere. We have a lot of juvenile humor in the game, for example: when a big ol' troll or orc bends down on the line of scrimmage and you hear a fart sound and see a puff of smoke, well, that's always funny. It's funny whether you're 10 or 50. We wanted the video to have the same attitude. The severed head is the hero of the video. The visual effects of the head were done by my good friend, Steve Cejtin at Hammer & Pixel Studios. Everyone worked for free on the video. They all believe in the game and want to see it happen. These are my friends and they all helped me out and I'm indebted to all of them. Thanks guys.
Review Fix: How did you manage to get such a talented team together to work on the new game?
Mendheim: Actually, everyone was excited to work on Mutant Football League. Most of the people I've put together have worked with me on other projects. I couldn't ask for a better creative team and it's an honor to work with these guys, they have a fresh new take on things and are going to take this concept to new heights.
Here is the team we've assembled. There's more of course but we will reveal them as we hit our funding goals:
Dave Devries: Creator of The Monster Engine http://www.themonsterengine.com/ a popular children's art book, lecture, demonstration and gallery exhibition that explores the premise of what a child's drawing would look like if it were painted realistically. Dave will be helping us define the look and feel of the game and characters.
Dave Elliott: Comic writing legend Dave Elliott will be helping us create the Mutant Football League universe for both the game and comics. Dave has more than 25 years of experience working in every aspect of the comic book industry and created Sharky and Maximum Force and has worked on: A1, Deadline, Viz Comic and Heavy Metal magazine. http://deevelliott.deviantart.com/
Jay Lender: Jay has worked in films, comics, videogames and television. He wrote, storyboarded and directed on the original run of SpongeBob Squarepants and did the same for Disney's Phineas & Ferb. Jay will be helping drive story, character and game design and keep things funny and outrageous.
http://www.jaylender.com/JayLender.com/Welcome.html
Micah Wright: Micah Wright is a writer who has worked in videogames, film, television, animation, graphic novels & comics. He has also released three books of political commentary & graphics. Micah will be helping drive story, character and game design. http://micahwright.com/
Robomodo Studios: An independent video game development studio located in Chicago and focused on top tier products with innovative twists. The studio is led by Joshua Tsui and David Lee Michicich who have worked on such industry classics as: Tony Hawk Series, Fight Night Round 3, NBA Street and the Mortal Kombat series. Robomodo will be helping with art direction and production for Mutant Football League. http://www.robomodo.com/
Review Fix: In your opinion, why do you think Electronic Arts didn't want to make a sequel? Where there any other factors?
Mendheim: Back then, EA wanted to be the company that made the best and most authentic sports games. Mutant League certainly did not fit into that plan. EA is a great company- they make great sports games. They have uber talent. Hats off to them.
Review Fix: How will this game be different from the original?
Mendheim: We know we're going to change the camera views; it's a safe bet to say the entire visual presentation from the original game will be different. We want to try and capture a television angle view, something in line with a Tecmo Bowl style point of view.
We'd also like to add more weapons for sure and things called Enforcers. Mutants are big, mean, ugly SOBs so what do you do to keep them in line? You get bigger, meaner, even uglier brutes to monster the bejeesus out of them. And that's exactly what Enforcers are; They don't catch, they don't throw, they just go after the opposing teams stars like a wrecking ball in a glassware shop.
I'm also thinking we're probably going to need a penalty box for when things really get out hand. However in this league, there's probably an electric chair in the penalty box. It's gonna need to be big because of enforcers.
Another feature we want to develop is, digital Player Card Packs. These are in game rewards that are earned in-game (and not purchased). When you open the pack, you receive a set of player cards with funny facts and player bios. Rare and uncommon cards include unlockables like a unique animation, a secret team or stadium, etc.
Review Fix: How do you want the series to ultimately be remembered?
Mendheim: As a game that broke new ground and rules.
Review Fix: What's the next step if the Kickstarter isn't successful?
Mendheim: Let's cross that bridge when we get to it. We're going to be breaking some pretty cool news next week about the game. Hopefully that will help turn things around. Now I need to say something to any Mutant fans reading this, if you want to see this game get made post about it on Facebook, tweet about it, strap on a Mutant Football League sandwich board and shout about it in the village square. Scream our Kickstarter URL into the cameras as they haul you away to the funny farm! Tell your friends, your kids, your mom, your father-confessor, and your dog–because everyone needs a little bone-crunching comedy football strategy action.
If this dream of ours is going to become a reality, it'll be because fans to make it happen. Help us make it happen
Review Fix: Any plans to do a version of "Mutant League Hockey" if you're successful with this project?
Mendheim: Hell yeah.