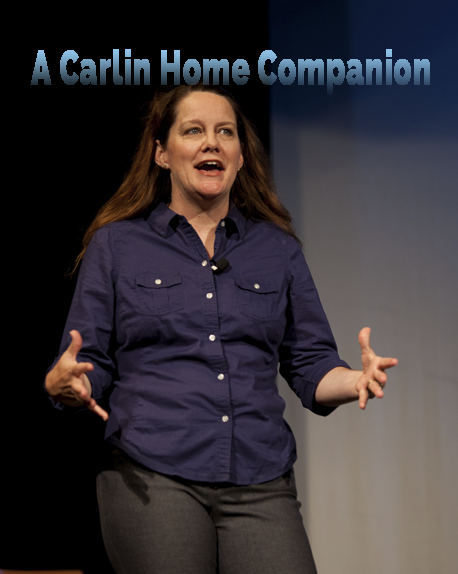 To say that Kelly Carlin, daughter of legendary comic and social critic George Carlin [1937-2008], had an unconventional childhood is like saying Coney Island is a beautiful beach. It's true, but it doesn't get at the details and muck beneath the surface of what we already know or imagine.
Kelly's one-woman show, A Carlin Home Companion, takes the audience on a road trip through George and Brenda Carlin's 37-year marriage, making pit stops at career highs and lows and zeroing in on a childhood that included equal parts nurturing and neglect. It's an emotional ride—by turns funny, thought provoking, and heart-breaking.
The play includes a great deal of archival footage, which gives the audience a chance to see George deliver some of his most memorable monologues. Nonetheless, it is clear from the start that A Carlin Home Companion is as much about Kelly as it is about George and Brenda.
The story is told linearly and Kelly describes her childhood before moving into the here-and-now. Early memories are shared, from huddling on the couch to see the Mary Tyler Moore Show, Bob Newhart, and Laugh-In on television to baking an apple spice cake with her dad. It was the 1960s and the Carlins were broke, living as starving artists in a one-room Manhattan apartment, but neither adult would concede that it was time to find conventional employment. After all, George was performing in New York's Café Wha and at The Bitter End with such up-and-comers as Bob Dylan, Joan Baez, and Lenny Bruce. "It was all very exciting, but not very lucrative," Kelly quips.
Then, miracle of miracles, George was invited to appear on The Tonight Show—and drew rave reviews. By 1966, Kelly continues, "Hollywood called and the Carlins answered." It was a boon for George, hired to play recurrent roles on several TV serials. Brenda, however, was miserable. She knew no one in Los Angeles—George would not let her work—and friendless and bored, she began drinking and drugging. Likewise George, who first tried acid in 1969. Right around this time, Kelly continues, George used the word shit in a stand-up performance—as in, "I smoked some shit"– and in short order he was fired. It was the jump-start he needed, Kelly says, to perfect his brash, outrageous, and confrontational on-stage persona.
Although losing the gig sent the family's finances cascading downhill, George went on the college circuit and by 1971 had become "a counter culture God" among students across the country. At the same time, Brenda's alcohol and drug use were skyrocketing. Kelly was eight. "We'd given up the white bread version of the American Dream and moved to Venice Beach," Kelly continues. George was constantly on the road and Brenda was mentally addled, leaving Kelly to fend for herself. Things unraveled even further when George was arrested for saying fuck during a Milwaukee show.
Incredibly, the arrest did not hurt his career and Kelly reports that shortly thereafter he made his Carnegie Hall debut in front of more than 1000 screaming fans. By that point George's cocaine usage and Brenda's drinking were off the charts, but since cash was rolling in the family was able to purchase a house in Pacific Palisades, a conservative bastion peopled largely by corporate executives. Brenda, meanwhile, was down to 87 pounds and was suffering from anorexia as well as addictions to alcohol, cocaine, and valium. A stint in rehab, when Kelly was 12, was a huge—and short lived–relief for the child.
Not surprisingly, as Kelly's adolescence dawned, she became a 24/7 stoner—as well as a straight A student and equestrian. Since money was still abundant she says that she got everything she wanted –except structure and direction. "I needed my mom not to be the cool mom, but just to be the mom," she confesses in one of the show's most poignant moments.
Predictably, the lack of guidance left Kelly feeling rootless and unsettled. Not knowing what else to do, she enrolled in UCLA but dropped out after three weeks. She then worked for her dad, taking photo stills for him and acting in sketch comedies he wrote. "I felt like a fake," she adds, "the spoiled young woman whose chance had come because her daddy gave it to her."
Kelly's despair is palpable as she tells the audience that she subsequently got involved with an older, married man. It was only later, when she re-enrolled in college and got positive feedback from a writing teacher, that she found the courage to ditch the guy and find her calling. Still, life is never seamless and Kelly has had to grapple with numerous traumas, from her mom's cancer—Brenda died in1997—to her dad's remarriage a year later, to his third heart attack and death in 2008, to finally becoming independent as a thirty-something adult.
A Carlin Home Companion brings everything together—Kelly's insights about her childhood, her love—even adoration– of George and Brenda, as well as her resentment towards them. Finding her purpose as a counseling psychologist and writer—"I no longer borrow George's buzz," she grins—makes the story both inspiring and entertaining. That said, Kelly's moving performance keeps the badass spirit of the Carlin clan alive. Indeed, she honors her ancestors with wit, sass, and kickass clarity while simultaneously making her own contributions to the family history.
Written and performed by Kelly Carlin
Directed by Paul Provenza
This 90-minute production is part of the All for One Theater Festival, Inc., and is presented at the Cherry Lane Studio Theatre, 38 Commerce Street, NY, NY. Tickets are $26 and can be ordered by calling Ovation Tix at 866.811.4111. Remaining shows: Thursday, October 17 at 7:00 pm and Saturday, October 19 @ 1:00 pm.