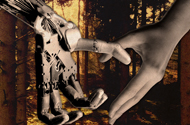 59E59 Theaters (Elysabeth Kleinhans, Artistic Director; Peter Tear, Executive Producer) is thrilled to announce the return of Strangemen & Co. with the premiere of THE WOODSMAN, created by James Ortiz, and directed by Mr. Ortiz and Claire Karpen. THE WOODSMAN begins performances on Thursday, January 30 for a limited engagement through Sunday, February 16. Press Opening is Wednesday, February 5 at 7:15 PM. The performance schedule is Tuesday – Thursday at 7:15 PM; Friday – Saturday at 8:15 PM; and Sunday at 3:15 PM. Performances are at 59E59 Theaters (59 East 59th Street, between Park and Madison Avenues). Single tickets are $18 ($12.60 for 59E59 Members). To purchase tickets, call Ticket Central at (212) 279-4200 or go to www.59e59.org.
When a lonely woodsman falls for the slave of a powerful witch, will their love be enough to protect them from her wrath? Based upon the origin story of the Tin Man from L. Frank Baum's classic Oz series, Strangemen & Co. give this forgotten story a heartbreaking twist with Bunraku puppetry and song.
THE WOODSMAN was developed at Standard Toykraft in Brooklyn in 2012 and at ArsNova's ANTFest in 2013. The show is a recipient of a 2014 Project Grant from The Jim Henson Foundation.
The cast includes James Ortiz, Eliza Simpson (films Rachel Getting Married, Manchurian Candidate), Devin Dunne Cannon (NBC's 30 Rock), Will Gallacher, Amanda A. Lederer (Point Pleasant at St. Ann's Warehouse), Ben Bass, Aaron McDaniel (Miss Lilly Gets Boned at the New Ohio), Meghan St. Thomas, Carol Uraneck, and Edward W. Hardy.
The design team includes James Ortiz (set and puppet design), Catherine Clark (lighting design), Michelle Pitt (costume design), and Sarah Dowling (prop design). The choreographer is Carol Uraneck. Instrumental music is by Edward W. Hardy. The Production Stage Manager is Cristina Aguilar.
James Ortiz (creator and co-director) is a NYC based actor, director, writer, puppet designer, and co-artistic director of Strangemen & Co. Acting credits include El Gato Con Botas (Tectonic Theatre Co.); On the Head of a Pin (Strangemen & Co.); Rhinoceros (UglyRhino Theatre Co.); and Wanda's Monster (Making Books Sing). Directorial credits (puppet or otherwise) include Miss Lilly Gets Boned (Studio42); All's Well… (Collin Theatre Center); My Base and Scurvy Heart (Studio 42); The Rocky Horror (Puppet) Show (Collin Theatre Center); Free Delivery (Strangemen & Co.) and The Woodsman (Ars Nova.)
Claire Karpen (co-director) is honored to be working with this inspiring and inventive company. Directing credits include Henry IV Part One, Frankie and Johnny in the Clair de Lune and A Little Night Music (Juilliard); Voices in My Head (Ars Nova); A Soldier's Tale (Chautauqua Theatre Company); and Into the Woods (Brown University). As an actor, Claire has worked with theaters such as the Public Shakespeare Lab, McCarter Theater, Fiasco Theatre Company, Actors Theatre of Louisville, Goodspeed Musicals, Trinity Rep, Penguin Rep, Fault Lines Theater and Stamford Center for the Arts. Training: Juilliard and Brown University.