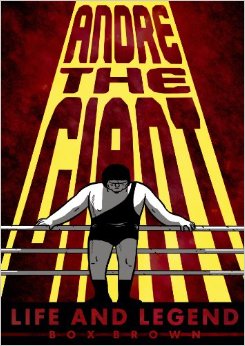 Review Fix chats with writer and artist Box Brown about his new graphic novel, "Andre The Giant: Life and Legend."
Brown's graphic novel biography on Andre's life is one that manages to humanize the nearly eight feet tall performer, but along the way makes us see how much larger than life he actually was. Sincere, yet fun throughout, Brown is able to show the world how perfectly imperfect the legend was- from his problems with alcohol and bouts with injuries to the strained relationship with his daughter.
Review Fix: Why and how does professional wrestling affect you?
Box Brown: I think of pro-wrestling as a true American art form much like comics. Â Some people might argue that pro-wrestling is not art, some people say the same about comics.
Review Fix: Of all the professional wrestlers to write about, why Andre?
Brown: Why not Andre? The stories about him are legendary among wrestlers. Â But, his story is also tragic as he was diagnosed with acromegaly in his twenties. Â The same condition that made him famous also led to his demise.
Review Fix: In your research process, what cool stuff did you learn about Andre that you didn't put in the book?
Brown: Well, I actually watched a few his guest appearances on TV shows in the 70s. Â He appeared in BJ and The Bear. Â I'd never seen that show before. Â So, that was fun to watch. Â I have an 8×10 glossy photograph of him dressed as Big Foot from The Six Million Dollar Man as well. Â I don't know if this counts as "cool" but he loved the game cribbage. Â I got to know that card game a little bit, but didn't go too far into it in the book.
Review Fix: What's your favorite Andre moment that didn't get in the book?
Brown: Probably the scene where you see his butt. Â The original art for that page does exist…
Review Fix: Is there any chance of you doing a book on another wrestling legend?
Brown: I'm certainly still interested in wrestling, so who knows? Â I've done a few short comics about other wrestlers in the past and I'm sure I'll be doing more at some point.
Review Fix: Who's your favorite performer in the WWE right now and why?
Brown: Daniel Bryan. I'm totally part of the YES movement. Â I love that he's a small guy that can beat up all the big guys. Â He's a perfect underdog like Luke Skywalker or Super Mario.
Review Fix: What's your favorite moment in the book and why?
Brown: I really enjoyed working on the Chuck Wepner scene. Â The whole boxer vs. wrestler match is such a crazy spectacle and the fact that it was turned into a scene from Rocky IV made it such a fantastical moment.
Review Fix: How do you want the book to affect people?
Brown: My loftiest goal is to maybe change peoples' minds about pro-wrestling. Â But, I think I'd just like people have a new understanding of the man who was Andre the Giant.