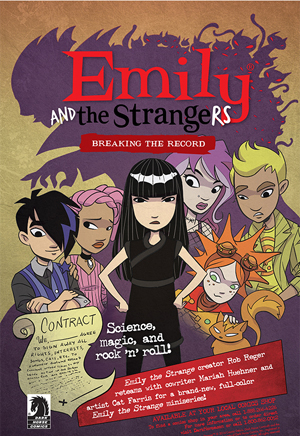 The bizarre world of "Emily the Strange" is back with "Emily and the Strangers: Breaking the Record" and it looks like another hit.
Just like how the original "Emily and the Strangers" showed how things are like starting a band, this series looks like it'll show what it's like to break up the band. Anyone who has ever been in a band dreads and even expects this day. It all usually starts with some kind of creative misunderstanding between the two main guys in the band.
The plot seems to be a fun one as Emily and her band have won the battle of the bands contest and now have a record contract. While looking over the contract (and its extra tiny legal print) tension boils over between Emily and Evan. This looks like the beginning of a breakup.
The preview looks like it can bring all the charm of the previous comics and continue with bringing home the feeling of being in a band. Of course, since this is no normal band or world, something must be amiss and that something needs to be extra weird and out there to keep up with the tone of the series.
The art still looks like that eccentric gothic style that fits this world perfectly. The preview makes it seem like the art will keep up everything we expect out of it. A little surprise ultra weird drawing won't hurt much.
Overall, "Emily and the Strangers: Breaking the Record" has everything a fan of the series wants with a hint of backstage band drama. If this comic can continue to hit home with anyone who has been in a band and continue with its likable weirdness, it should turn out great.