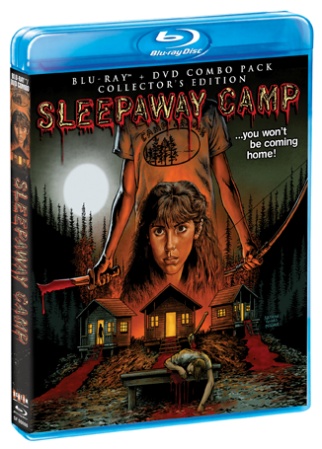 No need to dig too deep for a horror film set at a camp, the genre is littered with them.

The good ones, although follow a lot of the same horror conventions constantly have horror junkies coming back for another fix. One of these films is the 1980s cult classic "Sleepaway Camp."
Known for its completely unexpected and off the wall ended, Shout factory the only name that matters in cult film re-releases has given "Sleepaway Camp" a Blu Ray Collector's Edition this slasher film deserves. With a fresh high-def transfer and a mini documentary detailing the making of the film- it is hard to not gush over this Blu Ray.
After a horrific accident that takes the life of her family, Angela (Felissa Rose), is taken into the home of her aunt. Traumatized by the loss of her family, Angela is a shut in and does not speak much. Angela and her cousin, Ricky (Jonathan Tierston), are sent away to Sleepaway Camp for the summer.
In 80s fashion, as soon as the two arrive at the camp, there is an eerie aura about the camp. Not too long after the cousins arrive at the camp, campers and camp employees alike begin dropping like flies.
The one thing every victim has in common? They all bothered the sensitive introvert, Angela, in some shape or form.
What seems as probably one of the most obvious "who dun it ?" stories leads to pehaps one of the craziest twists you will ever see. A twist so crazy it would probably make M. Night Shayamalan tip his hat to director Robert Hitlzik.
There is a reason why Shout Factory releases are must haves. This "Sleepaway Camp" Collector's Edition Blu Ray has a brand new 2K scan of the original camera negative that gives the film an updated look. This 2K scan maintains some scratches in the film that combines both a clean sleek feel mashed with 80s nostalgia.
Shout did not stop with just the Scan.
The Collector's Edition contains a new mini-documentary titled "At the Waterfront After the Social: The Legacy of Sleepaway Camp," which features new interviews with the cast and crew of the film. The mini-doc offers some interesting tidbits including stories surrounding the much talked about climax.
This would not be a Shout Release without a sparkling new commentary track.
Along with the original commentary track with Writer/Director Hitlzik, this Collector's Edition comes packed with a new commentary track with the stars of the film, Rose and Tierston.
There are some stuff like a theatrical trailer and a short film named "Judy" that accompany the Blu Ray, however, they don't quite catch the eye like the film's mini-doc.
Three decades later and the film still managed to maintain its kick like a fine bottle of French whine, with a 2K scan that gives it the HD boost it needs-the "Sleepaway Camp" Collector's Edition Blu Ray is must buy material for any horror aficionado. A lake, sexually driven teens, and crazy death scenes-what more could you ask for from an 80s horror film? A slew of fantastic extras ain't never hurt nobody either.
Shout Factory made sure with this release that "Sleepaway Camp" is still a gunt-punching twisted fun fare three decades from now.