Warriors of Wrestling returned this past Saturday night with a great first show to start the new year. The Staten Island based promotion ended last year on a high note at "Final Solution," which set the bar for their latest event "New Beginnings." With an impressive match card that featured former WWE superstar Eugene AKA Nick Dinsmore, the presence of the former fan favorite challenged each competitor to put on an performance to successfully upstage last month's event and leave us anxious for future shows.
Matches:
BA Kidd and Benjamin Quinn vs. Chachi and Aaron Stride w Josh Maddox: After a short pose off for cheers, BA and Quinn in quick fashion defeated Chachi and Stride. BA and Quinn simultaneously nailed Stride and Chachi with unexpected super kicks for the win.
Logan Black vs. Darius Carter: The match started with Carter using classic heel tactics to avoid any type of physical contact with Black. After a short exchange, with Black gaining the advantage, Carter exited the ring which caused Black to play the chase game. Black chased Carter around to the ring till they reached the announcers table. Carter then used the ring announcer as a shield and tossed him into Black. Black was able to side step the ring announcer but was leveled by Carter's infamous Yakuza kick. Once Carter got Black in the ring, he continued his to work on Black, but Black was able to gain control. While locked from behind by Black, Carter sensed the end was near and decided to pull the Ric Flair trick leg low blow which gave Black the win via DQ. After the match, Carter attempted to decapitate Black with a chair, but Jessie Brooks ran in for the save and planted Carter with a German Suplex.
(Tag Title Match) EYFBO vs. Style and Finesse vs. Dan Maff and Havoc: EYFBO ( Mike Drastic and Angel Ortiz) started off putting their athleticism and tag experience to work by dominating Style and Finesse. Without knowledge to Ortiz, Maff is able to tag the legal member of Finesse to make himself the legal man. Maff then overpowered Ortiz until Ortiz is able to gain enough momentum to tag in the second member of Finesse. The second member also takes a beating at the hands of Maff and Havoc much like Ortiz. Drastic is able to get himself tagged back into the match which picks up the pace. Both members of EYFBO's speed and high flying ability came into play as they lay on an assault which included them diving outside on to Maff and Havoc. Both teams brawled with each other into the back curtain leaving Style and Finesse in the ring to get the win without the titles changing hands via double count-out.
Matt Macintosh vs. Rude Boy Riley: Macintosh came out as the aggressor, but Riley quickly took control. After a failed top rope attempt Macintosh worked on Riley's leg. Riley starts to get the upper hand, but Macintosh gains control and again goes to working on Riley's legs. Riley is able to rally back and hit Macintosh with a suicide dive on the outside. Once back in the ring, Macintosh is able to take down Riley and place him in a Single Leg Crab. Riley shows toughness and enough resilience to maneuver his way out of the Single Leg Crab and hit Macintosh with the Lights Out for the 3 count.
Naphtali Rodriguez and J George vs. Fallah and Chris Payne w/ Harley: Rodriguez and George are able to hold their own against the power and size advantage of Fallah and Payne, but Rodriguez and George are only able to pick up the win after Harley who is sitting ringside turns on his partner Fallah, hitting him with a Clothesline on the outside. Harley, who has been tag partners with Fallah for months, sat at ringside this entire match, sidelined with a knee injury. The Clothesline distracted Payne and caused him to get rolled up in a pin fall. Harley then continued his assault with a steel chair after the match on not only Fallah, but Payne as well.
(No Limits Title match) Joey Ace vs. Michael Massacre: Ace and Massacre put on a really impressive back and forth match. Both competitors are able to counter each others offensive arsenal of aerial and technical attacks. Massacre gets the advantage in the match when the fight spills to the outside. On the outside Massacre uses legal but dirty tactics by instituting the security rail into his offense, grinding Ace's face into the rail. The fight moves back into the ring and once again much like last months event, Ace gets on a roll in the clutch of the match and is able to land a Randy Savage Elbow drop for the victory.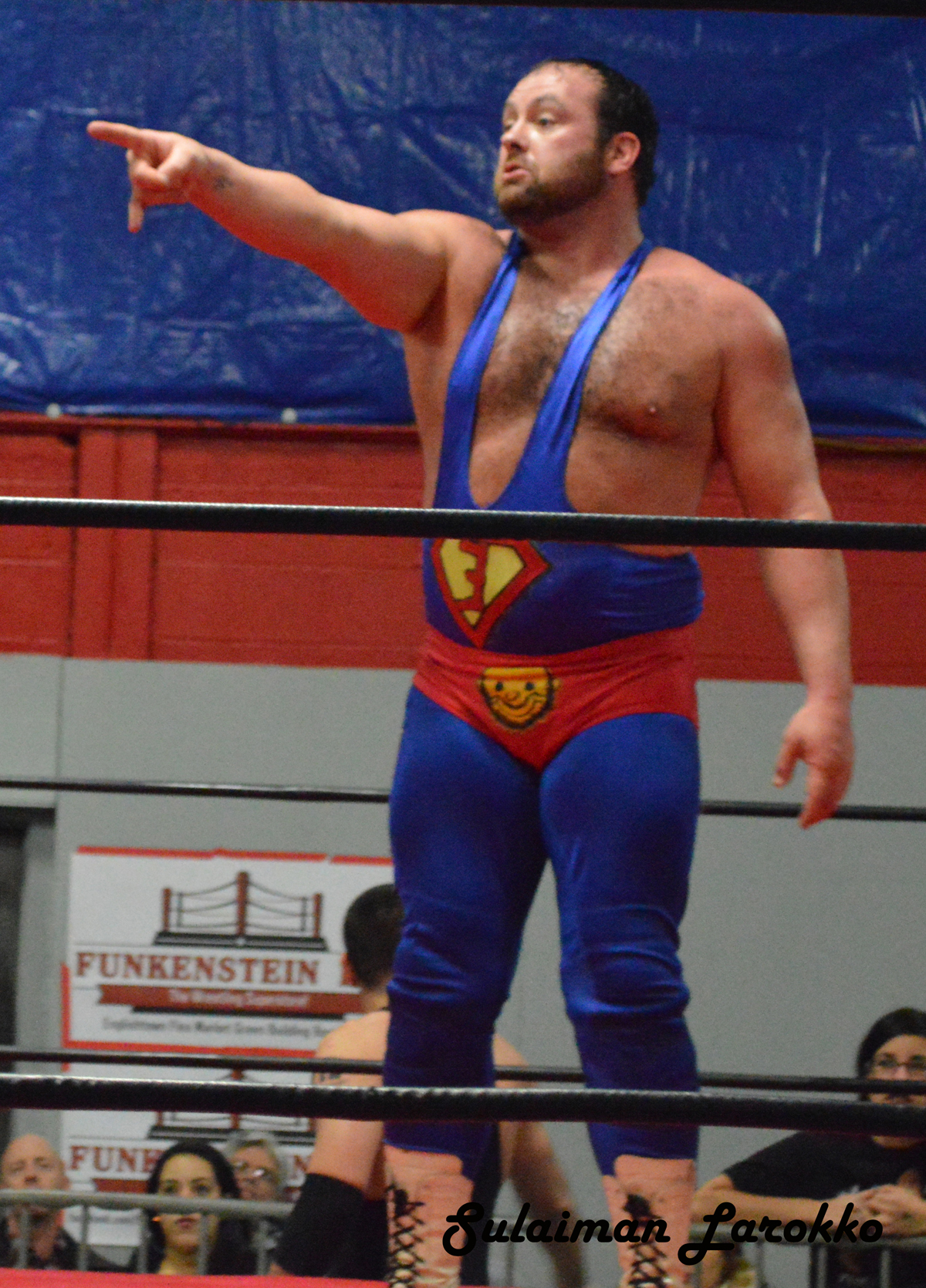 Eugene vs. Abdul Nasir w/ Naphtali Rodriguez: Eugene puts on a classic comical entertaining match starting by engaging the referee with his antics. Eugene sticks his thumb up the rare end of the ref then follows that up by placing that same thumb into the mouth of Nasir. After the antics, both men engage in a solid technically sound wrestling match. Nasir start to dominate Eugene, but Eugene "Hulks Up" and gives Nasir the Hogan Leg Drop. The Leg drop isn't enough to put Nasir away so he uses the Rock Bottom setting him up for the People's Elbow, but Darius Carter runs in only to be hit by a pedigree by Eugene. The outside interference distracts the ref enough for Nasir to toss powder into the eyes of Eugene and get the pin fall when the ref finally turns around.
Doug Cannon who isn't scheduled for a match comes out and addresses the status of his stable The Order of Chaos. He demands Dirt Bag Dan and Scotty Priest bring him someone he can beat on, which they do. From the back they bring an unknown member of the roster, who Cannon just completely destroys. After Cannon's victory, Priest and Dan pound away on the unknown man until TJ Marconi comes in to end their attack by rocking both Priest and Dan with a Big Boot respectively.
Team Torment( Jason Cross, Jack Gallows, Juba and Will Demooch) vs. Chris Steeler, Jason Karloff, and Joey B (Joey B's career on the line): Being that Team Torment never enters the ring from the locker room, Steeler Karloff and Joey B decided to ambush them at the back entrance of the venue. The ambush has Team Torment stunned as they all battle their ways through the crowd into the ring. Steeler is cleaning house in the ring, but once again Michael Massacre finds a way to interfere in one of Steeler's matches by striking him with a chair leaving Steeler busted open. Steeler is taken to the back by the medical staff leaving Joey B and Karloff with a two against four disadvantage. Karloff takes the brunt of the beating after Steeler's injury exit. Karloff is able to use his strength to power through the beating and tag in Joey B who hits Cross, Gallows and Juba with a stunner which Karloff follows with a spear. Demooch who wants no part of Joey B, is dragged into the ring and given a TKO and pinned, allowing Joey B to keep his career and take this battle of the ongoing war between W.O.W and Team Torment.
Photo by Sulaiman Larokko