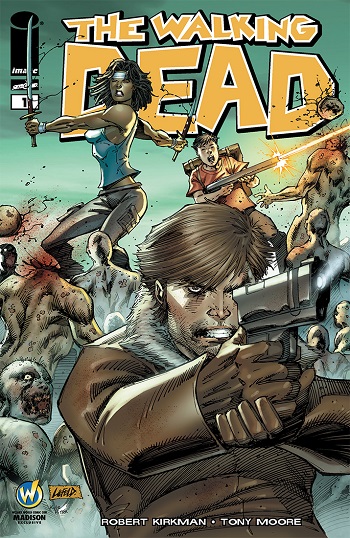 'Deadpool' Creator To Draw Third Cover In 2015 Series Available At Alliant Energy Center For Full-Price Attendees; VIP Fans Get Additional B&W Sketch Cover At Registration
Wizard World, Inc. and Skybound, Robert Kirkman's imprint at Image Comics, today announced that noted creator Rob Liefeld will draw the third in a yearlong series of Limited Edition Exclusive Variant Covers of The Walking Dead #1 comic, to be provided free to all full-price attendees at the inaugural Wizard World Madison Comic Con,
February 6-8
. Skybound'sThe Walking Dead created by Kirkman, the groundbreaking, Eisner Award winning comic book series, continues to captivate audiences worldwide.
The exclusive The Walking Dead #1 edition will be produced in extremely limited quantities and is available at registration to fans at the Alliant Energy Center only while supplies last. VIP attendees will receive an additional black & white sketch version of the comic.
In the early 1990s, the self-taught artist Liefeld became prominent due to his work on Marvel Comics' The New Mutants and later X-Force. Later he published Youngblood #1 by Image Comics. His creations Deadpool, Cable, Youngblood and X-Force helped change the comic book landscape and remain staples of both Marvel and Image comics.
 "As the co-creator of Deadpool and one of the most influential and important artists of the past 25 years, Rob has cemented his place among the top talents," says John Macaluso, Wizard World CEO. "Rob was one of the earliest supporters of The Walking Dead and Robert Kirkman and we are thankful he did such an amazing cover for the fans of Madison!"
The artists for future books will be announced as they are selected. A similar series in 2013 featuring exclusives of The Walking Dead #1 proved to be wildly popular with fans. The full schedule of 2015 Wizard World shows is available atwww.wizd.me/PRSchedule2015.
Stars of "The Walking Dead" TV series scheduled to attend Wizard World Madison Comic Con include Emily Kinney, Josh McDermitt, Michael Rooker and Scott Wilson. Other top celebrities on hand include Ian Somerhalder("The Vampire Diaries"), William Shatner ("Star Trek"), Bruce Campbell (The Evil Dead), Brett Dalton ("Marvel's Agents of S.H.I.E.L.D"), Kristin Bauer("True Blood"), WWE® Divas The Bella Twinsâ"¢ and many others.
In addition to Liefeld, Artist Alley at Madison Comic Con will feature Neal Adams ("Batman," "Green Lantern"), Mike Zeck ("Spider-Man," "Punisher"), James O'Barr (Creator, "The Crow"), Michael Golden ("Hulk," "X-Men"), Tom DeFalco (Marvel Comics), Phil Ortiz ("The Simpsons," "Muppet Babies"), Mike Grell ("Warlord," "Action Comics"), Arthur Suydam ("Marvel Zombies," "Army of Darkness") and more.
Wizard World Comic Con events bring together thousands of fans of all ages to celebrate the best in pop-fi, pop culture, movies, graphic novels, cosplay, comics, television, sci-fi, toys, video gaming, gaming, original art, collectibles, contests and more. Wizard World Comic Con Madison show hours are Friday, February 6, 3-8 p.m.; Saturday, February 7, 10 a.m.-7 p.m., Sunday, February 8, 11 a.m.-5 p.m.
For more on the 2015 Wizard World Comic Con Madison, visit http://wizd.me/MadisonPR.